Interview with Danni Gee on Pushing the Envelope: Black Voices in Dialogue and Dance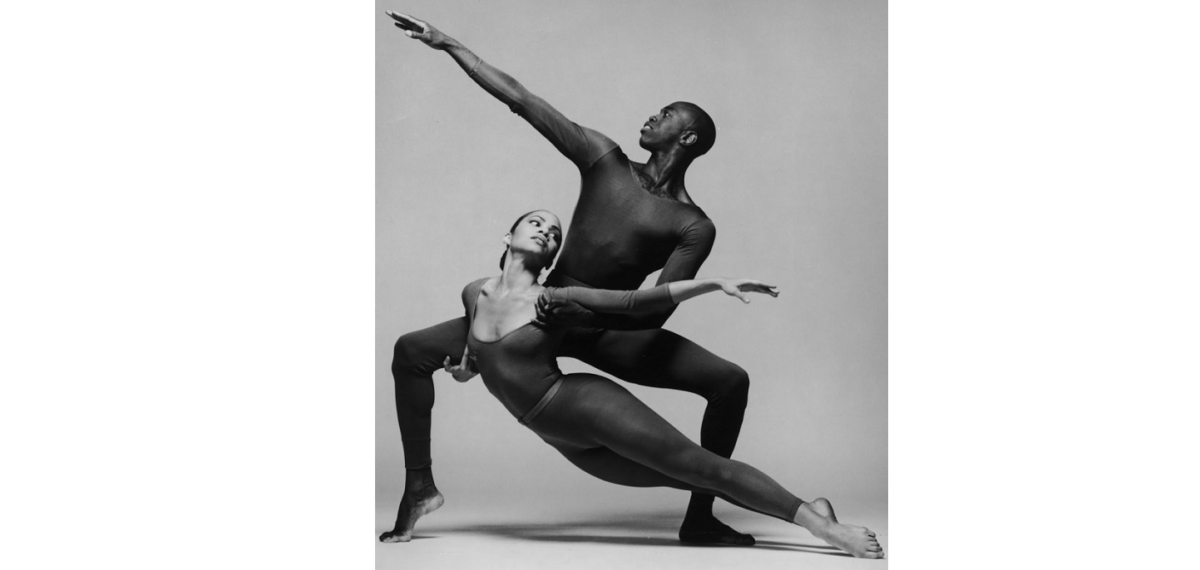 Formerly a principal dancer with Philadanco and Alvin Ailey American Dance Theater, Danni Gee is currently the Dance Curator for SummerStage in Central Park and will be the Guest Host of Gibney's Long Table: Black in Ballet on Wednesday, April 3, 2019 from 6:30-8:30pm in Studio G at 280 Broadway (entrance on 53A Chambers Street). Dani Cole, Curatorial Associate of Gibney, sat down with Danni to talk about her thoughts on the upcoming Long Table event. The interviews features a surprise entrance from choreographer Camille Brown and the dire need for the Black in Ballet conversation to be fully confronted and realized.
Pictured: Danni Gee and Leonard Meek of Alvin Ailey American Dance Theater (1995). Photo by Andrew Eccles.
---
Dani: Where do you feel your voice as a former dancer with Philadanco and Alvin Ailey American Dance Theater will fit into this conversation?
Danni: Just the importance of having Black voices be seen, heard, respected and acknowledged. It's important that we're seen, that the work continues and choreographers and dancers of color are given platforms to create. Having had the experience to dance in high-level spaces of work and being able to support myself as a dancer and human being makes it important for me to now support other artists of color. The opportunities for artists of color are better than they were in the past, but not nearly what they should be. As a curator, I realize the importance giving choreographers of color, not just Black choreographers, a platform to present their work with a fee and production value! I've gotten a lot of feedback from choreographers in which they have expressed their gratitude that I am in this role and I recognize the need to give a platform to companies not yet able to present at certain other venues. I don't know if that is based on race or not, but they feel they have not had the opportunities to be seen in New York as much as they would like.
Dani: Can you speak more to your experience as curator and how you feel current curation strategies are affecting the presence of people of color in ballet and dance in general?
Danni: I know for me that it is two-fold. As curators, we want to give opportunities to everyone, but at the same time, we want to present work that is of a certain caliber. SummerStage is that level of a festival. It's balancing two things and trying to give voice to those choreographers and dancers, while offering accessible and free dance to a public who may not consider purchasing a theater ticket.
I do feel like curators have a responsibility to present diverse programming and buck the status quo. We have that freedom, so to speak, to put things on a stage that may not be shown on a ballet company–for instance, Collage Dance Collective, a company that employs all complexions of ballerina. Curators are in a unique position where we can showcase these other ballet companies that do employ more dancers of color, whereas you might not see those dancers if you go see New York City Ballet or a "major ballet company"–I don't even know how that's rated. The articles came up about Misty Copeland that said she was the first African-American ballerina of a "major ballet company." What do we consider major? Who gets to say what a "major company" is? Dance Theatre of Harlem is a major company. So, you can honestly really say that Dance Theatre of Harlem was really the first company to employ ballerinas of African-American descent, among others. It was frustrating when those articles came out–granted I love Misty Copeland–but that whole way of "thinking" is exhausting.
(Camille Brown unexpectedly walks into the Gibney Gallery)
Danni: Your show was so amazing. I'm so proud!
Camille: Thank you for always being there and supporting and giving me an opportunity to share my work. It really means a lot to me. You've given a lot of us opportunities, so thank you for doing that!
(Camille leaves)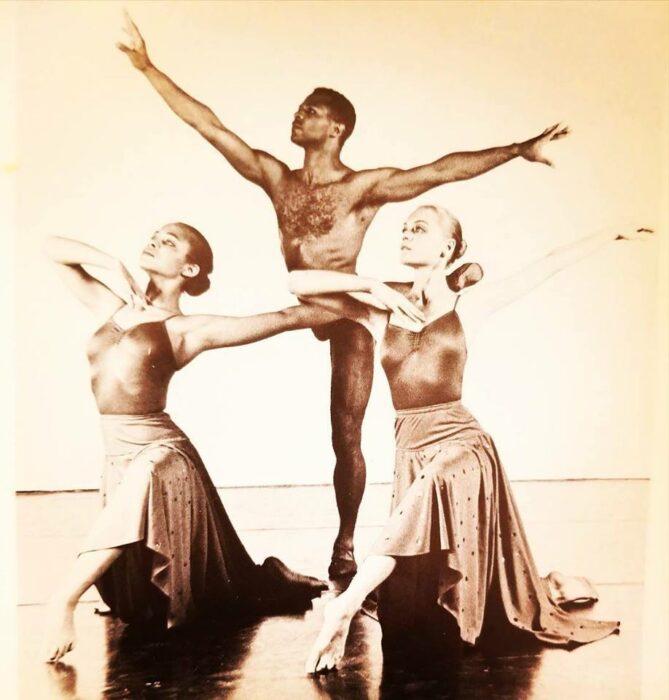 Pictured: Danni Gee and two dancers of Philadanco, in Gene Hill Sagan's "Ritornello" (1985). Photo credit N/A.
Dani: Why do you feel this conversation still has to occur in relation to dance and society?
Danni: Well, because clearly this is still a problem. We can't really say anymore that African Americans may not have the aesthetic or the technique that you're looking for. Also, I feel like it's great that we can all talk about it, but the people who also need to answer to this conversation are those who are running these "major ballet companies." The International Association of Blacks in Dance has tried to further the conversations and have auditions for Black ballerinas during their conference. Representatives from these companies are giving out scholarships, but are they really giving out jobs?
I would really like the people in the room to be those who are making decisions for these companies that could support a dancer to have a livelihood. They need to be held accountable. Is it really just an aesthetic feeling that they just don't want to see a brown leg beside a white leg in Swan Lake? Is that really it? We need to hear from them.
It's always bothered me that in ballet companies there is always space for the Black male. It is about this woman thing–of what is deemed beautiful or feminine–and it's always been an argument for me since Arthur Mitchell's days. He was the first African-American male in New York City Ballet. That needs to be a discussion as well–why is it okay to put a white-identifying woman beside a Black man and okay that the Black woman is not heralded in the same way?
I don't know if Black women go to "major company" auditions. Maybe they feel like, "Why bother?" I want directors of ballet companies across the country to see ballet dancers of color and recognize that, "We can do this too, and we aren't hiding from you."
Dani: Do you currently see any other voices that are prevalent or can become as prevalent as Arthur Mitchell and Alvin Ailey?
Danni: Oh yes! Kyle Abraham. Camille Brown. Darrell Grand Moultrie. I mean, come on, the work that they are doing is unbelievable.
It's just so real and raw, like Camille at the Joyce. It speaks to the Black experience within such a unique and fresh way for this century. It's relatable. Alvin's work was relatable in the fifties and it still is to some capacity. Some works out there are purely dance aesthetic and showcase extreme legs moving everywhere–there is a place for that–but Camille's work has a relatability that will carry on for years to come, and people will begin to mimic her, among others. What we see on television, the extreme dance forms, they will still be here. But, artists like Camille Brown, Kyle Abraham, and Darrell Moultrie will also still be here.
In Camille's post show conversation at the Joyce, this one gentleman said, "I'm a queer Black male and I don't see myself really represented on the stage tonight." Camille thought about it and responded, "Well, that is not my story to tell." And not that she probably couldn't do something like that, but she wanted to be as authentic as possible and I really appreciated that. To me, that is courageous. If you are telling your story about what happened to you when you grew up and the things that bother you and you put that on the stage and people rip that apart, people are basically ripping apart your experience and you have to be ready for that.
That's the other thing too–going back to companies that don't employ women of color–they are basically not trusting their audience. They are basically saying, "You are not ready to see this." Consider the response to Kyle Abraham's work at New York City Ballet. The performance I went to was sold out and received a standing ovation.
Also, on the flipside, curators also have a responsibility to challenge our audiences. I think about Stephanie Batten Bland and Germaul Barnes. Their work is out there, but I love it. They are not in that box!
Dani: Have there been moments where you've had conversations about the situation of Black dancers in ballet or dance in general with people where you have seen fruitful outcomes from it or changes in opinion?
Danni: I've definitely had conversations, but I honestly haven't seen too much change – not yet. I love Theresa Ruth Howard and her website Memoirs of Blacks in Ballet. I love that she is really pushing the conversation and who some of these ballerinas were and are. There is still more work to be done.
Alonzo King LINES Ballet is a company that is doing it and multicultural. I booked them this past summer for SummerStage. Collage Dance Collective and Complexions Ballet are other examples. To me, that is what it should be–a melting pot of gorgeousness that recognizes we are all beautiful. The bottom line is that other "major ballet companies" still see ballerina, ballerina, as white.
Dani: What would you say to people who might consider attending this Long Table discussion?
Danni: Come with an open mind and come ready to share what you feel. As with anything else, just be ready to speak your truth. No judgements;  don't come ready to fight. This is an honest conversation that needs to continue. I think all of these Long Tables are like that. Share what your experiences have been. What do you hope to get out of this conversation? What are you bringing to the conversation? Is there something that can help all of us push the envelope even more?
I've been on this journey the past few weeks to find out more about my family. My great, great grandfather was born into slavery, self-educated himself and bought the plantation he was born onto. His family was raised on the land where his parents were slaves. It's mind blowing.
What is happening with migrants now is terrifying and feels similar. Beyond just this one story of being Black in ballet, we, as artists and art advocates, have the responsibility to be those voices, take chances, and present those artists who have something to say.