This morning I started my day with a staff meeting in the Learning & Leadership Studio at Gibney Dance Center. On the agenda were topics ranging from developing our internship program to identifying the greatest struggles facing the dance community. Following this intense brainstorming session I took a contemporary class, and then began company rehearsal with Gina Gibney for a new creation premiering next fall. After rehearsal I had two hours of community action training. As I type, I am on my way to a shelter for survivors of intimate partner violence to put that training to good use.
This is a day in the life of an Artistic Associate at Gibney Dance Company.
Gibney Dance is launching an innovative experiment: a new model for a full time dance company that re-envisions its members as artists, activists, and administrative fellows. We are engaged as dancers in the company and activists in the community, and each of us is developing new programing at Gibney Dance based on issues we feel passionately about. We have discussions, we create movement, we read texts and complete writing assignments—and all of this is part of our job description.
Throughout my short time with this gifted group of artists, I have been challenged constantly to expand my notion of what it means to be a "dancer." I have been invited to exercise my mind as intensely as I exercise my body and I have been encouraged to use the art of dance as a vehicle for social change in tangible ways. It has been exciting and exhausting, and I have generated far more questions than answers.
What is the role of a dance company in contemporary society and what is the artist's role as a citizen of that society?
How can artists and arts organizations address social inequities through the strategic development of programming?
What could it mean for artists, and for our art form, if we create a culture that celebrates dancers who speak loudly and think critically?
How could this influence the way we train the next generation of dancers?
At Gibney Dance, we believe that artists play an invaluable role in shaping the societies they inhabit. We spend our days working to raise awareness of social issues and to empower all people through the art of movement. Oppression is so often predicated on the violent usurping of the physical body as a means of domination and control. Dance, an art form devoted to achieving individual ownership and autonomy over one's body, is an ideal tool to combat such oppression and dancers are uniquely qualified to lead the charge. I hope to inspire dancers everywhere to use their bodies as a voice for change, no matter how large or small.
We don't have the answers yet, but we are asking the right questions. I hope you'll join us.
— Nigel Campbell, Artistic Associate & Company Member
Learn more about the re-envisioned Gibney Dance Company →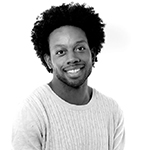 Nigel Campbell was born and raised in the Bronx, New York and is a graduate of LaGuardia High School of the Performing Arts (04'), and of The Juilliard School (08'). While still at Juilliard, Nigel joined the Metropolitan Opera Ballet as a soloist and upon graduation moved to Saarbruecken, Germany to join the Saarlandisches Staatstheater. In 2010 he joined Luna Negra Dance Theater, under the direction of Gustavo Ramirez Sansano. There Nigel was the proud recipient of the prestigious Princess Grace Award 2011. In 2013 he joined the world renowned GöteborgsOperans DansKompani, where he danced for 2 years as a soloist and is currently an associate artist. Nigel has been blessed to dance the works of choreographers including Jiri Kylian, Ohad Naharin, Sharon Eyal, Robert Battle, Kurt Jooss, Gustavo Ramirez Sansano, Marguerite Donlon, Alan Lucien Øyen, Sidi Larbi Cherkaoui, Fernando Melo, Kyle Abraham and Aszure Barton among many others. Additionally, Nigel has been the recipient of numerous awards and honors including a National YoungArts Level 1 Award and a NAACP ACT-SO Gold Medal. He is a 2004 Presidential Scholar in the Arts and at 17 was featured in the National PBS documentary "American Talent." Nigel is incredibly excited to be in his first season with Gibney Dance Company.