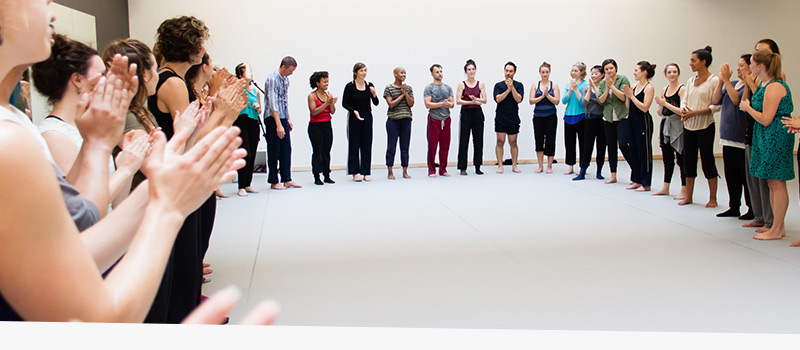 Gibney Dance is a groundbreaking organization whose mission is to bring the power of movement and self-expression where it would not otherwise exist.
Its vision is to tap into the vast potential of movement, creativity, and performance to effect social change and personal transformation through its interrelated fields of action — Center, Company, and Community Action.
Values
Gibney Dance is committed to Making Space for Dance. With an emphasis on partnership, creativity, and innovation, our core values are:
Respect: Gibney Dance is inclusive and courteous.
Advocacy: Gibney Dance is supportive and principled.
Responsibility: Gibney Dance is collaborative and responsive.
Action: Gibney Dance is resourceful and proactive.
Guiding Principles
All of our work – whether in the studio, on stage, in the community, or as an institution – is centered in a belief in the power of self-expression. We think of all of our activities through the following four-part lens:
1. Look Inside – Movement and creativity foster reflection and self-awareness that leads to greater self-confidence.
2. Speak Through Movement – Movement and creativity encourage decision-making and choice. These activities help individuals listen to their inner voice, express their feelings, and assert their identities.
3. Work Together – Moving, creating or working in a group is an enriching exchange that validates the experience of every member of the group and helps to banish isolation and resistance.
4. Take Care – A community that encourages self-respect and concern for others is able to maintain perspective and focus on what is truly important.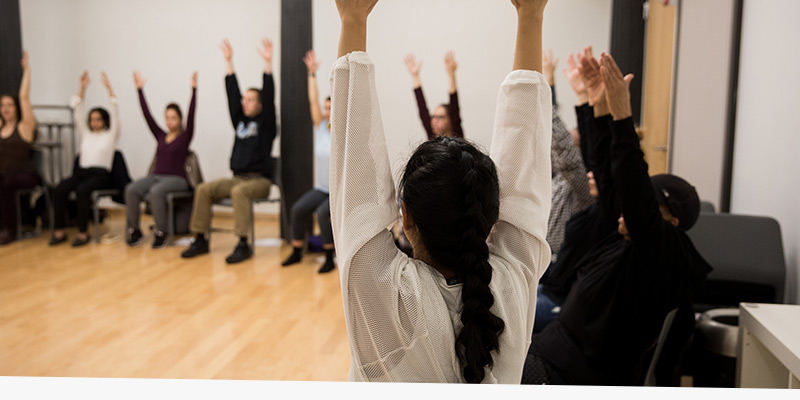 Code of Conduct
Gibney Dance is committed to building a respectful and open community. Our aim is to create a space where all members of our community feel welcome and comfortable. As such, negative and inappropriate behaviors are not acceptable at Gibney Dance, including: verbal abuse, hate speech, physical assault, disrespect, intimidation, or other forms of abuse.
We reserve the right to refuse service to any customer whose presence jeopardizes the welcoming and inclusive culture we are working to establish at Gibney Dance, or detracts from the safety, welfare, and wellbeing of other patrons or staff.
Gibney Dance seeks to create an equitable, inclusive, and diverse community representative of the core values of our organization. Any forms of discrimination based on race, ethnicity, gender identity, sexual orientation, religion, national origin, age, physical or mental disability, or any other grounds are not permitted on the premises. Gibney Dance reserves the right to dismiss any individuals or groups who infringe upon this policy.
Statement on Equity and Inclusion
Inclusion and equal treatment of all members of the community are core values of Gibney Dance and central to its mission. Gibney Dance is committed to diversity in every aspect of its programming and services. Diversity in this context refers to aesthetics, groups, communities, and individuals identified by race, ethnicity, national origin, gender, sexual orientation, socio-economic status, religion, age, or disability status. Gibney Dance is committed to honoring, nurturing, and advancing dance through the lens of diversity, inclusion, and equal opportunity in all aspects of its programming, services, and organization. Inclusion means a commitment to making all members of the community feel welcome and comfortable at Gibney Dance.