Artists Reach Out: Jennifer Nugent
ARTISTS REACH OUT: REFLECTIONS IN A TIME OF ISOLATION
Senior Curatorial Director Eva Yaa Asantewaa dreamed this series of interviews, Artists Reach Out: reflections in a time of isolation, out of grief for her work both as a documenting arts writer and curator of live performance.
"In this time of social distancing, we are called to responsibly do all we can to safeguard ourselves and our neighbors. It is, literally, a matter of life and death.
But there's no distancing around what we still can share with one another—our experiences, thoughts, wisdom, humor, hearts and spirit. In some ways, there are more opportunities to do so as we pull back from everyday busyness out in the world and have time to honor the call of our inner lives.
So, let me introduce you to some artists I find interesting. I'm glad they're part of our beautiful community, and I'm eager to engage with them again (or for the first time) in years to come." – Eva Yaa Asantewaa, Senior Curatorial Director
This interview features Jennifer Nugent, dancer, choreographer, and Gibney Teacher.
---
Originally from South Florida, I now reside in Brooklyn, NY. I have been performing since age sixteen, most notably with the Bill T. Jones/Arnie Zane Company from 2009-2014 and David Dorfman Dance from 1999-2007. My practices are profoundly inspired by Daniel Lepkoff, Wendell Beavers, Patty Townsend, and an ongoing collaboration with Paul Matteson. Currently I am working on a new solo project, Up Against, which uses dance (steps, improvisation, shape, and gesture) as a way to articulate my curiosities and allow the vibration and energies that surface within the process of being in the studio to reverberate inside the performance. Recently, I was an artist in residence at the Bodies in Motion Festival supported by A.P.E.@Hawley and the School for Contemporary Dance and Thought in Northampton, MA. I am a teaching artist at Gibney, Movement Research NYC, NYU Tisch School of the Arts, and Sarah Lawrence College, NY.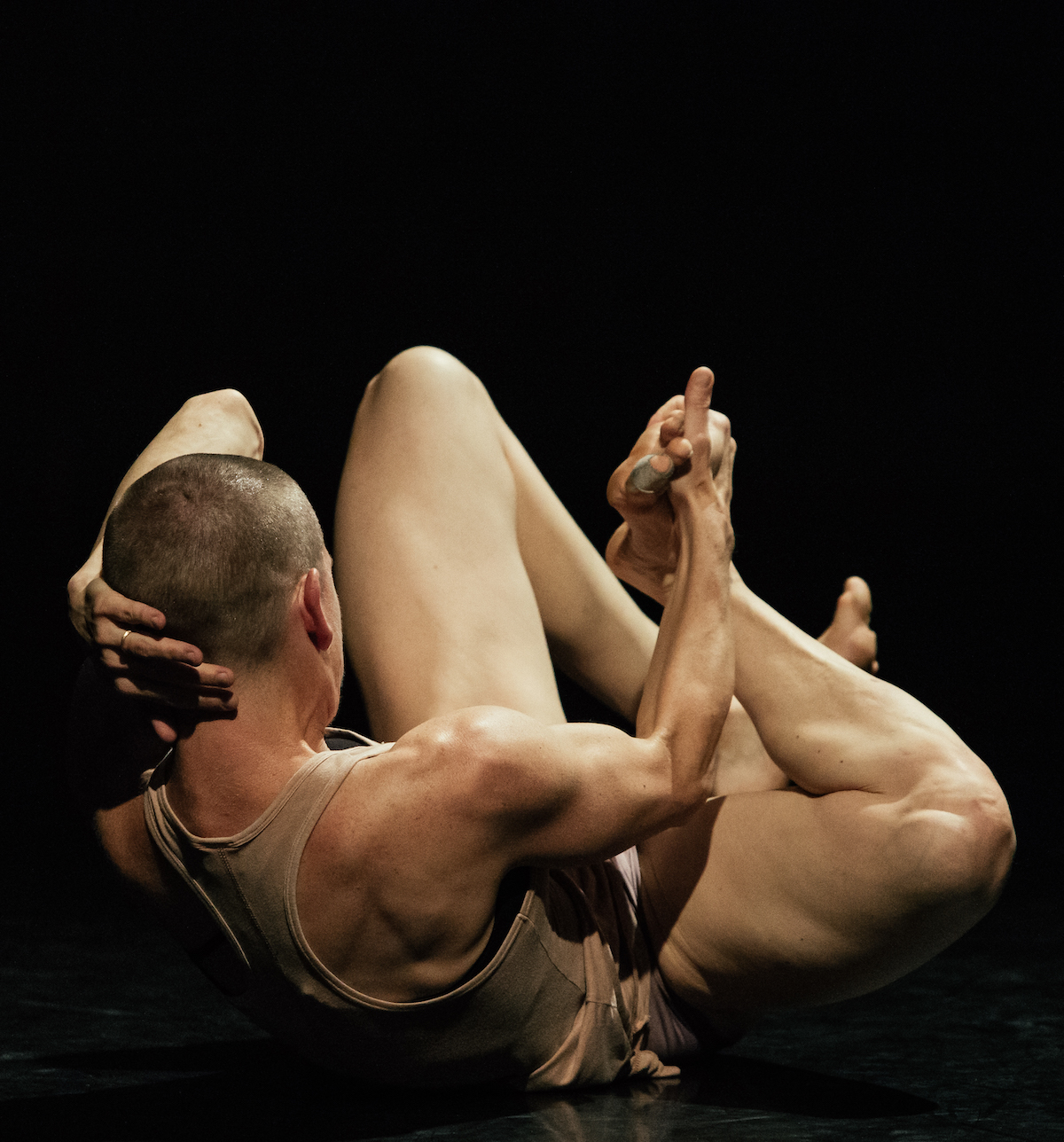 Do you have a current or planned project whose progress is affected by the pandemic?
Prior to the pandemic, I was teaching open classes in the city everyday. My own rehearsal process is postponed for now. A couple of weeks ago, the Bates Dance Festival was cancelled. Paul Matteson and I would have performed our latest duet, and I would have stayed for the duration of the festival to teach. I was selected to be a "Captain" in Bill T. Jones' newest work, Deep Blue Sea, commissioned by the Park Avenue Armory, leading a group of ten dancers as part of a larger community of one hundred, which was to have its premiere on April 14.
Briefly, tell me about how you got involved in the arts and in your particular practice.
My mom signed me up for dance when I was eight. At fourteen I decided I wanted to be a dancer, a showgirl, and continued studying jazz and tap with Linda Rogers Albritton in Miami, FL. Professionally, I performed with production companies on cruise ships and nightclubs. In my twenties, while staying consistent in club and production work, I began studying modern dance, ballet, and contact improvisation.
In 1995 I attended the American Dance Festival and studied contact improvisation with Daniel Lepkoff and Wendall Beavers. Contact Improvisation was the movement source that first allowed me to come into myself and begin to understand who I was, where I was and redirected what I wanted in terms of lifestyle, identity, and career trajectory. The physical ideas and inquiries that I learned from this form has led my practices and helped me develop my own inquiries into technique, presence, and performance.
In a more specific way, what are you practicing? And what are you envisioning?
I envision my practices as a constant feedback loop. Inside this loop, multiple ideas and perspectives appear, helping me to refine the one singular nugget I have been working to unravel for quite some time.
My practice is influenced by a deep listening to my physical experiences. For me, this is performative and reflective. Teaching, performing, making, researching, and thinking about how I am relating to my surroundings is becoming more integrated; each practice more dependent on the other.
Through teaching, I can tap into some of my deepest desires as a dancer and as myself, and I wonder if this has to do with the exchange I am having with the students. I think my practice is working out ideas with others. Offering an idea, working through it together, laughing, trying, working through sensation and barrier: working with dance. It is subtle and can be intimate and precarious.
I love tending to this work. The longer I go the less I know, and my attachment to knowing is shifting, and I am practicing ways to negotiate this in performance.
How does your practice and your visioning align with what you most care about?
My aim is to nurture the proposition of physicality as a theoretical and complex language that resides inside a rejuvenating container of possibility. I see teaching as a collective and collaborative endeavor that spans beyond the dance studio and towards radical listening, philosophy, theory, action, writing, and discourse. I believe teaching is an artform that extends from performance and vice versa; each serving as a pedagogy in and of itself.
In my teaching and performance practice, I work to articulate and share my internal experiences. I work to create spaces where factors such as physical form, space, and community become virtuosic and subtle landscapes for learning and deepening movement. I enrich my practices through sharing and refining my ideas in front of others—a transmission of spoken and gestural language.
How does your practice function within the world we have now?
I step into practice each morning, allowing myself to improvise, whether it is walking, moving, writing, reading something I have been wanting to read for the past half year, or emailing loved ones, students, and friends. I am trying to follow myself; trying to be productive and not productive. I am trying to remember to listen while playing and taking care of my four-year-old son and supporting my fourteen-year-old daughter with remote schoolwork, remote dance, and loss of friend time. I constantly ask myself to bring my practice to the moment. I experience a wonderful sense of yielding in, and I also experience a good helping of resistance. I feel lucky to be navigating this new way of holding space for my family.
During this time, I have started taking early-morning walks. While walking to the East River and back, I listen to walking scores and body scans that friends have recorded as well as guided meditations and talks by Dr. Tara Brach. It has been helpful to be guided by a voice, sometimes a friend's voice, that is also practicing.
Every Saturday, my partner and I take our kids to a beach or a park with trails. The outside time in wide open spaces helps us regroup and bond as a family.
To read all of Eva Yaa Asantewaa's Artists Reach Out interviews, visit infinitebody.blogspot.com.
Top photo courtesy of the artist.