Artists Reach Out: Rosamond S. King
ARTISTS REACH OUT: REFLECTIONS IN A TIME OF ISOLATION
Senior Curatorial Director Eva Yaa Asantewaa dreamed this series of interviews, Artists Reach Out: reflections in a time of isolation, out of grief for her work both as a documenting arts writer and curator of live performance.
"In this time of social distancing, we are called to responsibly do all we can to safeguard ourselves and our neighbors. It is, literally, a matter of life and death.
But there's no distancing around what we still can share with one another—our experiences, thoughts, wisdom, humor, hearts and spirit. In some ways, there are more opportunities to do so as we pull back from everyday busyness out in the world and have time to honor the call of our inner lives.
So, let me introduce you to some artists I find interesting. I'm glad they're part of our beautiful community, and I'm eager to engage with them again (or for the first time) in years to come." – Eva Yaa Asantewaa, Senior Curatorial Director
This interview features Rosamond S. King, creative and critical writer, performance artist, and 2019 Gibney Living Gallery artist.
---
Rosamond S. King's goal is to make people feel, wonder, and think, usually in that order.
She is a creative and critical writer and performer whose work is deeply informed by her cultures and communities, by history, and by a sense of play. Her guerrilla performance art has appeared somewhere near you; staged performances have been curated by: CalArts, Dixon Place, the VIVA! and Encuentro Performance Festivals, Brown University, the African Performance Art Biennale, the Metropolitan Museum of Art, and elsewhere. She has been an Artist in Residence with ChoreoQuest and Alice Yard.
Poetry publications include the forthcoming All the Rage, the Lambda Award-winning Rock | Salt | Stone and poems in more than three dozen journals, blogs, and anthologies. Scholarly work includes Island Bodies: Transgressive Sexualities in the Caribbean Imagination.
King is Creative Editor of sx salon and Director of the Institute for the Humanities & Associate Professor at Brooklyn College, part of the City University of New York. She is currently working on dis/obedience, a series of linked performances, and This intentionally left blank, a book of erasures.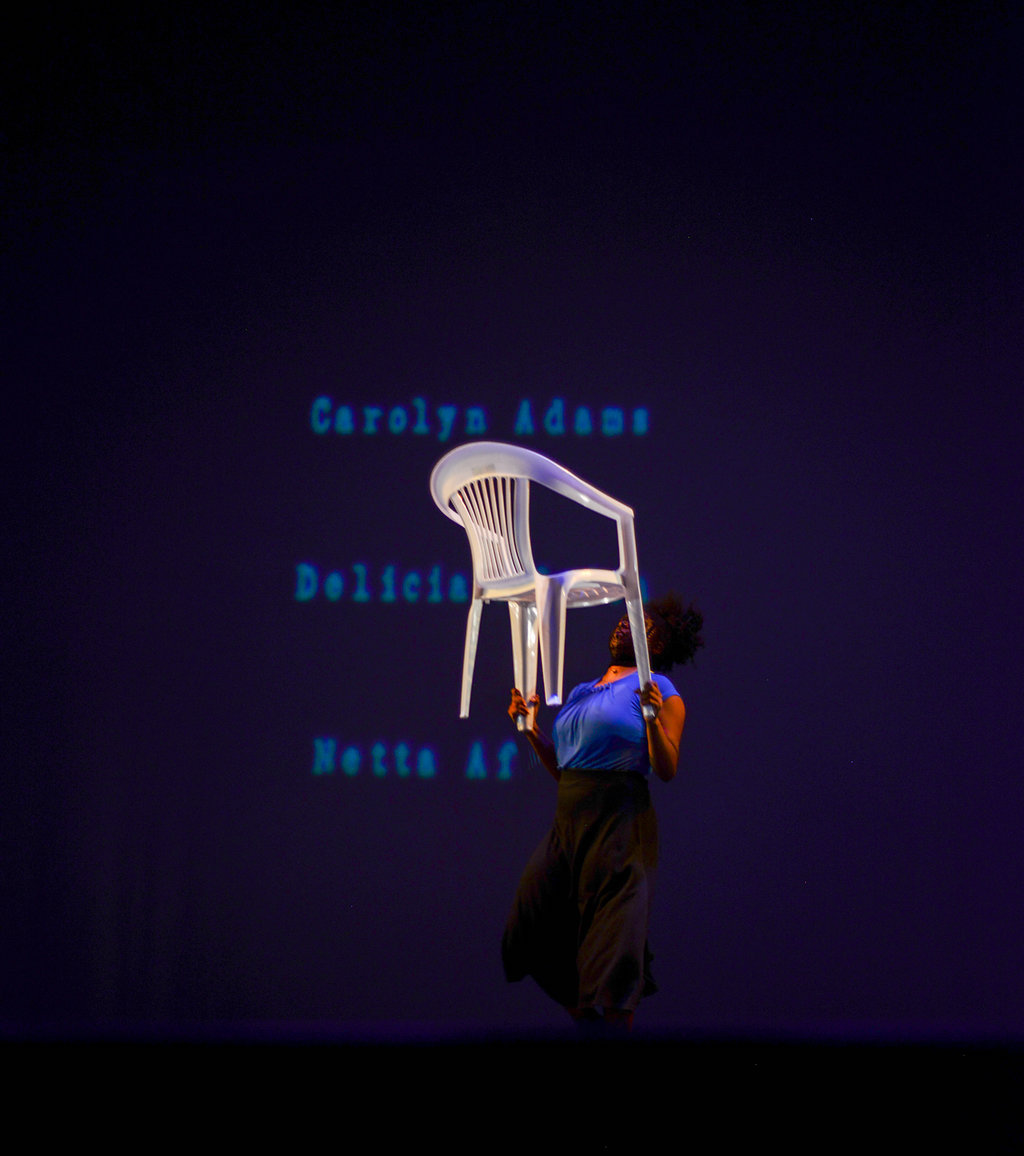 Do you have a current or planned project whose progress is affected by the pandemic?
For almost a year, I've been working on sanctuary, a collaborative outdoor performance dreamed up by Ana Maurine-Lara with Ana, Akiko Hatakeyama, Courtney Morris, and myself, directed by D'Lo. It was to be presented in May at the Jordan Schnitzer Museum in Oregon. There's deep disappointment, grief even, but we've done so much work on it that we know it will be presented at some time….
Ironically, I had also committed myself to regularly devising in proper studios this year to continue creating dis/obedience, a series of dances….
My next book of poetry, All the Rage, coming out next year, has been affected because I thought it was done, but I'm going to add some poems reflecting on the pandemic.
Briefly, tell me about how you got involved in the arts and in your particular practice.
I've basically been dancing since I could walk, and I was put into formal classes when I was three. My parents were committed to exposing their children to the arts: dance, painting, writing, music….
I started making performance art before I knew the term. I was visiting Paris, and having a hard time. I experience a lot of racism there because my skin color, hair, style, and fluency in French mean that people read me as African, and therefore as an undocumented or unwanted immigrant. I wanted to create an embodied response to that embodied experience, so I covered my colorful body in colorful fabric from The Gambia, and moved around Jean Dubuffet's black and white installation, Jardin d'hiver. I asked a friend to photograph me, and when I showed people the images, they called it performance art.
In a more specific way, what are you practicing? And what are you envisioning?
I am literally practicing a lot by taking a lot of dance classes, and I am writing a lot of poetry. For the first month, envisioning through my own movement was difficult. I had imagined working in Mark Morris' bright, wide studios, and now I am in the much smaller, furnished space of my apartment. But now I am finally trying to embrace our circumstances.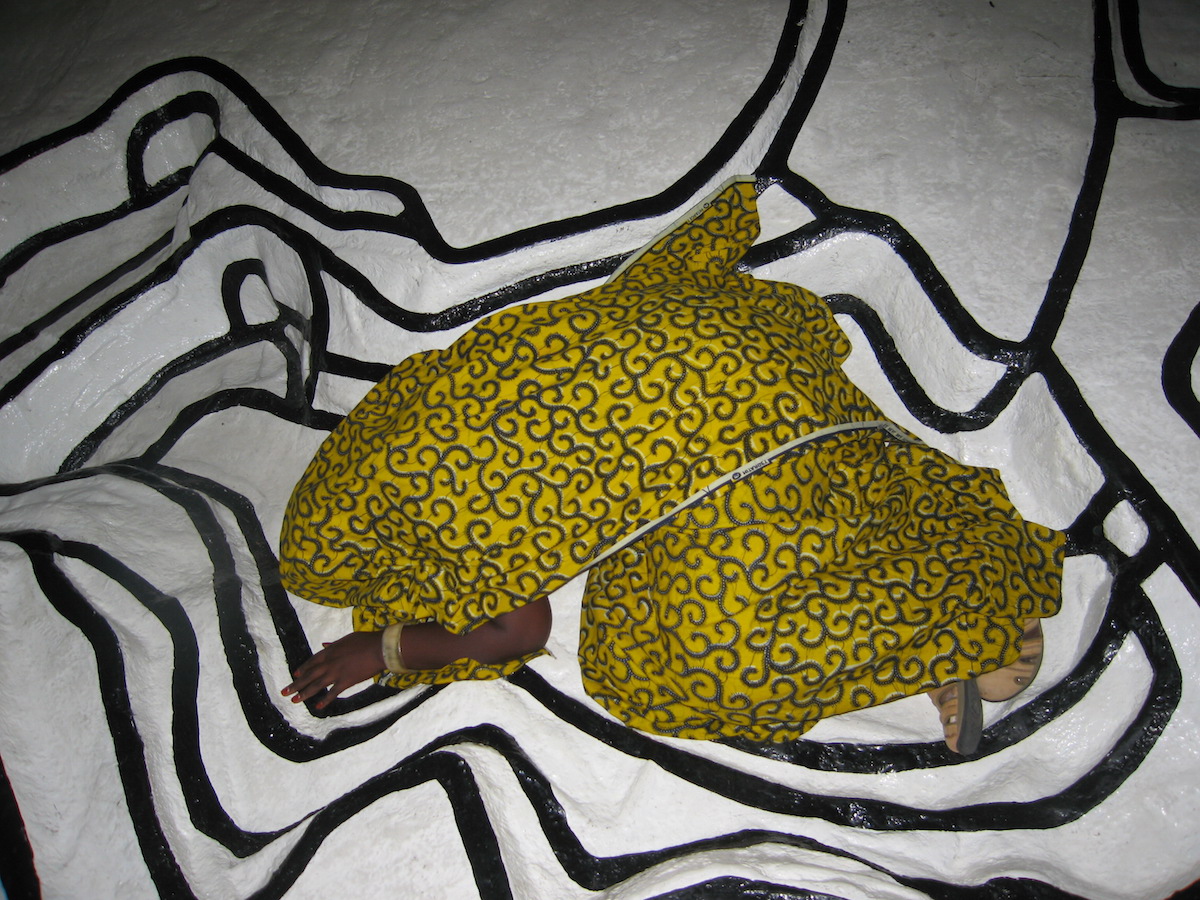 How does your practice and your visioning align with what you most care about?
Taking dance classes—and paying the instructors—aligns with how much I value creative community, particularly the communities of Caribbean and African dance, which sustain me. I am happy to dance with, learn from, and help sustain folks who are part of that.
Taking classes is also an important part of my self-care, since dancing, cooking, and sleep are probably the only times I'm not thinking about the pandemic.
How does your practice function within the world we have now?
I had a (long) moment when I thought the projects I am working on were irrelevant to the now, but I've realized that's not true. We need sanctuary now more than ever, and people are having different responses to being in homes that are supposed to be sanctuaries. My dis/obedience series and All the Rage—both about black life in the USA today—are more relevant than ever, as black people die at alarming rates, as our deaths often go uncounted, as calls to militarize isolation will target us disproportionately—and as we continue to find and make joy, love, shine, and humor.
Beyond that, creativity of any kind reminds me that I am alive, and that life is worth living. As I say to the ghosts of the dead around me, I get to live, so I am going to live.
To read all of Eva Yaa Asantewaa's Artists Reach Out interviews, visit infinitebody.blogspot.com.
Top Photo courtesy of the artist.