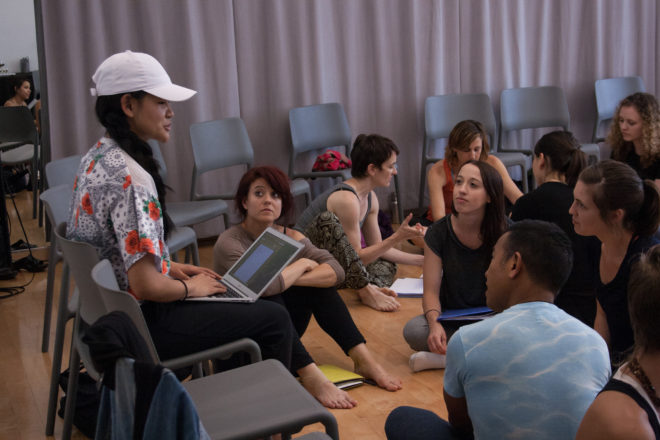 Gibney Dance is excited to introduce the DEEP Cohort, a new initiative offered in partnership with The Actors Fund, that provides artists the opportunity to focus on career development in community with one another.
The DEEP Cohort, selected through an open application process, will engage a group of artists who are actively invested in advancing their creative careers and seeking to deepen their administrative capacity and skill sets.
The group will meet separately before each of the five Spring 2018 DEEP sessions, in a safe, confidential and supportive environment, to share insights and draw from each other's experience. The goal is to encourage accountability to the group in terms of each participant's individual artistic and administrative development.
In a field where artists are often competing for the same funding and opportunities, the cohort will serve as a counter-balance; a space to build unity and soften the impact of working in isolation artists often experience. In addition, the cohort will learn alongside one another from the guests and industry experts the DEEP sessions provide, creating a lasting community of practice and peer support.
Apply by Monday, February 5, 2018.
Who should apply to the DEEP Cohort?
The DEEP Cohort is designed for professional dance artists and choreographers who are in the emerging and early stages of their careers. Participants should have some knowledge in the subjects of marketing, time management, financial literacy, career trajectory and fundraising tools, and want to expand their professional toolbox in order to enhance their artistic practice. Facilitators will be career management specialists from The Actors Fund.
Selected participants must be able to attend all the meetings and workshops. Cohort participants will meet from 6:30 – 7:15 pm and then engage in an open workshop from 7:15 – 8:30pm.
Monthly Meetings:
Tuesday, February 27 / 6:30 – 8:30 pm
Tuesday, March 6 / 6:30 – 8:30 pm
Tuesday, April 24 / 6:30 – 8:30 pm
Tuesday, May 22 / 6:30 – 8:30 pm
Tuesday, June 26 / 6:30 – 8:30 pm
View Topics & Session Descriptions →
COST
Thanks to the generous support of the Grace Foundation and in partnership with the Actors Fund, this program is free of cost.
HOW TO APPLY
Applications are available online and due by: Monday, February 5, 2018