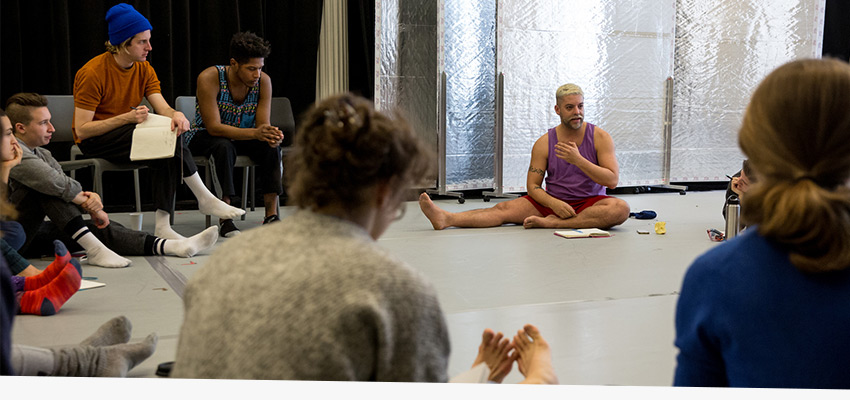 LANDING with Miguel Gutierrez
Envisioned and designed collaboratively by Miguel Gutierrez and Gibney Dance, LANDING is an experiment in pedagogy, research, mentorship, and possibility.
Over the course of six months, a selected group of dance artists meet with each other, Gutierrez, and a variety of extraordinary guest performing artists and administrators in the context of workshops, artist talks, studio time, performances, and public presentation. Using the web of unique resources available through Gibney Dance Center the goal is to create a network of experiences to address and support the interests and challenges that face dance artists either newly arrived to New York or those who feel the need for better navigation through the current dance and performance landscape.
The various emphases of LANDING are: creating community, valuing experimentation in the creative process, making space for critical inquiry, listening to how other people in the dance and performance community are making it work, generating practical and administrative skills in order to survive financially, prioritizing self-care in order to prevent burnout, and activating a conversation about the cultural, social and political value of dance and performance work in today's world. LANDING proposes an alternative to the academic educational model.
Guest Artists for the 2018 Program include:
Boychild
Ishmael Houston-Jones
Jen Rosenblit
Keith Hennessy
Larissa Velez Jackson
Marguerite Hemmings
Marissa Perel
Okwui Okpokwasili
Yve Laris Cohen
Members of LANDING 1.0: Stephanie Acosta, xtian smith, & Angelica Tolentino
Photo: Miguel Gutierrez and 2017 LANDING participants, photo by Scott Shaw.
Details & Application
Dates and details for the 2018 LANDING session will be available soon.