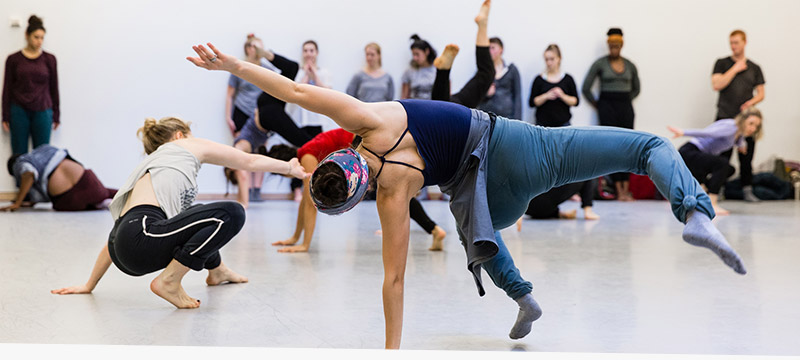 BDF/Gibney Connect
Dates, Times, and Fees
Gibney Dance: Agnes Varis Performing Arts Center
280 Broadway
(Entrance at 53A Chambers)
Tuesday, January 10 – Friday, January 13
10:00 am – 4:00 pm
Full workshop: SOLD OUT
Drop-ins for individual classes welcome / $17
Gibney Dance is partnering with Bates Dance Festival for our third annual BDF/Gibney Connect, a four day intensive that will feature morning technique classes taught by Kendra Portier, member of David Dorfman Dance and founder of bandPortier; and midday classes by Dante Brown, Amy Miller, Associate Artistic Director of Gibney Dance Company, Jennifer Nugent, and Jenna Riegel. Each day will finish with a class led by David Parker exploring composition and choreography. BDF accompanist Glen Fittin will play for both morning and midday classes.
Focused around inspired dancing and creative exchange, this intensive is designed for intermediate and advanced dancers and will include various seminars and discussions with these teachers and other professionals of the field.
Intensive Schedule
10:00 – 11:45 am
Technique with Kendra Portier
Accompaniment by Glen Fittin
Noon – 1:45 pm
Technique with Danté Brown (January 10)
Technique with Jenna Riegel (January 11)
Technique with Amy Miller (January 12)
Technique with Jennifer Nugent (January 13)
Accompaniment by Glen Fittin
1:45 – 2:15 pm
Break for lunch
2:15 – 4:00
Making Dance with David Parker

About Bates Dance Festival
The Bates Dance Festival brings together an international community of choreographers, performers, educators and students in a cooperative community to study, perform and create new work. The Festival offers a supportive atmosphere aimed at fostering a creative exchange of ideas, encouraging exploration of new ground and providing opportunities to experience a wide spectrum of dance/movement disciplines. Artists, students and audiences share their knowledge and inspiration through workshops, jams, discussions, informal showings and performances.
About Danté Brown
Danté Brown began his dance training at Wesleyan University, where Katja Kolcio, Pedro Alejandro, Nicole Stanton, and Susan Lourie whetted his creative appetite. From that point his interest in performance and choreography grew exponentially and led him to The Ohio State University to pursue his MFA in Choreography and Performance. Danté has worked with artists such as Esther Baker-Tarpaga, Adam Barruch, Christal Brown, Leslie Guyton, Lily Skove, Olivier Tarpaga, and Noa Zuk. In addition, after founding Danté Brown|Warehouse Dance in 2010, Danté has had the opportunity to show work at Wexner Center for the Arts, Columbus Dance Theater, Movement Research, and YourMove Dance Festival.
About David Parker
David Parker, together with Jeffrey Kazin, directs The Bang Group, a rhythm-driven, theatrical dance company which works at the intersection of percussive and contemporary dance forms. Parker is a 2013 Guggenheim fellow for Choreography and teaches Dance Composition at Barnard College and The Juilliard School, he has also been visiting professor at Hunter College, Princeton University, SUNY Purchase and The Alvin Ailey School and taught Choreo Lab at Bates Dance Festival this past summer. The Bang Group tours and performs widely throughout the United States and Europe and has been presented many times by New York Live Arts, Dance Theater Workshop, Danspace Project, Symphony Space, DanceNow NYC and many others. This season the company celebrates its 21st anniversary. Its notorious production of The Nutcracker, entitled Nut/Cracked can be seen this year in its 13th season on Martha's Vineyard (through The Yard) and at Boston's Institute for Contemporary Art.
About Glen Fittin
Glen Fittin is an Adjunct Professor and dance musician for the Hofstra University Department of Dance. He has worked with choreographers Robert Battle, Michael Foley, Sean Curran, Donald McKayle, Gabe Masson, Aya Shibahara, Keith Thompson, Mark Dendy and David Dorfman, among others. Glen has accompanied and performed at the Bates Dance Festival, American Dance Festival, Korea Drum Festival, Seoul Dance and Music Improv. Festival Rhethymno Renn Fest Crete. Kaatsbaan (NY) and the North American Frame Drum Festival. His theater credits include The Lion King on Broadway and Shrek the Musical.
About Amy Miller
Amy Miller is a dancer, choreographer, educator and advocate. A former principal with the Ohio Ballet, Miller spent a decade performing masterworks by such choreographers as Anthony Tudor, José Limon, Kurt Jooss, and Paul Taylor, as well as Lucinda Childs, Laura Dean, and Alonzo King among many others. She was a founding member of Cleveland-based GroundWorks DanceTheater, where she collaborated on new work with such dance-makers as David Shimotakahara, Dianne McIntyre, Alex Ketley, Keely Garfield, David Parker and Gina Gibney. As Artistic Associate of GroundWorks, Miller choreographed seven works on the company and remains a guest artist. Such composers as the genre-defying Ryan Lott (aka Son Lux), and Oberlin Conservatory of Music professor and composer Peter Swendsen have worked with Miller on a wide range of musical scoring for dance. Miller and Swendsen's ongoing collaboration has produced numerous projects for GroundWorks, as well as solo works, and a recent premiere with Gibney Dance Company. Her solo work has been seen in New York City at Judson Church, Mark Morris Dance Center, and Scandinavia House and has been produced at Spoke the Hub, West Fest Dance Festival, the West End Theater's Soaking WET series. Prioritizing esthetic versatility, Miller teaches both Professional Level Ballet and Contemporary Forms classes at Gibney Dance Center and has fostered numerous collegiate teaching residencies including Cleveland State University, Oberlin College and NYU's Tisch School of the Arts.
Interested in finding ways to foster both artistic excellence and social engagement in all of her work, Miller strives to prioritize both components in equal measure. As Associate Artistic Director, Miller focuses on Gibney Dance's Community Action program through facilitating movement workshops with survivors of trauma, conducting both local and international trainings for artists interested in engaging in social action, developing healthy relationship workshops for young people, and raising awareness about the role of the arts in violence prevention. Miller has conducted Gibney Dance Global Community Action Residencies at Mimar Sinan University and Koc University (Istanbul), University of Cape Town (South Africa), DOCH: School of Dance and Circus (Stockholm) and MUDA Africa (Tanzania.) In addition to her artistic and community action work with the Company, Amy is Co-Directing the Discover Dance New York City program, which offers comprehensive, customized residency opportunities for university students from all over the world. Last spring, Miller was honored to receive a Arts & Artists in Progress "Pay it Forward" Award from Brooklyn Arts Exchange.
About Jennifer Nugent
Jennifer danced with the Bill T. Jones/Arnie Zane Dance Company from 2009-2014 and David Dorfman Dance from 1999-2007 receiving a New York Dance and Performance Award (Bessie) for her work with the company. She has worked intensively with Daniel Lepkoff, Lisa Race, Paul Matteson, Martha Clarke, Gerri Houlihan, and Dale Andre, among many others. Jennifer enjoys creating her own work and collaborating. She is currently working with Wendy Woodson, Angie Hauser, Paul Matteson, and studying EmbodyYoga with Patty Townsend.
About Kendra Portier
Originally from Columbus, OH, Portier trained and apprenticed with BalletMet and holds a BFA with Honors in Dance from the Ohio State University. Upon relocating to New York City, Portier performed in project based work with brilliant beings such as Lisa Race/Scott Cohen, Jennifer Nugent, white road Dance Media, 5'4", Hoi Polloi (Boston, MA), Nicole Wolcott Dance, mvworks, Michael and the Go-Getters, and Alexandra Beller Dances. Additionally, she collaborated with Launch Movement Experiment, whose creations spanned several years and produced three small works presented at Dance New Amsterdam's obJECT/OBject (NY), Triskelion Arts (NY), Hunter College (NY), A.U.N.T.S (NY), Movement Research at Judson Memorial Church, and 92 Street Y's Fridays at Noon (NY).
Portier has served as faculty at Monroe Dance Academy (CT) and Hunter College (NY), and in 2009 she created DancepantsNYC, a community driven donation-based dance class in support of explorative pedagogies. In the summer of 2010, Portier joined permanent faculty at Dance New Amsterdam (NY), while momentum parlayed her unique teaching style into guest residencies at Bates College (ME), Colby College (ME) , Salem University (MA), the University of Utah (UT), the Ohio State University (OH), Hunter College (NY), Pennsylvania State University (PA), Nebraska University at Lincoln (NB), New York Summer Dance Intensive (NY), Dancewave (NY), the nEW Festival (PA), Performance Projects at Dance New Amsterdam (NY), Peridance Capezio Center (NY), Broadway Dance Center (NY), Wesleyan University (CT), Oakland University (MI), New York University's Tisch School of the Arts (NY), and the acclaimed Bates Dance Festival (ME). Portier has become a nationally celebrated Teaching Artist and currently holds faculty positions at Peridance Capezio Center, Gibney Dance Center, and Mark Morris Dance Group, while remaining an active member of both David Dorfman Dance and Vanessa Justice Dance, and collaborator with Annie Kloppenberg and Company.
About Jenna Riegel
Jenna Riegel, a native of Fairfield, Iowa, has been a New York-based dancer, performer and teacher since 2007. Jenna holds an M.F.A. in Dance Performance from the University of Iowa and a B.A. in Theatre Arts from Maharishi University of Management. Since moving to New York City, Jenna has had the honor of performing with Daara Dance (choreographer Michel Kouakou), Carolyn Dorfman Dance Company, Tania Isaac Dance, David Dorfman Dance, Alexandra Beller/Dances and Bill Young/Colleen Thomas & Company. Jenna currently tours nationally and internationally as a company member of the Bill T. Jones/Arnie Zane Dance Company. She has performed in New York City venues such as Danspace at St. Marks Church, Dance Theater Workshop, Aaron Davis Hall, Joyce SoHo, Dance New Amsterdam, Movement Research, Henry Street Settlement/Abrons Arts Center, John Ryan Theater, Symphony Space and The Duo Theater. Jenna has taught Master Classes in Modern Technique in New York at Dance New Amsterdam, The Joffrey Ballet School and 100 Grand Dance. In addition, she has taught classes at Connecticut College, University of Maryland and the University of Iowa and at festivals around the world such as the New York University's Tisch Summer Dance Festival, the Open Look Festival in St. Petersburg, Russia, the Annual Dance Conference and Performance Festival in Bytom, Poland and the Dance Isadora Festival in Krasnoyarsk, Siberia. Jenna is also a certified Stott Pilates instructor and has been teaching Pilates for more than seven years.
Drop In