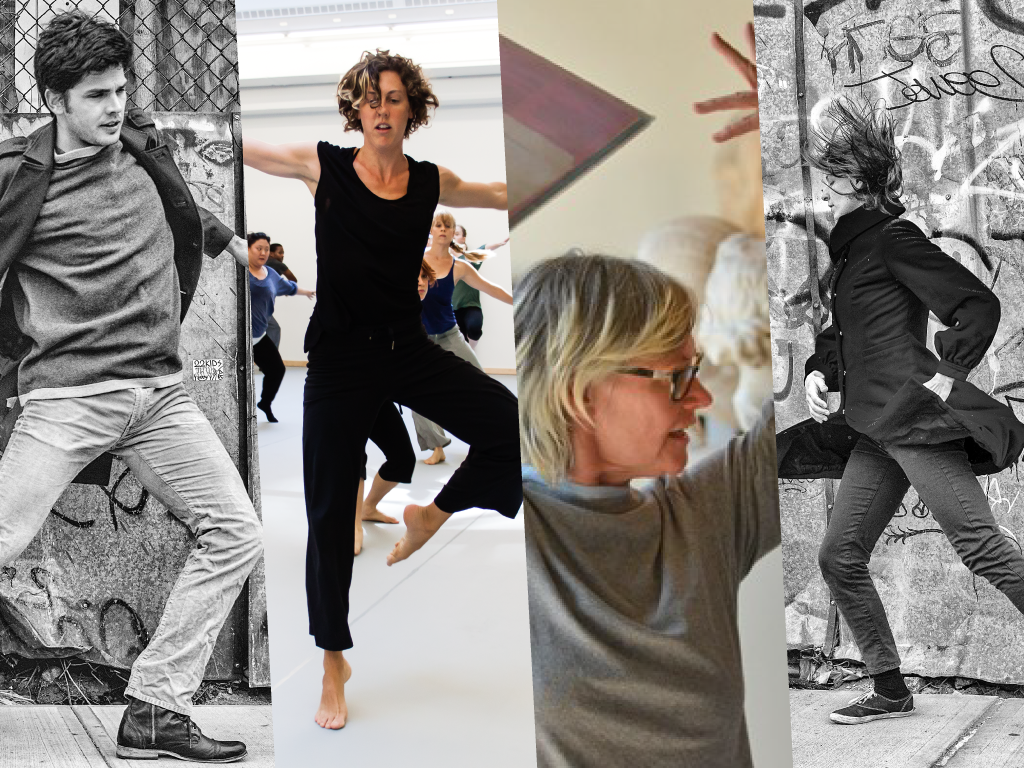 Dates, Times, and Fees
Gibney Lower Manhattan (
280 Broadway
)
Wednesday, September 16
10:00 am – 6:00 pm
Intensive fee: $35
Drop-ins for individual classes welcome, space permitted
Drop-ins: $17
Description
Each month Gibney Dance will present a single day of classes and discussion with three prominent dance artists that focuses on a specific theme.
Our One-day Intensive on Wednesday, September 16, features Alex Springer and Xan Burley, Donnell Oakley, and Iréne Hultman, and will explore the concept of "where we begin/where we end".
"where we begin/where we end" examines the idea of trajectory: the development of a movement phrase, the extension of a kinesthetic idea, the use of increasingly complex partnering possibilities and more. In this one day intensive with dancer-choreographers Alex Springer and Xan Burley, Donnell Oakley, and Iréne Hultman, participants will explore a range of ideas from their most granular starting points to their logical (or illogical!) conclusions.
Intensive Schedule
10:00 am – Noon
Contemporary Partnering with Alex Springer and Xan Burley
Noon – 2:00
Technique with Donnell Oakley
2:00 – 3:00
Bring-your-own brown-bag lunch break
3:00 – 4:00
Discussion with Hilary Easton, Alex Springer and Xan Burley, Donnell Oakley, and Iréne Hultman
4:00 – 6:00
Technique with Iréne Hultman
About Xan Burley
XAN BURLEY a native of Youngstown, OH and a graduate of the University of Michigan (BDA Dance; BA English), is an active performer, creator, teacher, and arts administrator. She has had the great pleasure of woroking with artists and companies such as Nancy Bannon, Daniel Charon Dance, Shannon Gillen + Guests, Shannon Hummel/Cora Dance, Donnell Oakley, Leyya Tawil/Dance Elixir, and the Metropolitan Opera Ballet, among others. She joined Doug Varone and Dancers in May 2012. Xan also acts as producer of WAXworks and is on faculty at the 92Y. Her stage and film work with partner Alex Springer, under alex|xan: the Median Movement, has been show throughout NYC and the U.S
About Iréne Hultman
Iréne Hultman is a native of Sweden and a New York based dance artist. From 1983-1988, Hultman was a member of the Trisha Brown Dance Company where she also worked as rehearsal director 2006-2009. She was the Artistic Director of Iréne Hultman Dance between 1988 – 2001. She has worked on several Opera Productions and received numerous commissions. Iréne Hultman is the co Founder of Järna-Brooklyn, a Swedish-American cultural entity that encourages artistic experimentation. She is the recipient of a Guggenheim Fellowship in Choreography and a Foundation for Contemporary Performance Arts Award among others. Ms. Hultman served on The Bessie Committee and is serving on Danspace Project's Artist Advisory Board in NYC. She is also a guest lecturer at Yale University.
About Donnell Oakley
Donnell Oakley is an independent choreographer, dancer, and teacher based in Brooklyn, NY. She grew up in Raleigh, North Carolina and graduated from the University of North Carolina at Greensboro with a BFA in Dance Performance.
From 2002 to 2008, Donnell spent 6 extraordinary years making dances with the inimitable Jessica Jolly and David Schmidt in their collective, everything smaller. She has continued making dances and has had her work produced through Movement Research, the 92nd Street Y, the West End Theatre, Triskelion Arts, the Joyce SoHo, DanceNowNYC, Dance New Amsterdam, Dixon Place, The Yard, and received the Bessie Schönberg Choreographic Mentorship Residency from The Yard in 2013.
In addition to her own work, Donnell currently loves collaborating with SteeleDance, Chavasse Dance & Performance, Fritha Pengelly Projects, Cori Marquis + The Nines [IX], and Doug Elkins Choreography Etc.
She has been invited to teach master classes and/or choreographed on students at West Chester University, the University of Michigan, Middlebury University, Arizona State University, Prescott University, the University of North Carolina at Greensboro, Arts Together in Raleigh, NC, DeSales University, The Yard, and The Beijing Dance Festival.
About Alex Springer
Originally from Farmington Hills, MI, Alex Springer, is currently a Brooklyn-based performer, choreographer, teacher, and video artist. He graduated from the University of Michigan with a BFA in Dance and a minor in Movement Science. He has been a member of Doug Varone and Dancers since 2008 and has also performed with Alexandra Beller, Donnell Oakley, Amy Chavasse, and the Metropolitan Opera Ballet. Alex has staged Varone's work for various companies and universities and has taught at the Bates Dance Festival, Gibney Dance Center, the 92Y, Dance New Amsterdam, and the Playground. Additionally, Alex creates work with Xan Burley, together the Median Movement. They have shown work in NYC at the 92Y, DanceNOW[NYC], the TANK, Triskelion Arts, Movement Research at Judson Church, BAX, among other venues. Alex and Xan also create dance for the camera and their choreography appears in the feature-length film Frances Ha (2013). Otherwise, Alex works as a freelance video artist for A.O. Pro(+ductions) and is the media manager and video archivist for Doug Varone and Dancers