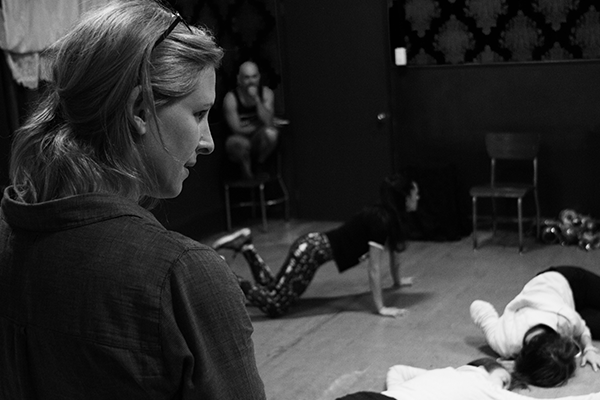 Third Rail Projects Intensive with Jennine Willett
Monday, February 27 – Friday, March 3, 2017
10:30 am – 2:00 pm
All Inclusive Fee: $250.00
Drop-In Classes Available: $50.00
(register for individual days below)
This 5-day intensive shares the methods employed by Third Rail Projects when creating their dance theater, site-specific and immersive shows. Co-Artistic Director Jennine Willett offers a sampling from the company's toolbox as well as methods unique to her own artistic practice. With a theme behind each day's course, participants will explore games for generating movement, effective ways of collaborating and directing, skills for performing in the shifting landscapes of public spaces, and tactics for performing for both intimate and large audiences. Through experimentation, inquiry and discourse, artists will have the chance to work together in an open-minded and exploratory environment.
---
Third Rail Projects Intensive Course Breakdown
Monday, February 27: Performing for 1000, 100 or 1
As site-specific and immersive formats increase in popularity, this course looks at skills that are useful when performing for audiences outside of a traditional theater.  Participants will experiment with various ways to dial and adjust focus, proxemics, and perspectives to affect the audience experience, whether they are performing for 1000 audience members or just 1.
Tuesday, February 28: Immersive and Site-Specific Performance Skills
Participants will play games that develop a heightened awareness of both space and situation when in performance, experimenting with ways of listening to fellow performers and responding to the changing landscape of the audience when performing without a fourth wall.
Wednesday, March 1: Storytelling with the Body
This workshop shares methods for generating and shaping choreography as a means of storytelling. Participants will work independently to create phrases, and then collaboratively to analyze and apply different directives to the material, working together to deepen and clarify the stories we are telling through our movement.
Thursday, March 2: Choreography: Creating Movement through Collaboration
Working in collaboration with performers is an amazing way for choreographers to utilize unique talents and can result in a rich and meaningful exchange that expands or deepens the choreographer's vision. On the flip side, honing the ability to be a moldable and flexible collaborating performer is one of the best skills one can offer to a choreographer. Participants will work together to build skills that come into play on both sides of the collaborative process.
Friday, March 3: Directing Techniques
Bringing a creative vision to life requires effective directing skills to convey our concepts and ideas clearly. This class explores methods that build clarity and successful communication skills as a director. Participants will alternate between directing and being directed, experiencing these skill sets from both perspectives and building a dialogue that aims to strengthen the collaborative process.