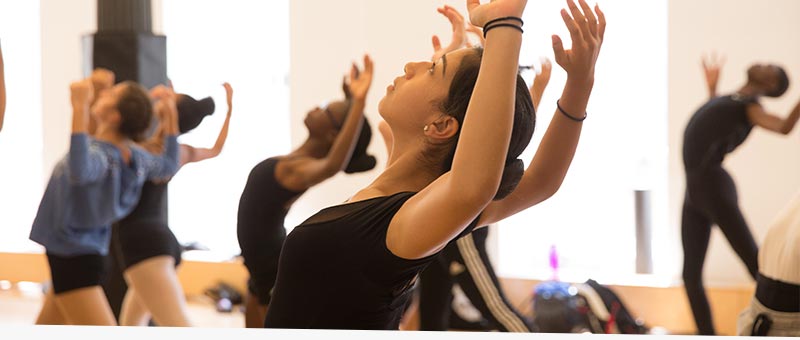 MOVE(NYC) is a multi-pillared, tuition-free, arts organization whose primary focus is to cultivate greater diversity and equity within the dance world and beyond.
By providing access to high quality training, directly engaging our community, and curating new and exciting professional performance opportunities, MOVE(NYC) strives to foster a dance experience more reflective of the world we live in today. MOVE(NYC) was founded by Chanel DaSilva and Gibney Dance Artistic Associate Nigel Campbell.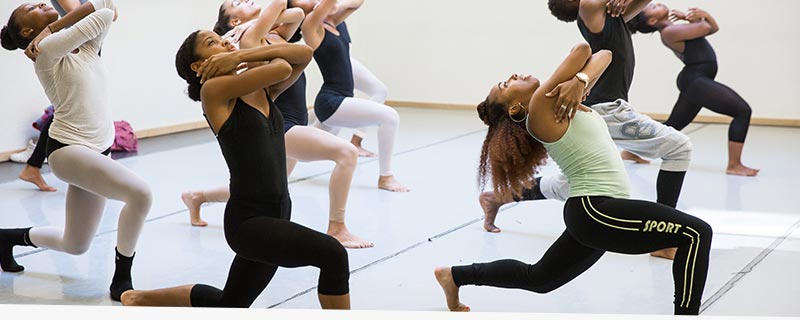 2017 SUMMER DANCE INTENSIVE
MOVE(NYC)'s Summer Dance Intensive is an elite and rigorous training program geared exclusively towards talented and motivated New York City teenagers, ages 13 – 18, who have received at least 2 years of consistent training in dance. In keeping with the demands of an ever-changing dance world, it is our inherent belief that the dancers of today must be versatile, relevant and well-rounded artists. Our curriculum is designed to give each dancer a stronger foundation in ballet and contemporary dance techniques, but also to expand their ideas and ways of moving. Through various workshops, panels and exciting performance opportunities MOVE(NYC) strives to propel each young dancer to the next phase of their technical and artistic training.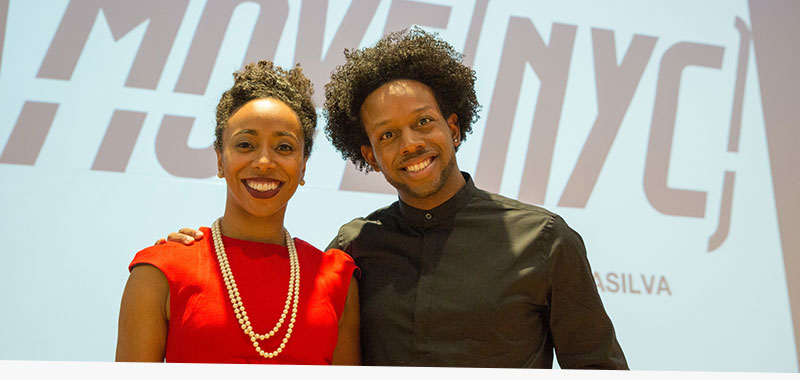 Nigel Campbell (Co-Founder & Co-Director) was born and raised in The Bronx, New York. He began his training at Creative Outlet Dance Theater and is a graduate of LaGuardia High School of the Performing Arts (04'), and of The Juilliard School (08'), under the direction of Lawrence Rhodes. He has also received additional training from The Miami City Ballet School, The School at Jacob's Pillow, The Alvin Ailey School and Springboard Danse Montreal. While at Juilliard, Nigel joined the Metropolitan Opera Ballet as a soloist dancer for their production of Aida. Upon graduation, he moved to Saarbruecken, Germany to join the Saarlandisches Staatstheater/ Donlon Dance Company, under the direction of Marguerite Donlon. In 2010, Nigel moved to Chicago, Illinois to dance for Luna Negra Dance Theater, under the Direction of Gustavo Ramirez Sansano. While in his first season at Luna, Nigel was the proud recipient of the prestigious Princess Grace Award 2011. In April 2013, Nigel joined the world renowned GöteborgsOperans DansKompani in Gothenburg, Sweden under the direction of Adolphe Binder, He danced there full time as a soloist until June 2015 and is currently a guest artist with the company. Nigel is also a contributing columnist for Interview en L'air, curating a monthly column, Beyond The Dream: Making it in New York City, which sheds light on the realities of building a sustainable artistic life in NYC.. Additionally, In 2016 Nigel, along with his partner Chanel DaSilva, co-founded MOVE(NYC). Nigel has been the recipient of numerous awards and honors including a National YoungArts Level 1 Award and a NAACP ACT-SO Gold Medal. He is a 2004 Presidential Scholar in the Arts and at 17, was featured on the National PBS documentary "American Talent". Nigel is now an Artistic Associate with Gibney Dance Company and currently resides in New York City.
Chanel DaSilva (Co-Founder & Co-Director), a native of Brooklyn, NY, fell in love with dance at the age of three. She studied at The Bernice Johnson Cultural Arts Center and also studied at Creative Outlet Dance Theater of Brooklyn. Her training continued at LaGuardia High School for the Performing Arts, The Ailey School, University of North Carolina School of the Arts and Springboard Danse Montreal. She received a BFA in Dance from The Juilliard School, under the direction of Lawrence Rhodes and was the recipient of the prestigious Martha Hill Award upon graduation. Chanel has performed works by Ohad Naharin, Eliot Feld, Doug Varone, Jose Limon, Jessica Lang, Alvin Ailey, Robert Battle, Camille A. Brown, and Lar Lubovitch. Chanel is a 2004 Level 1 YoungArts Awardee, a 2004 Presidential Scholar in the Arts and also a 2011 Princess Grace Dance Honorarium Awardee. She was also featured in the 2004 PBS Documentary "American Talent". From 2008 – 2014 Chanel was a founding member of the highly celebrated Trey McIntyre Project where she was a muse for many of Mr. McIntyre's works. She graced the cover of DANCE MAGAZINE in 2011 and as a part of Brooklyn Academy of Music's "Dance Motion USA" Chanel toured throughout Asia with TMP as an ambassador to the United States. She has taught master workshops and choreographed works for schools, universities and companies across the nation such as The Juilliard School, LaGuardia High School, Idaho Dance Theater and Harvard Ballet Company among others. She is now a member of Lar Lubovitch Dance Company, a notable repititeur of the works of Trey McIntyre, and also currently serves on the dance faculty at her alma mater, LaGuardia High School. In 2016, alongside her partner Nigel Campbell, Chanel co-founded MOVE(NYC). Chanel resides in New York City.
Niya Nicholson, a Harlem, NY native, is dedicated to intersectional racial and social justice work within the arts field and beyond. As a budding arts leader and creative entrepreneur, her work centers long-range, equity-based strategic planning and arts advocacy as it pertains to underserved and under-resourced cultural communities and organizations. Her fervor for the arts has been supported by former dance training at LaGuardia High School of the Performing Arts and her B.A. from Vassar College with concentrations in Psychology, Africana Studies and Educational Studies coupled with educational, legal, and performance research in Chicago, Cuba, and South Africa. She serves Gibney Dance – Development Manager, MOVE(NYC) – Chief of Staff, and the 2017-18 Dance/NYC Junior Committee – Co-Chair. While in the gestational phase of developing transcontinental arts and education centers, Niya looks forward to continued arts advocacy, communal building, and connections to ancestry and space.