Our dancers are dedicated partners in advancing the quality of the Company's artistry and community engagement. We strive to empower Company members to be innovators, generators, and activists in the field.
Company members are also given the title of Artistic Associate because they are involved in a broad spectrum of activities both in and out of the studio, including work with survivors of domestic violence through our Community Action program, individually designed Advocacy Fellowships addressing issues in the field, and more.
Read about a day in the life of an Artistic Associate →
Associate Artistic Director & Senior Company Director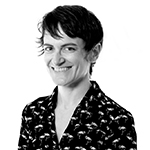 Amy Miller is a dancer, choreographer, educator and advocate. A former principal with the Ohio Ballet, Miller spent a decade performing masterworks by such choreographers as Anthony Tudor, José Limon, Kurt Jooss, and Paul Taylor, as well as Lucinda Childs, Laura Dean, and Alonzo King among many others. She was a founding member of Cleveland-based GroundWorks DanceTheater, where she collaborated on new work with such dance-makers as David Shimotakahara, Dianne McIntyre, Alex Ketley, Keely Garfield, David Parker and Gina Gibney. As Artistic Associate of GroundWorks, Miller choreographed seven works on the company and remains a guest artist. Such composers as the genre-defying Ryan Lott (aka Son Lux), and Oberlin Conservatory of Music professor and composer Peter Swendsen have worked with Miller on a wide range of musical scoring for dance. Miller and Swendsen's ongoing collaboration has produced numerous projects for GroundWorks, as well as solo works, and a recent premiere with Gibney Dance Company. Her solo work has been seen in New York City at Judson Church, Mark Morris Dance Center, and Scandinavia House and has been produced at Spoke the Hub, West Fest Dance Festival, the West End Theater's Soaking WET series. Prioritizing esthetic versatility, Miller teaches both Professional Level Ballet and Contemporary Forms classes at Gibney Dance Center and has fostered numerous collegiate teaching residencies including Cleveland State University, Oberlin College and NYU's Tisch School of the Arts.
Interested in finding ways to foster both artistic excellence and social engagement in all of her work, Miller strives to prioritize both components in equal measure. As Associate Artistic Director, Miller focuses on Gibney Dance's Community Action program through facilitating movement workshops with survivors of trauma, conducting both local and international trainings for artists interested in engaging in social action, developing healthy relationship workshops for young people, and raising awareness about the role of the arts in violence prevention. Miller has conducted Gibney Dance Global Community Action Residencies at Mimar Sinan University and Koc University (Istanbul), University of Cape Town (South Africa), DOCH: School of Dance and Circus (Stockholm) and MUDA Africa (Tanzania.) In the spring of 2015, Miller was honored to receive a Arts & Artists in Progress "Pay it Forward" Award from Brooklyn Arts Exchange.
Artistic Associates