GDC is a creation-based repertory company commissioning work from both internationally renowned and emerging choreographers who are committed to exploring connections between the rigorous, often superhuman physicality of contemporary dance alongside responsive, humanistic storytelling.  We value both the risk and immeasurable opportunity of commissioning numerous creations each season as a reflection of our dedication to an entrepreneurial philosophy of constant reinvention.
We collaborate with choreographers who are passionate about creating new worlds both in the studio and onstage – reimagining entry points to process and product for both performers and audiences alike.  We invest in artists who are both challenging and welcoming us to see things we might think that we know well – a space, or a movement, or an idea – with a fresh, constantly recalibrating lens.
Choreography: Adam Barruch
Premiered: 2018
Performers: Nigel Campbell, Zui Gomez, Amy Miller, Jesse Obremski
Original Score: Roarke Menzies
Costumes: Karen Young
Lighting Design: Asami Morita with Adam Barruch
Imprint Ghosts explores the energetic echoes of time and emotion that remain in a physical space long after they occur. As we navigate through these familiar spaces we find ourselves not only reacting to our immediate lives, but also navigating through a field of the unfamiliar past.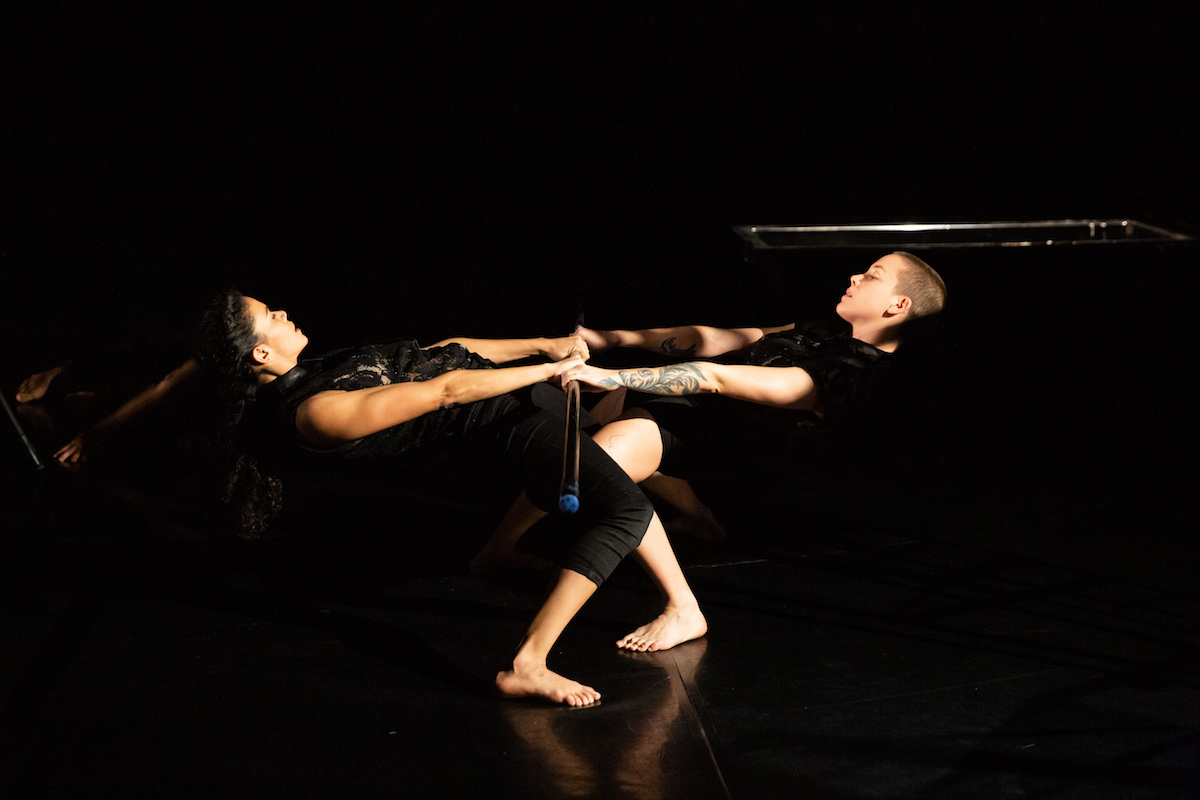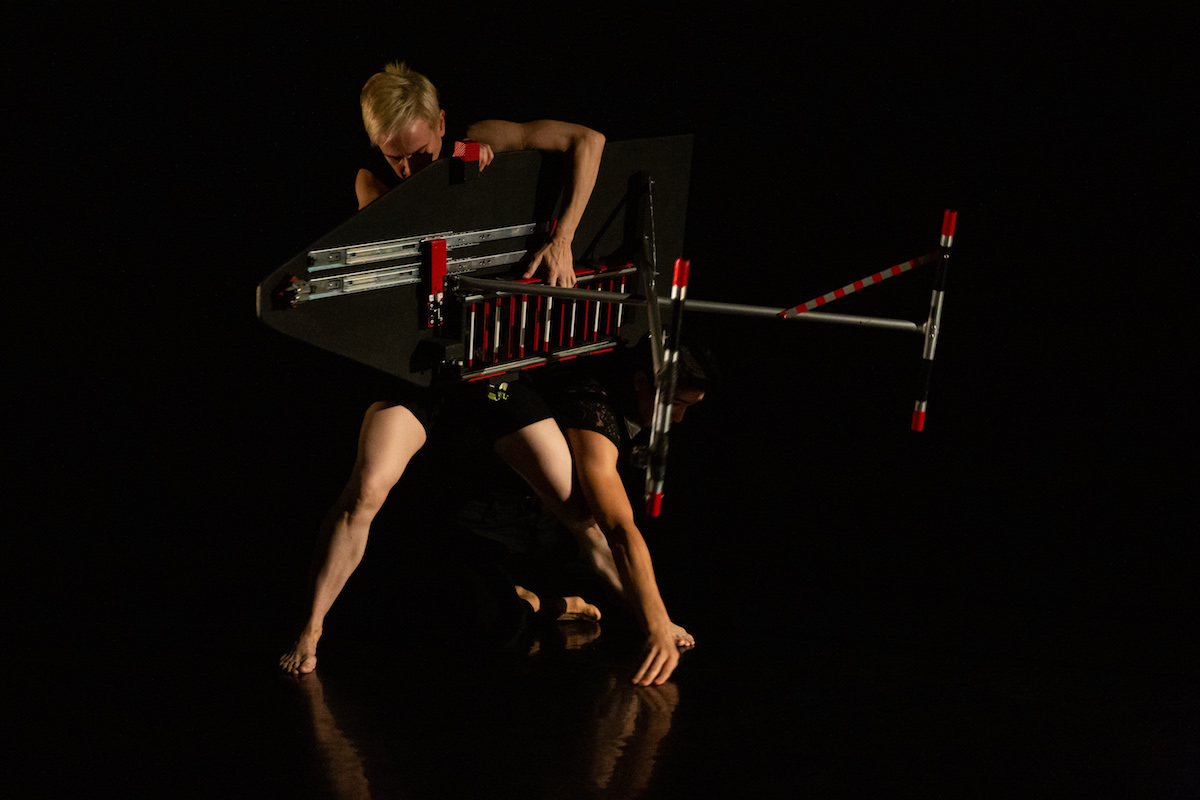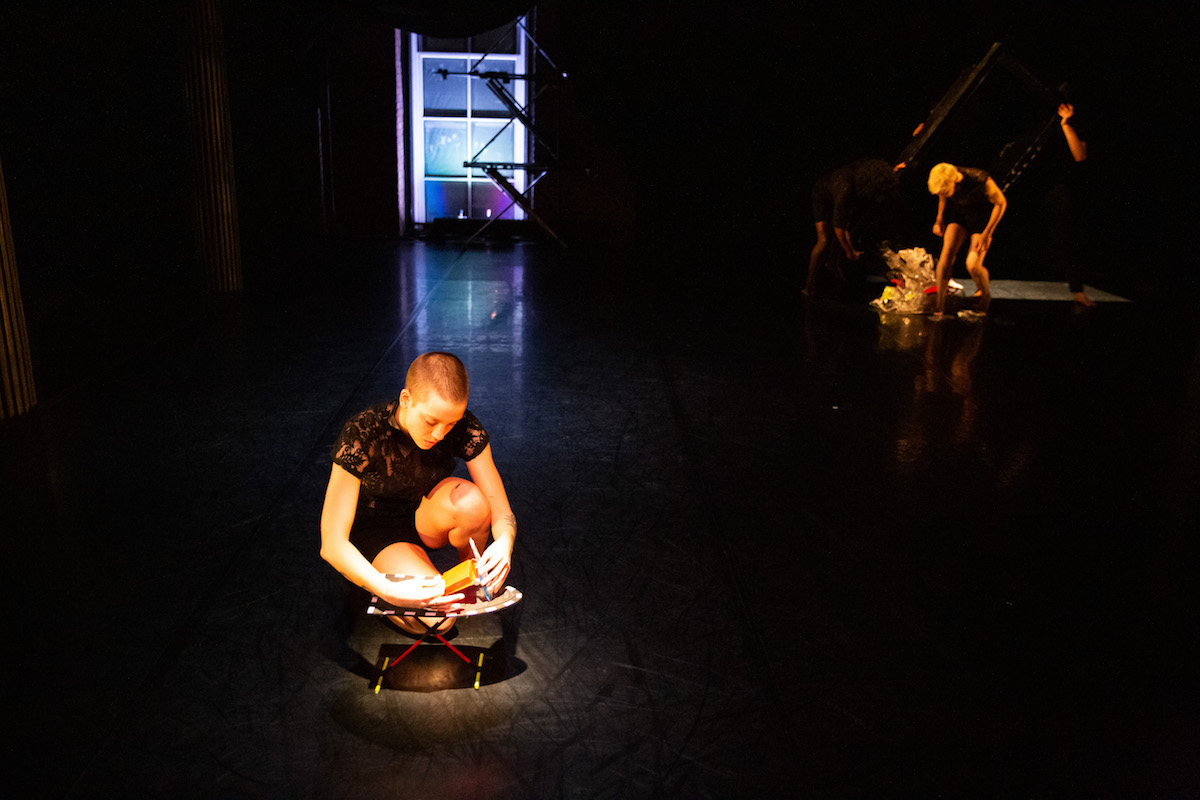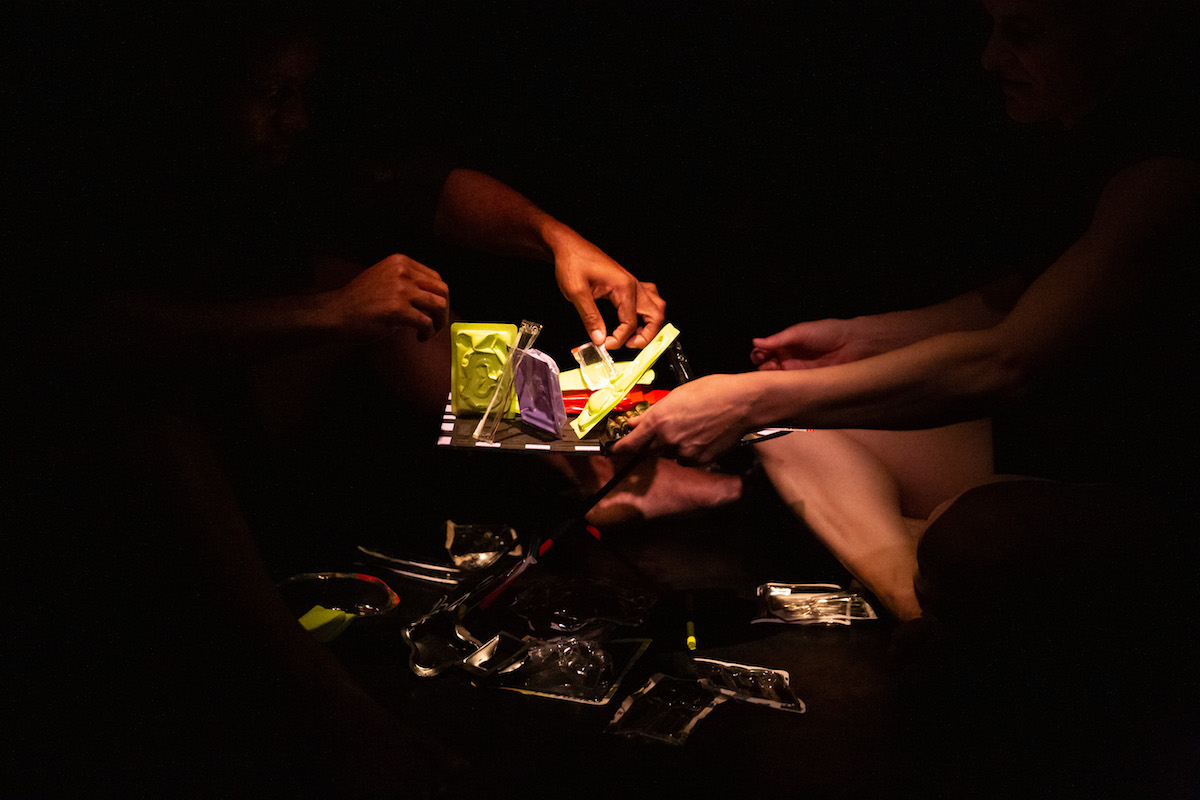 Concept And Co-Creation: Shamel Pitts and Deville Cohen
Choreographer: Shamel Pitts
Director and Visual Artist: Deville Cohen
Original Music/Composer: Sivan Jacobovitz
Lighting Design: Asami Morita with Shamel Pitts and Deville Cohen
Costumes: Shamel Pitts and Deville Cohen
Performed by: Nigel Campbell, Zui Gomez, Amy Miller, Jesse Obremski, Leal Zielinska
MENAGERIE, derived from the French word "menage," is a strange or diverse collection of people or things in a household unit. Blurring the lines between Dance and Object Theater, choreographer Shamel Pitts and visual artist Deville Cohen explore the quixotic individuality of the dancers in Gibney Dance Company. Inspired in part by Tennessee Williams'  The Glass Menagerie, Pitts and Cohen worked with a group of custom built and readymade objects to exaggerate the collective labor of the performers. The movement was also designed and found to amplify their sense of self. Pitts and Cohen's creation shares the possibility of a space where each dancer can live and thrive inside this constructed environment, with the given collection of objects, while negotiating their individuality.
MENAGERIE has received generous support from The Artis Grant Program. Shamel Pitts is a 2018 Princess Grace Choreography Fellowship Award winner for the creation of MENAGERIE.
One Thousand Million Seconds
Choreography: Bryan Arias
Premiered: 2018
Performed by: Nigel Campbell, Julia Discenza, Zui Gomez, Katie Lake, Amy Miller, Will Noling
Music: Terry Riley, Christopher Bissonnette, Nils Frahm, Marsen Jules
Music Editing: Bryan Arias
Lighting: Bryan Arias
Costumes: Márion Talán
An abstract story of society and human existence. The work shows the essential humanity of the characters and addresses themes of life, existence and happiness. Stories represent a series of disconnected vignettes that together interrogate facets of modern life through countless aspects
of existence, reality, and time. The work wonders through human destinies – A trip that shows us the beauty of a single moment, the pettiness of others, the humor and tragedy that is in us, life's magnificence as well as the frailty of humanity.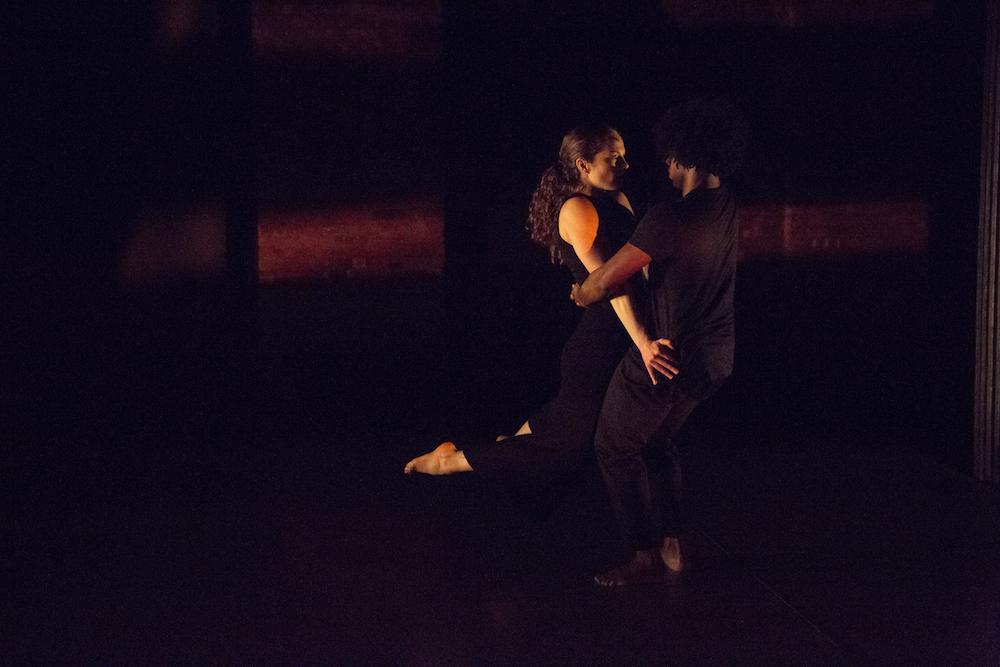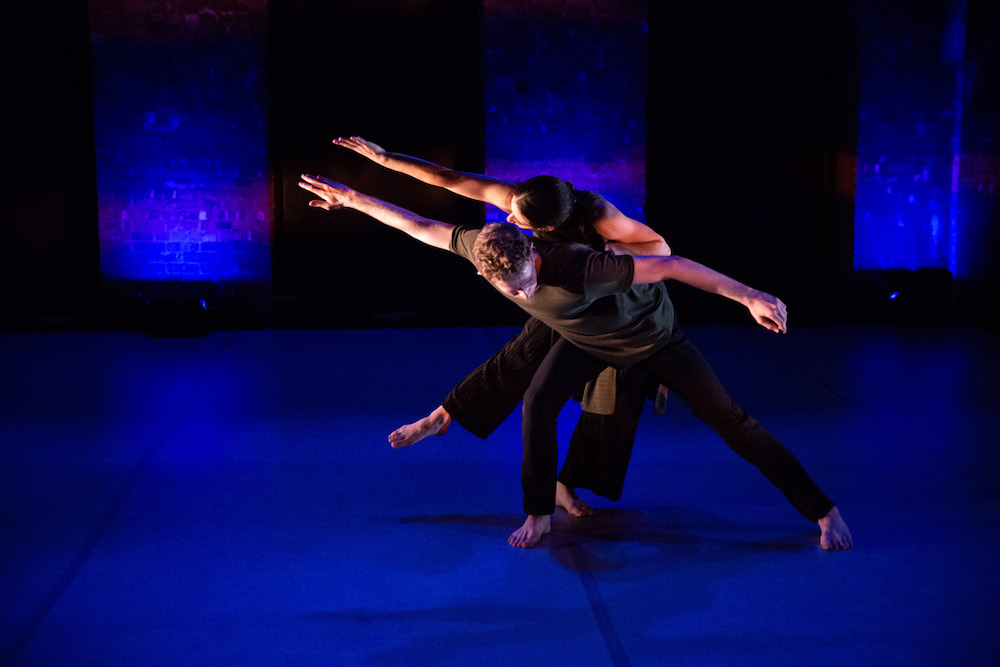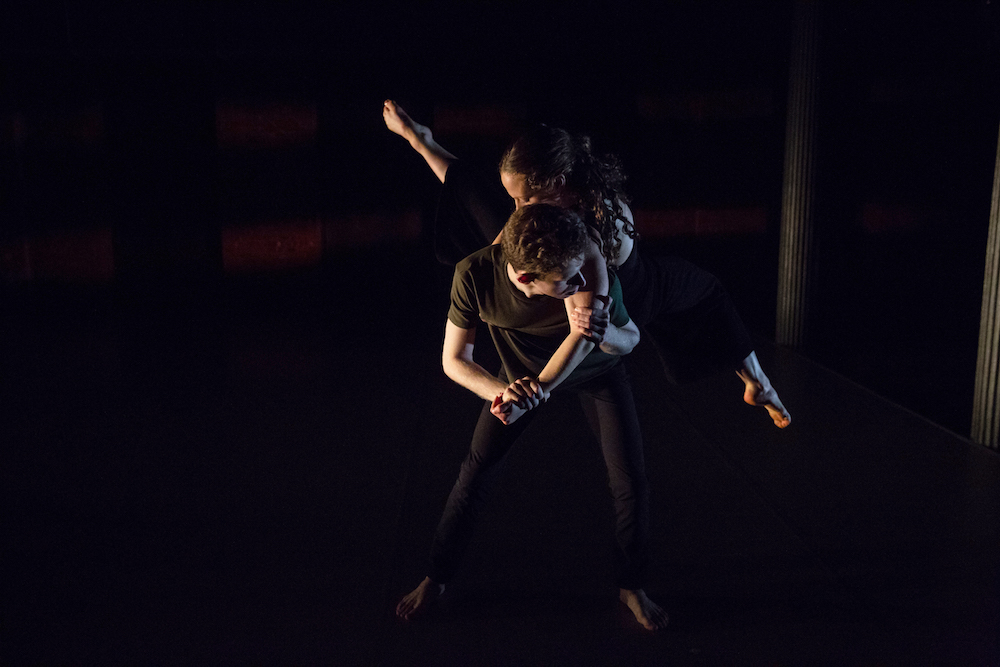 Choreography: Amy Miller
Premiered: 2018
Performed By: Nigel Campbell, Julia Discenza, Zui Gomez, Katie Lake, Will Noling
Composer: Peter Swendsen
Costumes: Felicity Sargent
Lighting: Asami Morita
Valence calls on the chemistry term describing the inherent bonding capacity of atoms to reflect our constant potential
to create connections in our daily lives transforming how we see ourselves, each other and the world. Composer Peter Swendsen's original score draws on a broad palette of sonic choices, including many related to human, mechanical and environmental "breath" in this work originally created on Cleveland-based GroundWorks DanceTheater.
Valence was created with commissioning support and in collaboration with GroundWorks DanceTheater in 2009.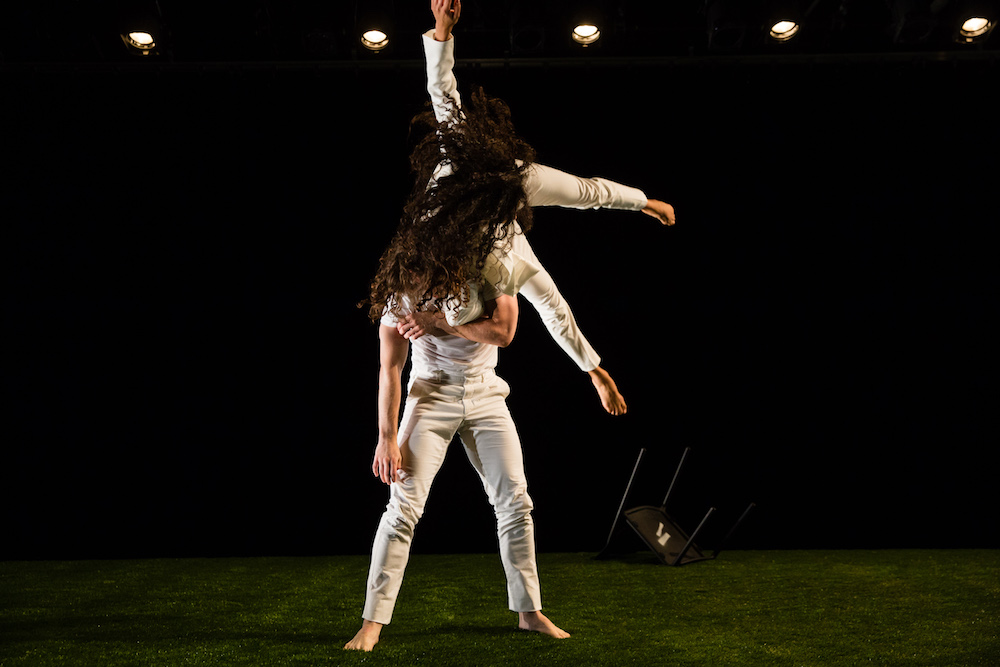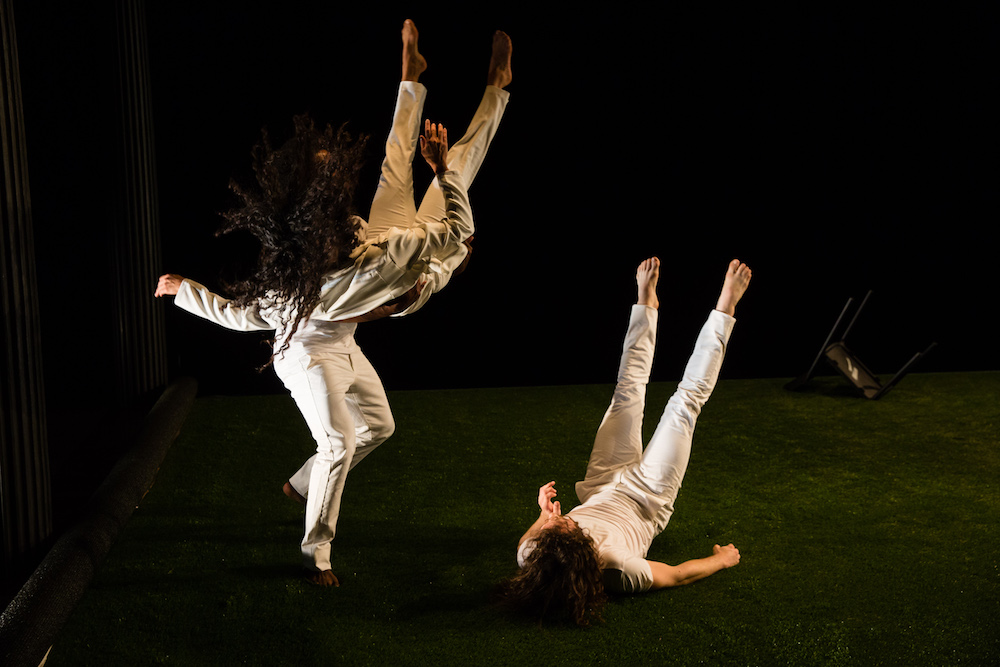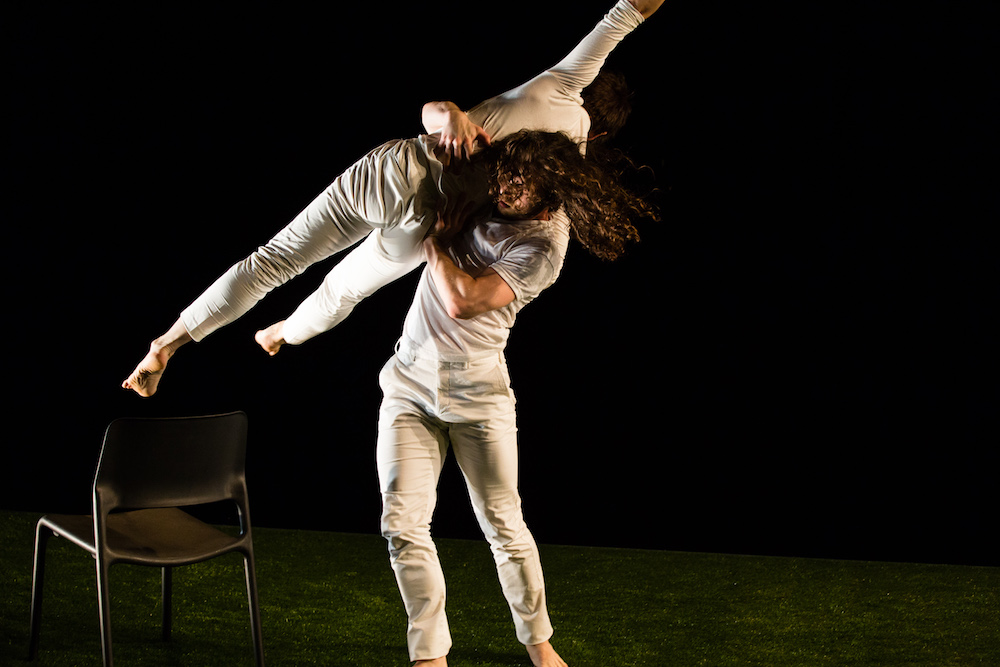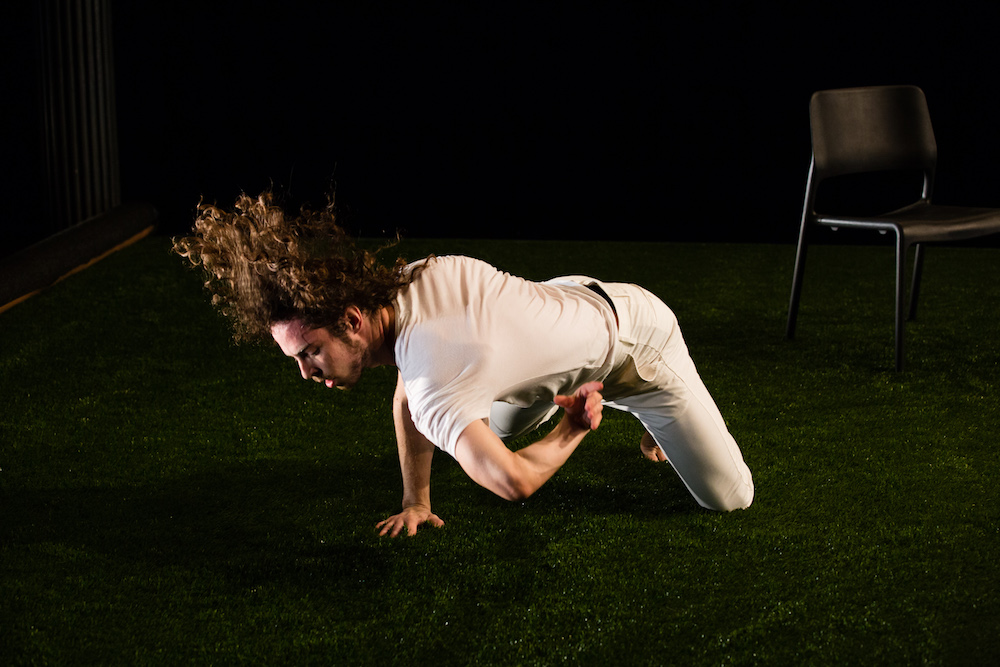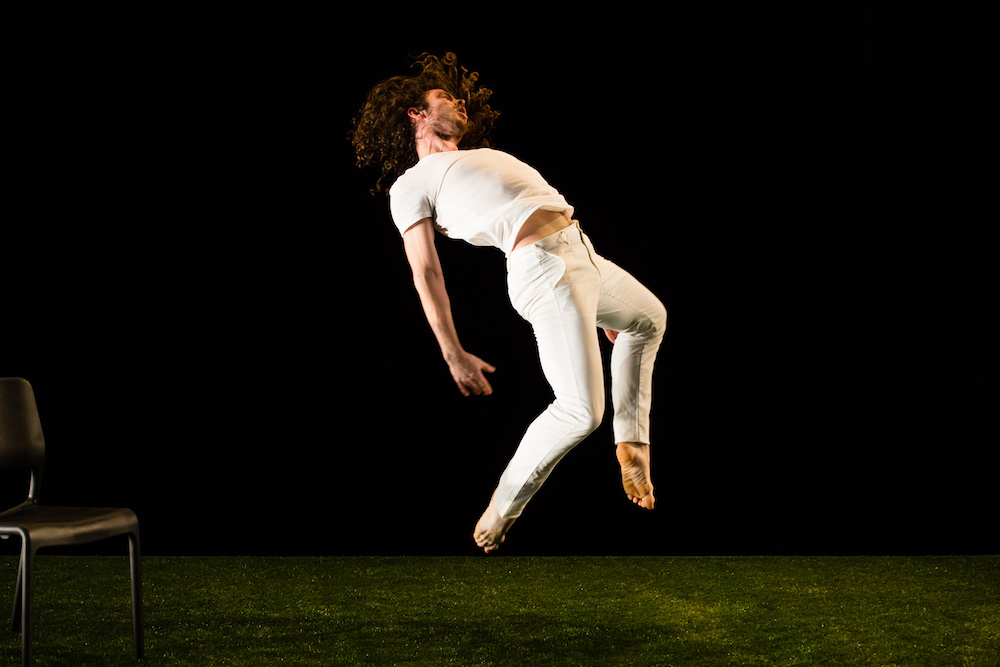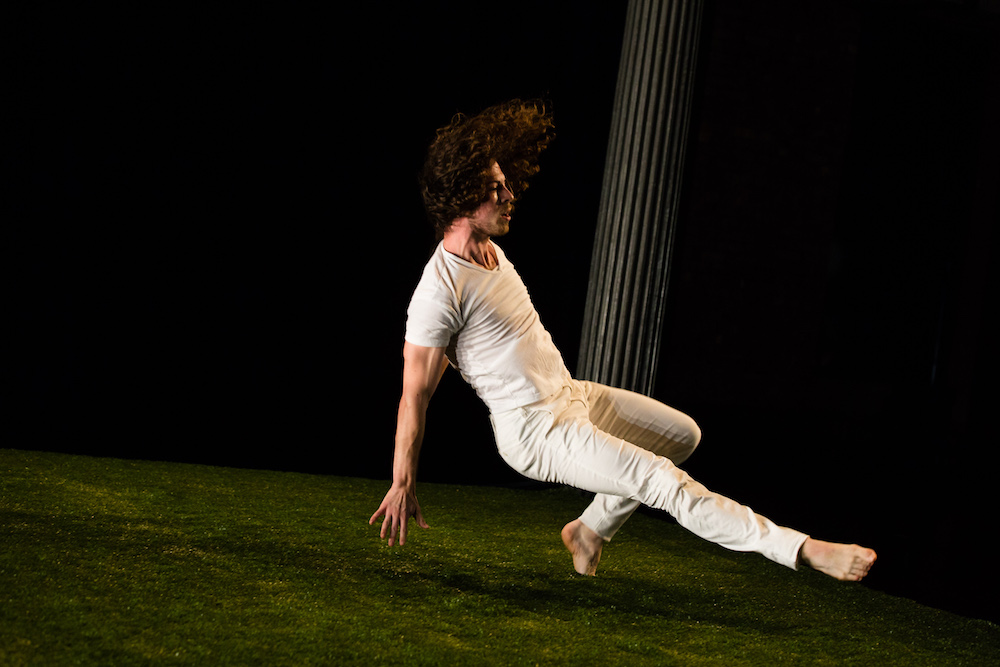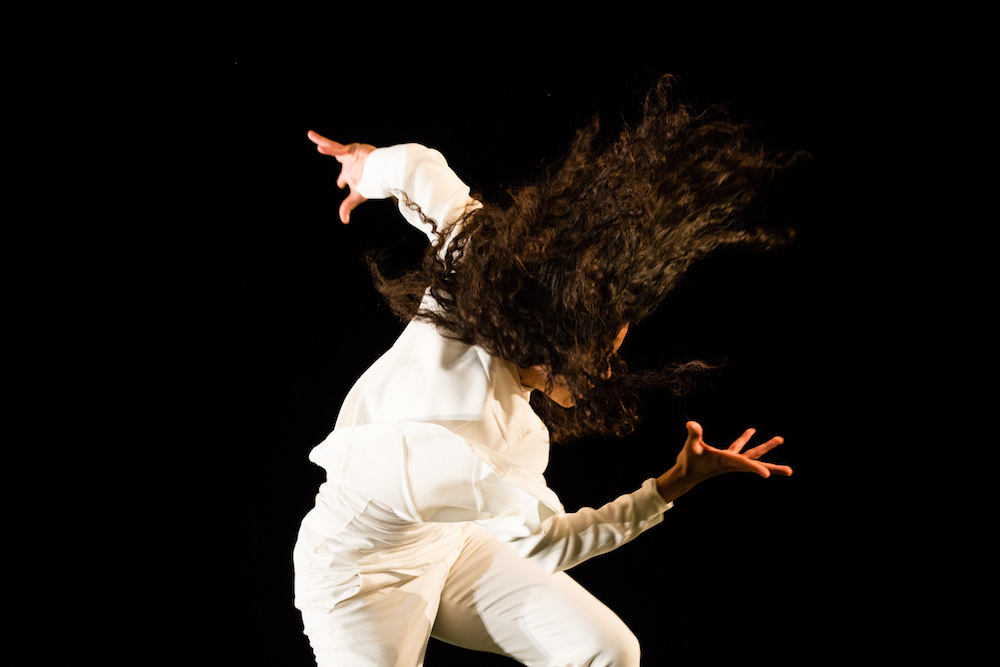 Concept, Direction, Choreography: Shannon Gillen
Premiered: 2017
Performers: Nigel Campbell, Zui Gomez, Amy Miller, Tyler Schnese
Choreographic Collaborators: Laja Field, Martin Durov, Jason Reese Cianciulli
Sound Design: Martin Durov
Costumes: Joseph Blaha
Lighting Design: Barbara Samuels, Isabella F. Byrd
Shannon Gillen's PASTORAL looks at life-like environments as potent carriers of modern feeling, where reality is amplified, reduced, or otherwise altered by human engineering. With bodies juxtaposed against a fabricated landscape, characters are at once made more and less real by their surroundings, allowing unsettling thresholds between natural, unnatural, real, and unreal to become blurred. Drawing from VIM VIGOR's signature dance theater aesthetic, the certainty of what is authentic will be shattered in a physical commotion of flesh, plastic, hair, electricity, metal, and breath.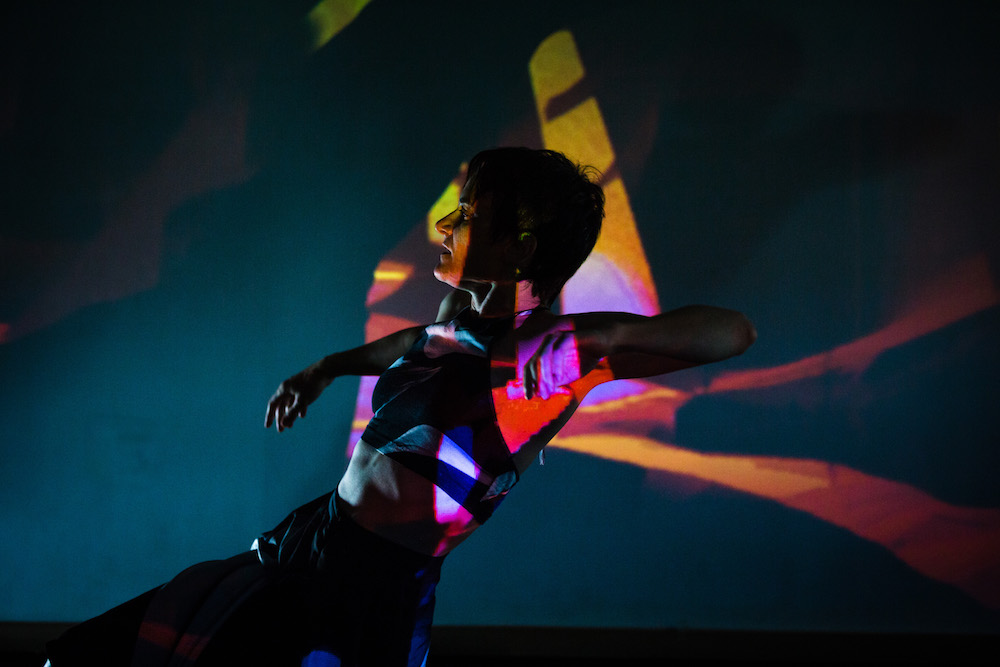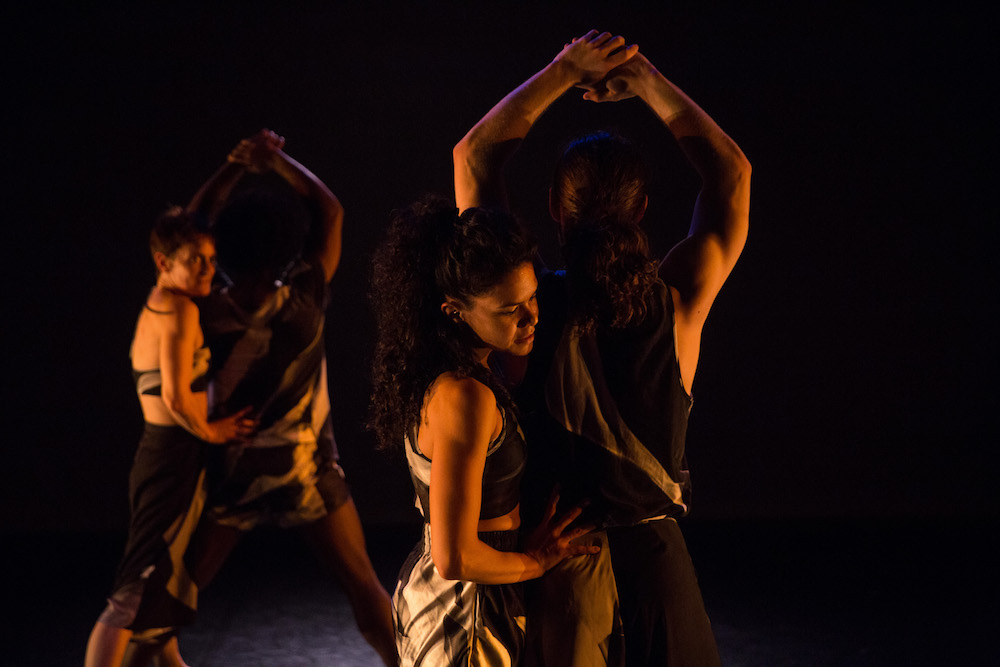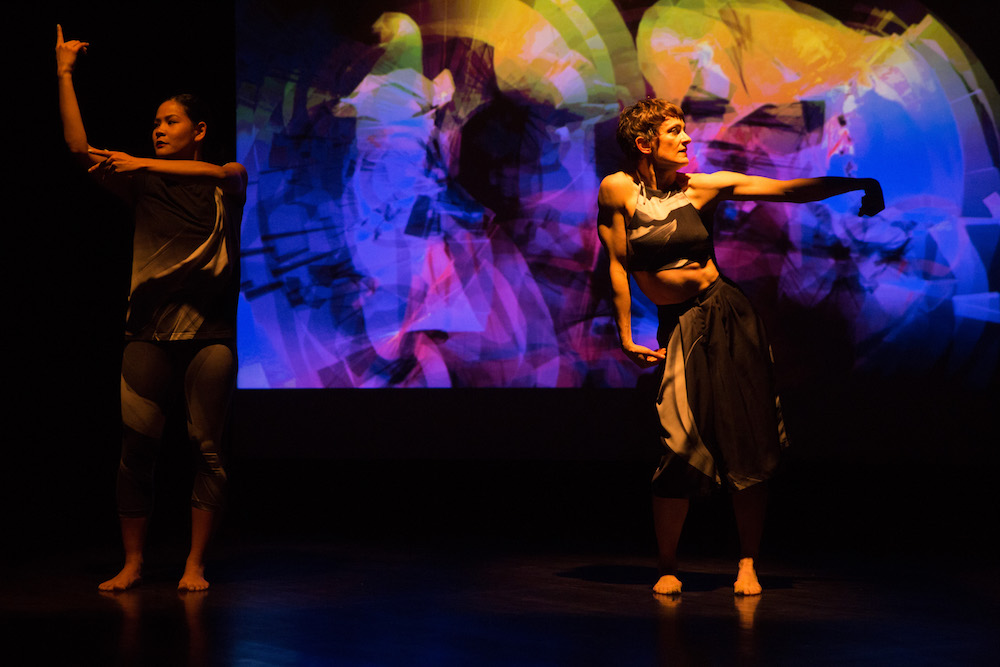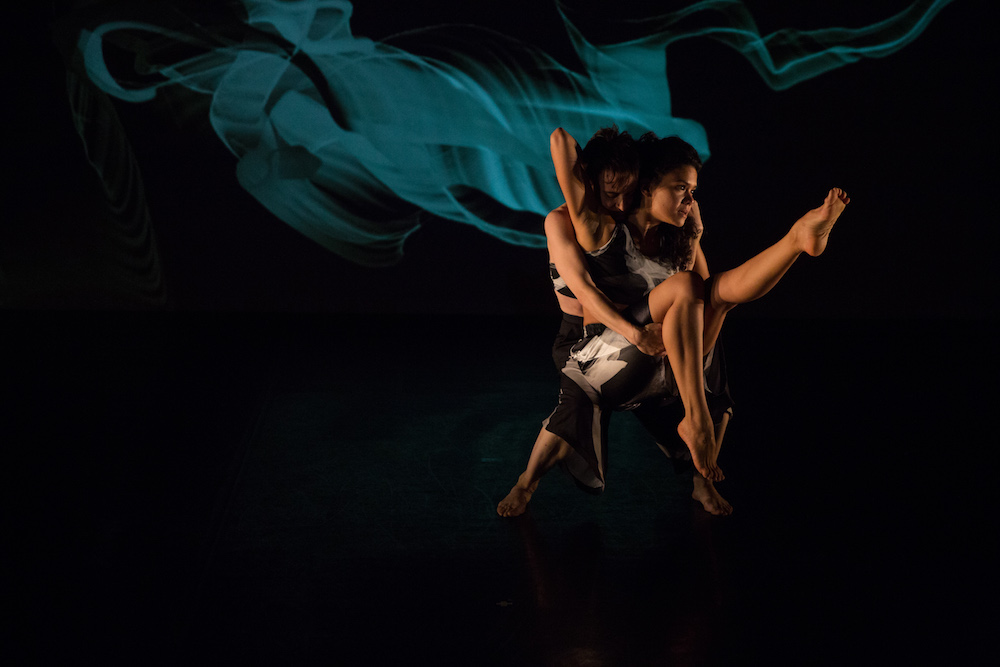 Choreography: Gina Gibney
Premiered: 2017
Performers: Nigel Campbell, Zui Gomez, Amy Miller, Tyler Schnese
Music: Ezekiel Honig
Projected Visuals: Joshue Ott
Lighting Design: Asami Morita
Costumes: Felicity Sargent
Drafting Foresight explores how pivotal moments resonate through time, and how a single conversation can change everything. Past and present are redrafted by the residue of memory, and how it is held.
Drafting Foresight was originally created on GroundWorks DanceTheater and premiered in March 2017 at the Breen Center for the Performing Arts in Cleveland, Ohio. Special thanks to Artistic Director David Shimotakahara and collaborator Michael Marquez.
GDC is available for national and international touring opportunities including performances, community action residencies, and teaching engagements.
For booking inquiries, please contact Trina Mannino, GDC Company Manager, at trina@gibneydance.org.
Get to know our full list repertoire by visiting our Repertory Archive.