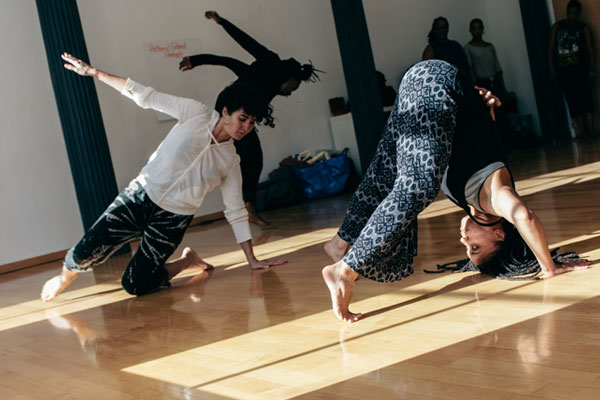 Art + Action Intensive: we (been) here
By Skeleton Architecture
Friday, February 9 / 5:00 – 10:00 pm
280 Broadway / Free
Sign Up →
we (been) here – these workshops are offered as a safer space for Black bodies to collect and center ourselves in particular solidarity.
we (been) here is a communing to explore embodied archive, communal selfhood, and the divine everyday. Inspired by Dr. Kariamu Welsh's description of Africanist memory as "a conscious and subconscious calling upon the ancestors, gods, mind to permit the flow of energy," we will move, sit, talk, write, draw, conjure and vision, through both private and public practices.
The Skeleton Architecture is a vessel of Black womyn and gender nonconforming artists rooted in the rigor and power of the collective in practice. The Skeleton Architecture creates, organizes, advocates, gathers, curates, performs, plays, challenges, and teaches through the depth of their ancestral knowledges toward the liberated future of our worlds. This series of workshops offers a safer space for Black bodies to collect and center in particular solidarity.
---
WORKSHOP DESCRIPTIONS
These workshops are free and offered as a safer space for Black bodies to collect and center ourselves in particular solidarity.
Communal Meal
5:30 – 6:30 pm
Join members of Skeleton Architecture in a communal meal and sharing of spirit.
Regenerative Practice
7:00 – 8:00 pm
Facilitated by Leslie Parker and Edisa Weeks
Connecting to the earth we will activate our spines through head, tail and full body undulations, curls, expansions, wiggles, and squiggles that tap into the spine's expressive and serpent energy which emerges from an African Diasporic perspective and practice. Starting on the floor we will evolve to standing and movement that is rooted in generating heat, expanding the comfort zone, taping into joy, and being in a supportive communal relationship with other participants.
Moving Words and Trusting Movement for Black Bodies
8:15 – 9:30 pm
Facilitated by Davalois Fearon and Charmaine Warren
Moving words and trusting movement for Black Bodies, an improvisatory workshop that will begin with introductions and discussion on the notion of Black love. We will improvise and bounce ideas of Black bodies and love through words, music, and movement, then end with a jam session to old and new love songs from Black artists.
WORKSHOP FACILITATORS
Davalois Fearon is a critically acclaimed dancer, teacher, and choreographer born on the island of Jamaica and raised in The Bronx, New York. She is the founder and Artistic Director of Davalois Fearon Dance. Her choreography has been presented throughout New York City by the Joyce Theater, The Metropolitan Museum of Art, Dance Enthusiast's "Moving Caribbean in NYC," the Bronx Academy of Arts and Dance, and the Inception to Exhibition Dance Festival, among others; as well as across the US and in Kingston, Jamaica. She has collaborated with internationally renowned poet Patricia Smith, multi-reedist Mike McGinnis, fashion photographer Nigel HoSang, and interdisciplinary artists Andre Zachery and Deborah Castillo.
Leslie Parker is a contemporary dance artist, maker, improviser and educator; holding a MFA in Dance from Hollins University, Parker's extensive study includes live performance in addition to sacred practices and dance forms derived of the African Diaspora. She travels extensively researching/experimenting, making dances and performing/collaborating in original dance works. As a dance educator, a few credits include Temple University, Gibney Dance Center, Zenon Dance Company and School, University of Minnesota, Queens College, Sarah Lawrence College, Carlton College and Penumbra Theatre's Summer Institute. Parker initiated and designed "Moving Dialogue for Non-Violence" a platform using movement to facilitate group dialogue at Broadway Women's House Shelter in Brooklyn, NY and The Family Place in St. Paul, MN.
Charmaine Warren (B.A/M.A./PhD) consultant, performer, historian, writer is on faculty at Hunter College, Empire State College, and former faculty at Sarah Lawrence, Alvin Ailey/Fordham University, Kean University, and Joffrey Ballet's Trainee Program. Charmaine has performed with David Rousseve, Patricia Hoffbauer and Souleymane Badolo. She curates for EMoves, The Wassaic Project and is the founder/producer/artistic director for "Dance on the Lawn:" Montclair's Dance Festival. She is a panelist for New Dance Choreography Lab/Alvin Ailey Foundation, The Kevin Spacey Foundation and others. Charmaine writes on dance for The New York Amsterdam News, Dance Magazine plus other magazines and journals.
Edisa Weeks (Choreographer/Curator/Maker/Performer) creates multi-media interdisciplinary works in 2003 she formed DELIRIOUS DANCES which merges theater with dance to explore our deepest desires, darkest fears and sweetest dreams. Weeks grew up in Uganda, Papua New Guinea and Brooklyn, NY. She's had the pleasure of working with Annie–B Parsons Big Dance Theater, Bill T. Jones/Arnie Zane Dance Co., Dance Brazil, Jane Comfort, Jon Kinzel, Muna Tseng, Reggie Wilson Fist & Heel Performance Group, Sally Silvers, Spencer/Colton Dance, among others. She teaches technique, improvisation and choreography at Queens College.
---
Art + Action Intensives offer the unique opportunity to address different social issues using an arts and movement focus. These intensives are open to any artist looking to expand their practice and learn in-depth ways to take action in their communities and beyond.
Photo by Erik Carter.