Dance Education Laboratory (DEL) Day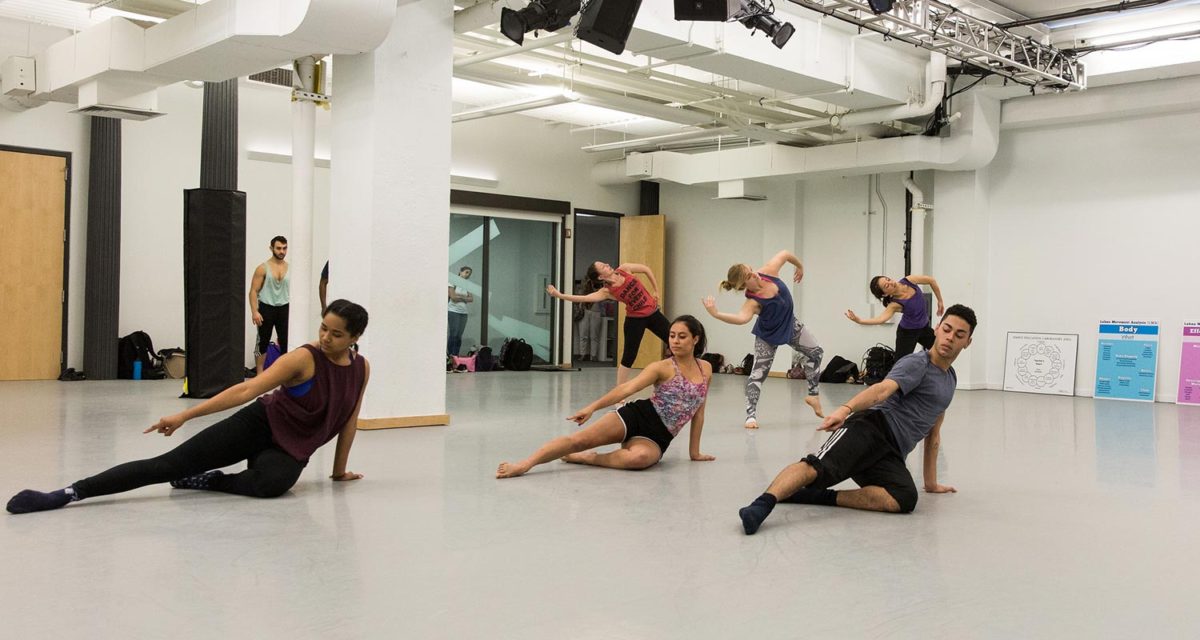 DANCE EDUCATION LABORATORY (DEL) DAY
Dance Education Laboratory (DEL), the nationally acclaimed professional development program dedicated to the art of dance and dance education, travels downtown from its home at 92Y Harkness Dance Center to Gibney. Experience art at the heart of teaching and the vision of DEL, "Dance for Every Child,". DEL is delighted to explore how we can bring dance to every child and every body. Join us to see how you can join the movement.
Dance Education Laboratory (DEL) Facilitator Taryn Vander Hoop (co-founder of Summation Dance) collaborates with Choreographer Monica Bill Barnes by applying essential principles of the DEL Movement Sentence Choir and Model of Dance Education to explore, create, and perform choreography. Following Monica's master class, the group will explore the infinite compositional possibilities that are inspired from their movement through individual and group choreography that will culminate with an informal performance that will be streamed for a live audience.
Photo by Scott Shaw.
---
ABOUT THE ARTISTS
Monica Bill Barnes is a choreographer, performer, and the Artistic Director of Monica Bill Barnes & Company. Barnes founded MBB&CO in 1997 with the mission to bring dance where it doesn't belong. The company consists of a team of collaborators including Anna Bass (Associate Artistic Director/Performer); Robbie Saenz de Viteri (Creative Producing Director/Performer) and designers Kelly Hanson and Jane Cox. The company has performed in venues ranging from Upright Citizen's Brigade to The Sydney Opera House, and has been presented in more than 75 cities throughout the US and internationally. They create and produce each work entirely from its own rulebook—dancing to radio interviews on the biggest stages in the world, hosting a weekly show in a crowded office party, or leading a choreographed exercise routine in an art museum. Within each of these new contexts and borrowed environments, they constantly find humor in our awkward, everyday triumphs and failures.
Taryn Vander Hoop is a dancer, choreographer, movement educator and Co-Founder of Summation Dance Company, an all-female modern dance company in NYC. The company has performed at Baryshnikov Arts Center (BAC), Brooklyn Academy of Music (BAM), and Judson Memorial Church, among others, and toured nationally. Currently, the company is traveling the country for their latest project, Highway HabitUS, a multi-phase artistic research project which studies how geography shapes ideology, both politically and culturally. Taryn is a DEL Facilitator and has choreographed large-scale DEL Movement Sentence Choirs alongside many esteemed artists throughout the years and enjoys each new collaboration.
---
ACCESSIBILITY
The accessible entrance for this location is located at 280 Broadway. Please note that this is a shared entrance with the New York City Department of Buildings. To access the elevator, attendees may be asked to provide a valid photo ID and go through building security, including a metal detector.
Requests for reasonable accommodation or for access to the 280 Broadway entrance after 5:00 pm or on the weekend should be made three days in advance by contacting Elyse Desmond at 646.837.6809 (Voice only), or by e-mailing elyse@gibneydance.org.