DoublePlus: Dana Davenport + Samita Sinha
Dec. 5, 2019, 8:00 pm

–

9:00 pm

EST

$15 – $20
CURATED BY ALEXIS CONVENTO
DoublePlus embraces the artist-as-curator format to present split-bill evenings featuring artists deserving of new or wider visibility, each curated by an established artist.
Dana Davenport
Experiments for ~Relaxation~
Dana Davenport presents Experiments for ~Relaxation~, a new performance that explores the desire, pursuit and difficulties in obtaining a state of mental and physical relaxation.
Samita Sinha
Kaalo Jol
In a continued exploration of sound, erotic power, and the moving of energies and social bodies, Samita Sinha voices Kaalo Jol ("black waters" in Bengali) in live duet with Sunny Jain on dhol (December 5) and Grey Mcmurray on guitar (December 6 & 7), with pre-created sound by Peter Born. Spatial advising by Sunil Bald.
Come early for Living Gallery: Tara Sheena on Dec. 6 at 7:00 pm for a free performance of Capital-D by Tara Sheena.
---
ABOUT THE ARTISTS
Dana Davenport is a Korean and Black American interdisciplinary artist shifting between performance, video, and sculpture. She engages with themes related to the body, ethnicity, and their interwoven relationship to social mores and institutional structures. Davenport's work has been presented throughout the United States and internationally including Watermill Center, Water Mill, NY; Cultural Center Recoleta, Buenos Aires, AR; Seventh Gallery, Melbourne, AUS; Firstdraft, Sydney, AUS and many more. Davenport is the 2018 Chashama ChaNorth fellowship recipient and has completed the 2017 SOHO20 Gallery AIR Program. She co-organized Free Space, month-long programming at Miranda Kuo Gallery in NYC.
Composer and vocal artist Samita Sinha combines experiment and visceral energy with deep grounding in North Indian classical music, embodied practices, and folk and ritual music in several languages to create a language of voice and body and new forms of sound, performance, and collaboration. Her work has been commissioned by Asia Society, Performance Space 122 and Invisible Dog Art Center, and the Rubin Museum, and presented at the Kitchen, Wexner Center for the Arts, Danspace, National
Sawdust, and PICA, among others. She has collaborated as composer and/or performer with Fiona Templeton, Sekou Sundiata, Dean Moss, Daria Fain & Robert Kocik, and Robert Ashley, has received support for her work from National Endowment of the Arts, the Fulbright Foundation, National
Performance Network, and New York State Council on the Arts. Sinha is part of the "uniquely-aligned trio" (NPR) Tongues in Trees with Sunny Jain and Grey Mcmurray, and teaches voice extensively, including at Princeton University, Swarthmore College, Centro Nacional de las Artes in Mexico City, and Womankind (formerly New York Asian Women's Center).
Photos: Dana Davenport by Maria Baranova and Samita Sinha by Yanissa Grand-Pierre.
---
ABOUT THE CURATOR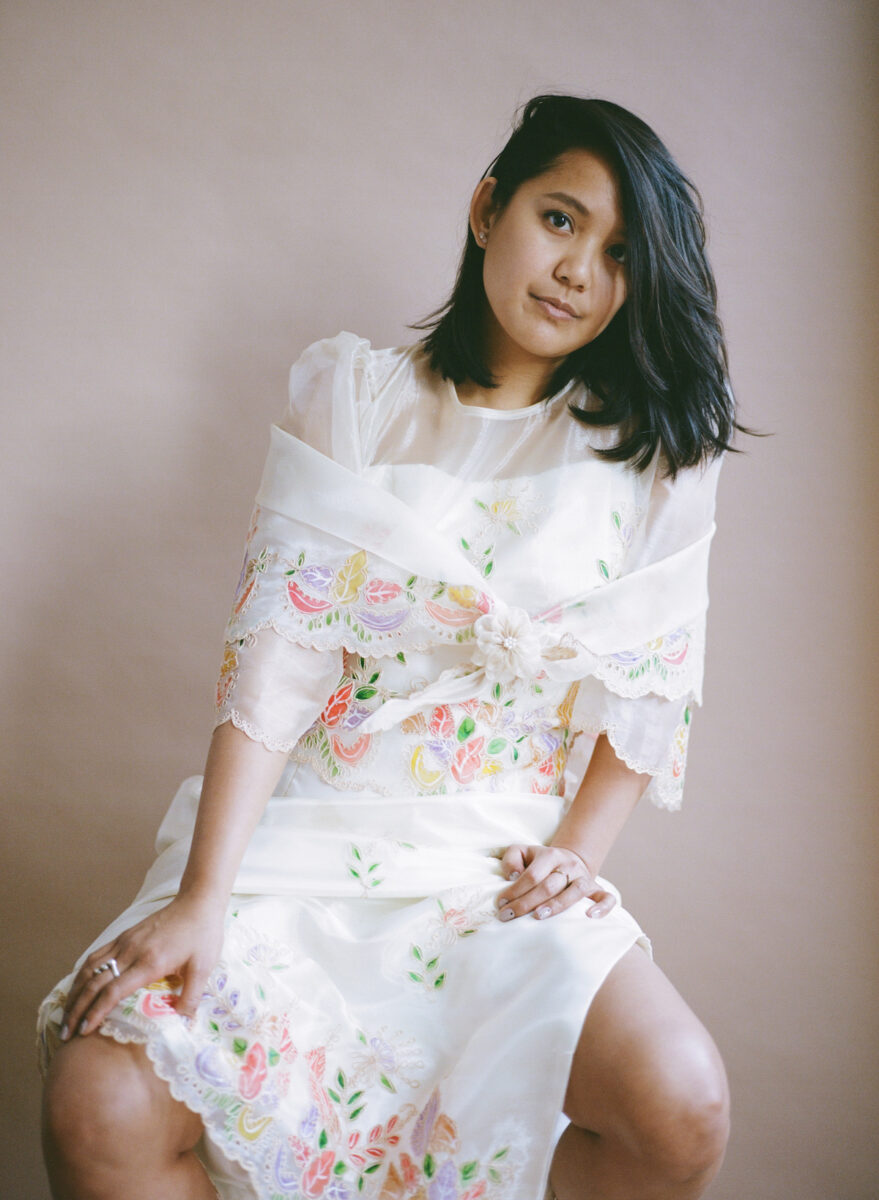 Alexis Convento is a Pilipinx-American producer, administrator and manager in contemporary performance between New York and Berlin. She is founder and curator of the CURRENT SESSIONS, a platform for movement-based artists. Her curatorial interests include works of temporality, embodied histories, diasporic consciousness, survival, soft power, and community.
Additional curation includes La MaMa Moves!, Gibney Dance's WorkUp series, Center for Performance Research's Fall Movement, SPRING/BREAK Art Show, and Gowanus Art + Production's FIRST LOOK, among others. Formerly, she was Producer at Imprint Projects, Production Coordinator at Gowanus Art + Production, and an Arts Manager Fellow through the Field Leadership Fund (2015-17) having worked closely with Emily Berry / B3W Performance Group. Alexis holds a BFA in Dance from Fordham University with the Ailey School.
Photo by Quyn Duong.
---
ACCESSIBILITY
Gibney 280 Broadway is accessible via elevator from the main entrance at 53A Chambers Street.
We welcome the opportunity to make this event more accessible. Please refrain from wearing scented products, so that people with chemical sensitivities can join us. Please request ASL interpreting, audio description, or open captioning 30 days before the event or submit other requests by completing our Access Requests and Inquiries Form or calling 646.837.6809 (Voice only).