IN | REP: Introspection (An Evening of Works) by Sidra Bell Dance New York
Oct. 27, 2022, 8:00 pm
EDT
$15 – $35
October 27-29
65-minutes with no intermission
GIBNEY: AGNES VARIS PERFORMING ARTS CENTER
280 BROADWAY, WHITE BOX THEATER (Studio C)
Gibney opens its 2022-23 presenting season at Gibney Center with the New York premiere of Sidra Bell Dance New York's IN | REP: Introspection (An Evening of Works). Marking the 20th anniversary of her company, Sidra Bell Dance New York (SBDNY), the 65-minute program seamlessly connects excerpts from works choreographed by Bell for her company since its 2001 founding.
The program has been described as "hypnotically seductive" and "brilliant and impressive," Bell's aesthetic rings of "Pina Bausch, fashion, and Harlem's ballrooms" in a unique, visionary style that draws in audiences, deeply. Her distinctive, hyperkinetic movement and dramatic brilliance hone-in on the human psyche, questions of identity and the shape of time.
Sidra Bell, who was named Gibney's inaugural Artist-In-Residence (AiR) in July 2022, is an acclaimed and prolific choreographer. Her work has been performed throughout the United States and abroad. The AiR program is a comprehensive support system for established creators that provides substantial, diverse, and multi-year support for a mid-career choreographer.
IN | REP: Introspection is accompanied by a multimedia installation, RETURN TO FORM: The Shape of Time, An Installation by Sidra Bell Dance New York and the SBDNY Design Team, featuring video, objects, performance ephemera, drawings, costumes, dreams, texts, palettes, and designs from the artists of Sidra Bell Dance New York and its collaborators over the past two decades. FREE. Timed entry reservations are required for the installation. Click here to make a reservation.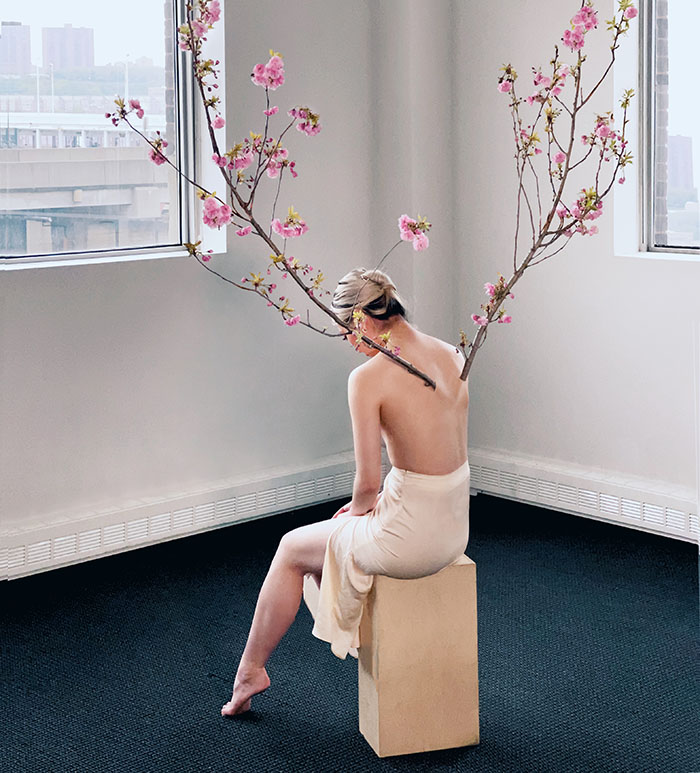 Join us on Thursday, October 27 for a festive post-show reception with light refreshments following the IN | REP: Introspection premiere hosted in The Gallery and the RETURN TO FORM installation. The reception is included in the $35 General Admission + Reception ticket.
Directed and choreographed by Sidra Bell
Lighting, Production & Décor: Amith Chandrashaker
Lighting Assistant: Abby Hoke Brady
Performing Artists: Mio Ishikawa, Madison Hicks, AJ Libert, Kimie Parker, Mady Thornquest, Uma Shannon, Christian Warner, Channce Williams
Costume Supervisor & Designer: Caitlin Taylor
Costume Pieces: Uma Shannon
Join Sidra Bell's workshop, CONTEMPORARY SYSTEMS―an interior & material approach to movement, at Gibney on Friday, October 21 from 10:00 AM-12:00 PM. Click here for more details and to register for the workshop.
About Sidra Bell
Sidra was commissioned as the first black female choreographer to make works for New York City Ballet. Recent features of her historical work at NYCB include Essence Magazine, NY1 and Amsterdam News. Her career has spanned over 20 years and her choreography has been seen throughout the United States and in Denmark, France, Austria, Bulgaria, Turkey, Slovenia, Sweden, Germany, China, Canada, Aruba, Korea, Brazil, and Greece. Bell has created over 100 works notably for BODYTRAFFIC, Ailey II, The Juilliard School, Whim W'Him, Boston Conservatory at Berklee College, River North Dance Chicago, NYU Tisch School of the Arts, Sacramento Ballet, Boulder Ballet, New Dance Partners Kansas City, Ballet Austin, Springboard Danse Montréal, and Alonzo King's LINES Ballet Schools, University of Texas at Austin among many others.
Sidra Bell Dance New York (SBDNY, Inc.) her nonprofit dance troupe is celebrating its 20th anniversary. The company tours internationally collaborating with cutting edge institutions in dance, theater, and design. Its body of work has been presented in venues across the globe. Bell is the founder of the award-winning MODULE Laboratory™ an immersive platform centered in improvisation for intergenerational movement and theater artists.
About Sidra Bell Dance New York
Sidra Bell Dance New York has rapidly gained an international profile for work that reveals aspects of the human condition through a distinctly female lens. Bell's creations have been described as "brainy, exuberant, and audacious" (San Francisco Chronicle). The work demands both physical power and tender expressiveness from her crack ensemble of "fearless and technically honed dancers" (Vancouver's Georgia Straight). The Company has performed extensively throughout the USA, Europe, Canada, and South America. It was named "#1 in Contemporary Dance in 2014" by the Pittsburgh Examiner, as one of ArtsATL's "Notable Dance Performances of 2012", and in the "Top 10 for Best in Dance in 2010" by the Pittsburgh Post-Gazette. SBDNY was awarded a 2015 National Dance Project Award from New England Foundation for the Arts and was one of 25 inaugural companies to receive a Dance Advancement Fund Award from Dance/NYC in 2017. SBDNY has an extensive educational and mentorship program built on MODULE philosophy and works with institutions for dance and theater internationally with a particular emphasis on young artist development.
COVID-19 SAFETY POLICIES
Audience members must adhere to Gibney Center's COVID-19 policies. Review the full policy here: https://gibneydance.org/plan-your-visit/
Please email covidsafety@gibneydance.org with any questions. Thank you.
Top photo of Mio Ishikawa by Hiromi Platt Photography. Photo of Kimie Parker by David Flores Productions. Bottom photo of Mio Ishikawa & Channce Williams by David Flores Productions (SBDNY Resident Photographer).