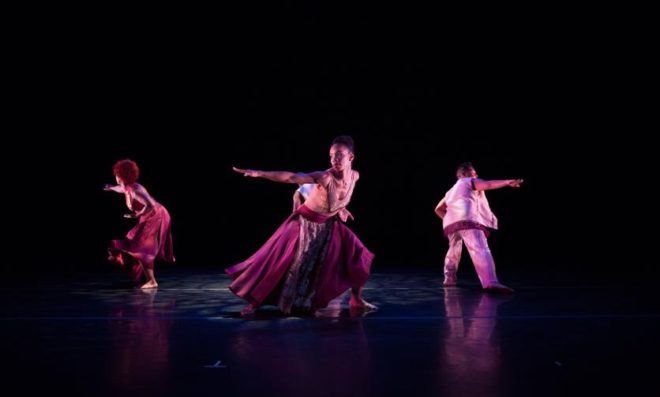 Ronald K. Brown/EVIDENCE
Friday, February 9, 2018 / 10:00 am – 12:00 pm
$20 Per Session
Gibney Dance 280 Broadway
Ronald K. Brown/EVIDENCE seamlessly blends traditional West African dance with contemporary choreography, creating a "magnificently textured style, which shifts from earthy, raw-powered movement to jumps that send dancers sailing into the air like spirits." (The New York Times) The program includes a world premiere duet for Ronald K. Brown and Arcell Cabuag in celebration of Associate Artistic Director Cabaug's 20th year with the company. Other highlights: the company premiere of Dancing Spirit, commissioned by the Alvin Ailey American Dance Theater, Come Ye, March, and the one-night-only revival of Upside Down, an excerpt from Brown's evening-length work, Destiny, on opening night.
See Ronald K. Brown/EVIDENCE perform at The Joyce! →
Photo: Ronald K. Brown/EVIDENCE  by Lelund Durond Thompson.
---
Gibney Dance is proud to partner with The Joyce Theater to offer a series of public Master Classes. Take class and learn repertory with artists performing at The Joyce this season!
 The Joyce Master Class Series at Gibney Dance
10:00 am – 12:00 pm / $20
Saturday, October 21 / Tero Saarinen Company
Friday, November 3 / Dresden Semperoper Ballett
Friday, November 17 / Complexions Contemporary Ballet
Friday, January 19 / Malpaso Dance Company
Friday, January 26 / Compagnie Accrorap
Saturday, February 3  / Compagnie Hervé KOUBI
Friday,February 9 / Ronald K. Brown/EVIDENCE