My Body Is The House That We Live In
Sep. 25, 2019, 10:00 am

–

10:00 pm

EDT

Free
gibney 280 broadwaY
the gallery + the learning & leadership studio
sept. 25 – oct. 10 at 4:00 pm
The Gallery will be unavailable on Oct. 4 from 4-10 pm. The Learning & Leadership Studio will be unavailable on Oct 7. Public access to the Learning & Leadership Studio is subject to availability. Please contact Morgaine De Leonardis at morgaine@gibneydance.org to inquire.
A visual art exhibition featuring Robert Andy Coombs, Elektra KB, Alex Dolores Salerno, Jaklin Romine, Joselia Hughes. Ezra Benus, and Noah Benus.
This exhibition offers ways of considering embodied experiences of disability and illness in artists' terms beyond just accessibility. It recognizes the wholeness of disability in its intersections and complexities, and leans into the tenderness of interdependency that those in disability communities deeply understand as it relates to building, having, losing, and changing relationships.
The exhibition reconsiders ways that disabled bodies exist in terms of portrayals of relationships with the self and others. It opposes limited and reductive portrayals that disabled people are thought of as being reliant on and taking from others. It is a rumination on the interconnectedness and intimacy between one's own body and its relationship to others.
The title is a reference to work by artist Romily Alice Walden. She measures the monotony and vulnerability in experiences living with illness and disability by engaging with other disabled people's experiences and builds collective discourse and care networks through art. That gestures to the ways artists here state that not only does their existence open up glorious space for themselves, but by doing so expands and nurtures space for others. Tapping into the visceral and bodily knowledge of disability, we can relate, create, support and be supported, be aroused, be angry and confused, long for, and love. To recognize each other's wholeness is to recognize that our relationships are complex and deeply part of that whole.
Image description: The whole image is in variants of grey scale, reminiscent of x-ray or other scans. bisecting the frame there are two images of the same back of the hand posed with most of the fingers curled inwards, with the pointer finger fully raised. Overlaid on the image is text that reads An Army Of The Sick Can't Be Defeated.
---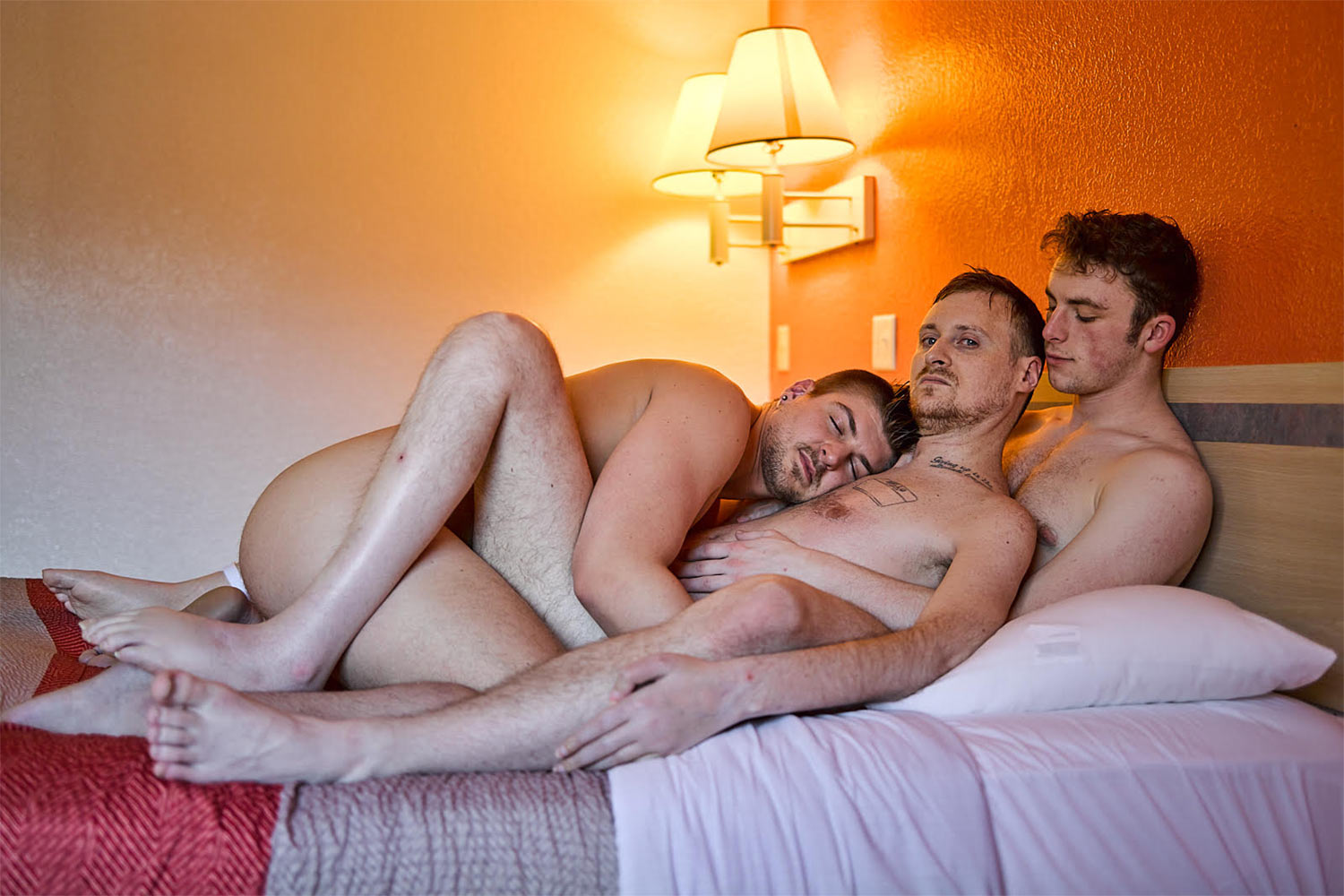 ROBERT ANDY COOMBS
THREESOME
Image Description: Three men lie embraced on a hotel room bed. Coombs, a quadriplegic, lies in the middle of the two men looking at the camera while the other two have their eyes closed. The light from the window illuminates their pale skin, while the lamps behind them cast an orange glow on the already orange painted wall. The image is painted on a metallic luster paper which gives a sparkling effect to the skin and saturated colors.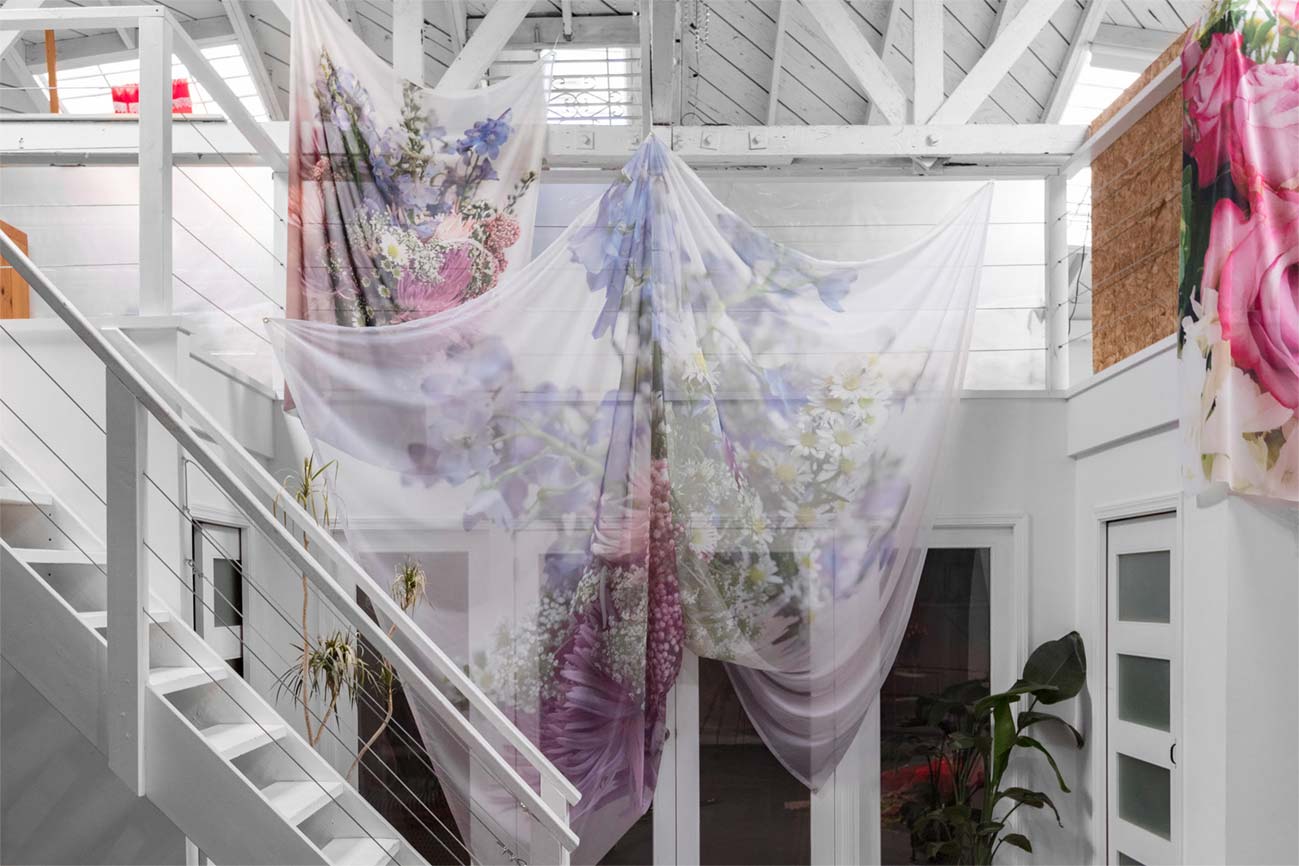 JAKLIN ROMINE
WHY BRING ME FLOWERS WHEN I'M DEAD? WHEN YOU HAD TIME TO DO IT WHEN I WAS ALIVE.
Image description: A white room with sheer fabric draped from the ceiling above a door, on it is a print of a colorful floral arrangement made by the artist for her abuela (grandmother).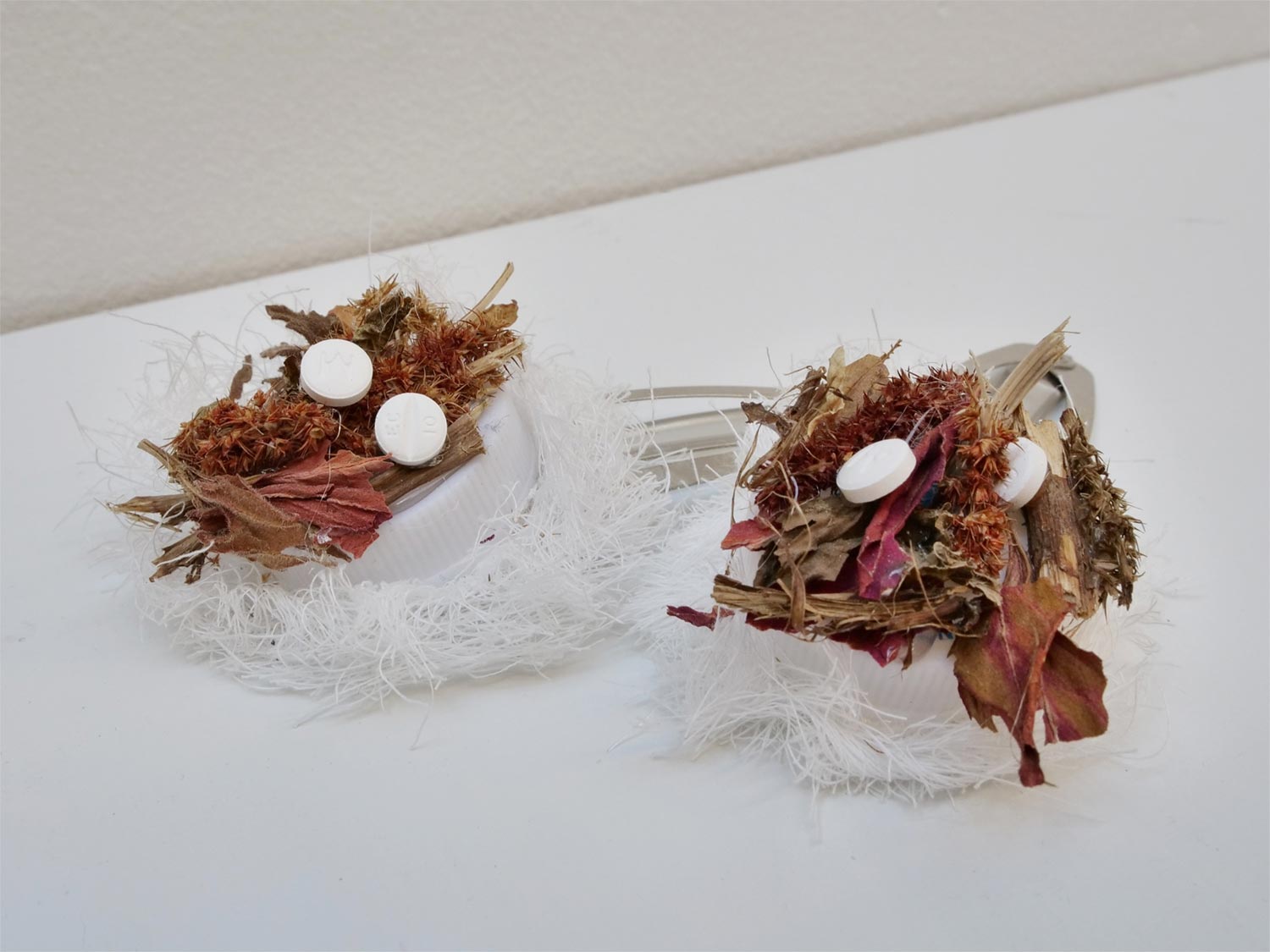 ALEX DOLORES SALERNO
DOLORES
Image Description: Two hair clips sit next to each other on a white surface. The shiny metal can be seen from behind the objects that adorn the end ofthe clip. Gauze feathers out from underneath white pill bottle caps. On top of the caps is an assemblage of herbs with reds, greens, and browns, and among them are two white pills on each clip.
---
ACCESSIBILITY
Gibney 280 Broadway is accessible via elevator from the main entrance at 53A Chambers Street.
For access requests or inquiries, please contact Elyse Desmond, Director of Operations and Facilities, by completing our Access Requests and Inquiries Form, or at 646.837.6809 (Voice only).