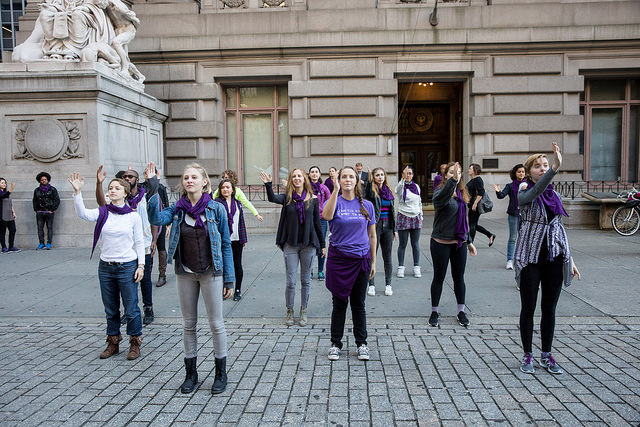 Pop-Up Performance: Take a Stand
Event: Thursday, October 12 from 1:00 – 2:00 pm
Fountain Plaza, City Hall Park
Rehearsal: Wednesday, October 11 from 4:00 – 6:00 pm
Gibney Dance 280 Broadway
Mayor's Office to Combat Domestic Violence and Gibney Dance are partnering during Domestic Violence Awareness Month for a Pop-up Performance to promote intimate partner violence awareness and share resources and services for New Yorkers. Please join us on Thursday, October 12, 2017 at 1:00 pm in Fountain Plaza of City Hall Park to take a stand against violence.
The event will be led by Melissa Riker, dancer, choreographer, activist, and Artistic Director of Kinesis Project dance theatre. Open to movers of all abilities and skill levels. Participants will each receive one free class at Gibney Dance.
Rehearsal attendance is highly recommended. If you can't attend rehearsal but would still like to perform, learn the choreography via video!
---
Domestic Violence Awareness Month 2017
Domestic Violence Awareness Month is an internationally recognized time to spread knowledge about the issue of domestic violence and support survivors on their journeys towards healthier futures.
Gibney Dance will offer a series of events this October to raise awareness of this important issue, support survivors, and encourage the dance community to take a stand against violence.
Special thanks to New York Health & Racquet Club, the Lead Sponsor of Gibney Dance's 2017 Domestic Violence Awareness Month Activities.