Spring Benefit 2018:
Leaps and Bounds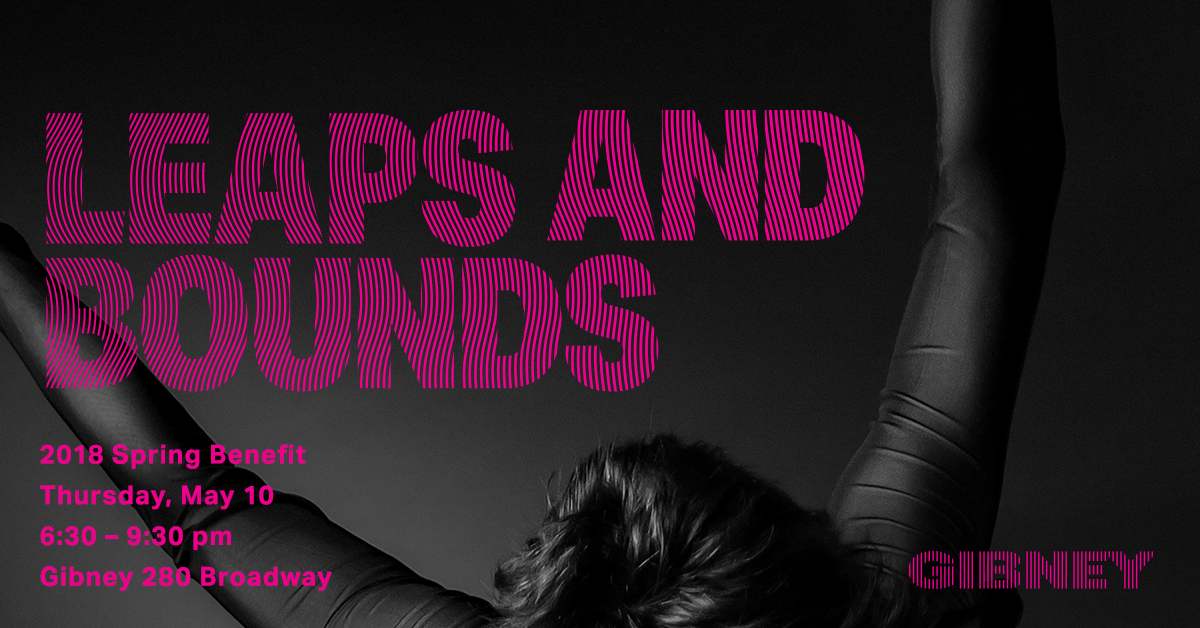 Join us for our biggest event of the year, filled with exciting dance performances, delicious food and drinks, and presentations by special guests.
Honoring three visionaries who have made transformational contributions, both to Gibney and the dance field at large:
Jay Beckner
President, Mertz Gilmore Foundation
Alair Townsend
Gibney Dance Board Member and Former Publisher of Crain's
Eva Yaa Asantewaa
Dance Critic, Curator, and Community Educator


---
Meet the Honorees
JAY BECKNER is President of the Mertz Gilmore Foundation. In 2017, the Foundation made grants totaling $10 million in the areas of climate change, democratic values, New York City dance, and New York City community empowerment. Since joining the Foundation in 1987, Mr. Beckner has served as its Director of Finance/Administration, Vice President, Executive Director, and President. Last year, Mr. Beckner was named a trustee of the LuEsther T. Mertz Charitable Trust, after serving as a programmatic advisor to it since 2002. The Trust made distributions exceeding $9 million in 2017, primarily for the arts, the environment and civil rights. Leading beneficiaries of the Trust include The Public Theater, The New York Botanical Garden, Lincoln Center, Joyce Theater, Natural Resources Defense Council, the ACLU, and WNET/Thirteen.
Mr. Beckner lives with his wife, Eileen, in Montclair, New Jersey. His daughter, Lucy, teaches dance at a K-8 school in Arizona.
ALAIR TOWNSEND was Publisher of Crain's New York Business for 18 years, and continued as Columnist for the paper until mid-2015. Her column won first prize for commentary from the Alliance of Area Business Publications in 2006 and the Society of American business Editors and Writers in 2007. Her tenure at Crain's follows a public service career in New York and Washington, D.C.
Under Mayor Ed Koch, Ms. Townsend served as New York City's Deputy Mayor for Finance and Economic Development from February 1985 to January 1989. As Deputy Mayor, she was responsible for formulating and guiding the City's policies to encourage economic growth and the creation of jobs. Before becoming Deputy Mayor, she served three-and-a-half years as New York City's Budget Director, responsible for managing the City's expense and capital budgets, and was the first woman to hold that post.
She has written and spoken extensively on federal and local budgeting, national public welfare policy, local economic development policy and state and local politics.
She is a former Governor/Director of the American Stock Exchange, Fay's Inc., and Armor Holdings Inc., and the Board of Overseers of TIAA-CREF. She is a board member and former President and Chair of the Greater New York Councils, Boy Scouts of America, former chair of City Center of Music and Drama (the David H. Koch Theater at Lincoln Center), former chair of the New York City Independent Budget Office Advisory Board and former chair of the American Woman's Economic Development Corp., the Exploring program of the Greater New York Councils of the Boy Scouts, and the Leadership Committee of the Lincoln Center Consolidated Corporate Fund. She is a member of the Women's Forum and on the boards of Lincoln Center, New York City Ballet, Gibney Dance and the Citizens Budget Commission. She is the former Vice Chair of the Buffalo Fiscal Stability Authority, having been appointed by Governor George Pataki.
EVA YAA ASANTEWAA (2017 Bessie Award winner for Outstanding Service to the Field of Dance) is a writer, curator and community educator. Since 1976, she has contributed writing on dance to Dance Magazine, The Village Voice, SoHo Weekly News, Gay City News and other publications and interviewed dance artists and advocates as host of two podcasts, Body and Soul and Serious Moonlight. She blogs on the arts, with dance as a specialty, for InfiniteBody.
Ms. Yaa Asantewaa joined the curatorial team for Danspace Project's Platform 2016: Lost and Found and created the skeleton architecture, or the future of our worlds, an evening of group improvisation featuring 21 Black women and gender-nonconforming performers. Her cast was awarded a 2017 Bessie for Outstanding Performer. As EYA Projects, she has begun partnerships with organizations such as Gibney Dance Center, Abrons Arts Center, Dance/NYC, BAX and Dancing While Black to curate and facilitate Long Table conversations on topics of concern in the dance/performance community.
She was a member of the inaugural faculty of Montclair State University's MFA in Dance program. She has also served on the faculty for New England Foundation for the Arts' Regional Dance Development Initiative Dance Lab 2016 for emerging Chicago-area dance artists. In May 2017, she served on the faculty for the Maggie Allesee National Center for Choreography's inaugural Forward Dialogues Dance Lab for Emerging Choreographers.
Ms. Yaa Asantewaa was a member of the New York Dance and Performance (Bessie) Awards committee for three years and has been a consultant or panelist for numerous arts funding or awards organizations including the New York State Council on the Arts and the National Endowment for the Arts.
As a WBAI radio broadcaster (1987-89), Eva worked with the Women's Radio Collective and the Gay and Lesbian Independent Broadcasters Collective (OUTLOOKS) and co-hosted the Tuesday Afternoon Arts Magazine with Jennifer Bernet as well as producing her own specials.
A native New Yorker of Black Caribbean heritage, Eva makes her home in the East Village with her wife, Deborah, and cat, Crystal.