Ten Huts: Seven Years of Choreographing with Trash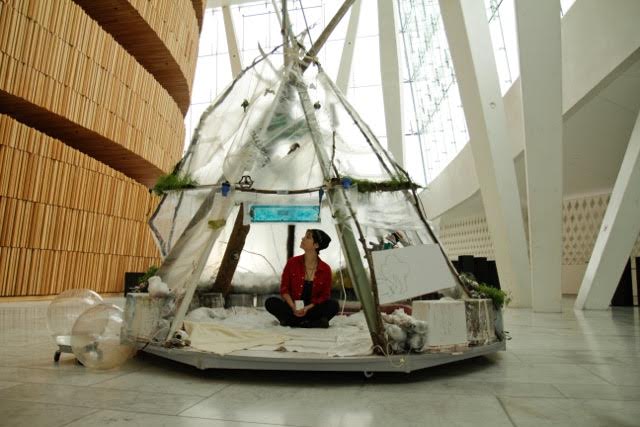 Ten Huts: Seven Years of Choreographing with Trash
A Book Event with Jill Sigman and Eva Yaa Asantewaa
Tuesday, December 5 from 7:00 – 8:30 pm
Gibney Dance 280 Broadway (Enter at 53A Chambers St.)
Free & Open to the Public
At this celebratory event choreographer, interdisciplinary artist, and agent of change Jill Sigman will read from her new book Ten Huts, recently released by Wesleyan University Press. She will be joined by interlocutor Eva Yaa Asantewaa, dance critic, writer and contributor to the volume. The eventing will include readings, dialogue, and some special interactive exercises for the Gibney community.
Ten Huts documents Sigman's artistic project collecting cast off materials, building site-specific structures in different parts of the world, and using them as gathering spaces for performance, community dialogue, tea serving, and discussions about waste, real estate, and the future of the planet. From the Norwegian Arctic to The Ringling Museum in Sarasota to the basement of the former Greenpoint Hospital, Sigman embraced trash as a way of connecting with people, choreographing with materials, understanding communities, and highlighting the significant environmental challenges we face as a disposability culture. The full color book includes 499 illustrations, an artist essay, and theoretical reflections on the project by Eva Yaa Asantewaa, Andre Lepecki, Elise Springer, Matthew McLendon, and Thomas Hylland Eriksen.
NOTE: Copies of Ten Huts will be available at the event. If you'd like to order a copy beforehand you can receive a 30% discount, using this discount code at checkout (only valid through November): WUP30
Accessibility Features
Gibney Dance Center at 280 Broadway is accessible via elevator from the 280 Broadway entrance. Please note that this is a shared entrance with the New York City Department of Buildings and attendees will be required to go through building security, including a metal detector. Gibney Dance staff will be present at the entrance to assist with directions.
Photo: Elisabeth F. Lund