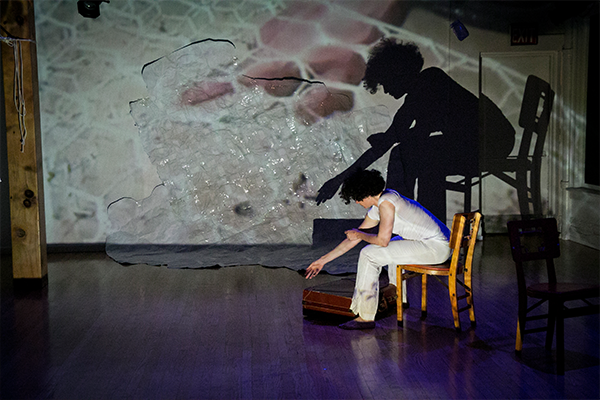 we (been) here: Public Forum
Sunday, February 12 from 2:00 – 4:00 pm
Hosted by The Skeleton Architecture
Moderated by Eva Yaa Asantewaa with panelists Charmaine Warren, Paloma McGregor, and Ni'Ja Whitson
The Skeleton Architecture is a vessel of Black womyn and gender nonconforming artists rooted in the rigor and power of the collective in practice. We create, organize, advocate, gather, curate, perform, play, challenge, and teach through the deep of our ancestral knowledges toward the liberated future of our worlds.
we (been) here is a communing of members of The Skeleton Architecture to explore embodied archive, communal selfhood, and the divine everyday. Inspired by Dr. Kariamu Welsh Asante's description of Africanist memory as "a conscious and subconscious calling upon the ancestors, gods, mind to permit the flow of energy," we will move, sit, talk, write, draw, conjure and vision, through both private and public practices. Presented in partnership with EYA Projects, Angela's Pulse/Dancing While Black and Gibney Dance.
At this public form, we will discuss lineage, Black magic(k) and why collectivism matters now. Panelists will respond to a passage from Audre Lorde's essay "Poetry Is Not a Luxury": "These places of possibility within ourselves are dark because they are ancient and hidden; they have survived and grown strong through darkness. Within these deep places, each one of us holds an incredible reserve of creativity and power, of unexamined and unrecorded emotion and feeling. The woman's place of power within each of us is neither white nor surface; it is dark, it is ancient, and it is deep."
---
PANELISTS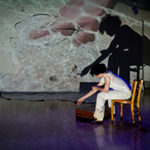 Paloma McGregor (Director, Angela's Pulse/ Dancing While Black) is a New York-based, Caribbean-born choreographer whose work focuses on centering Black voices through collaborative, process-based art-making, teaching and organizing. A deeply rooted practitioner of intersectionality, she creates projects in which communities of geography, practice and values can vision their roles in enacting a more equitable and joyful future. Residencies include: 2016-18 NYLA Live Feed; 2014-16 BAX Artist in Residence; 2014 LMCC Process Space; 2013-14 NYU's Hemispheric Institute of Performance and Politics Artist in Residence; 2013 Wave Hill Winter Workspace; Grants include: 2016 MAP Fund; 2015 Surdna Foundation, Dance/USA.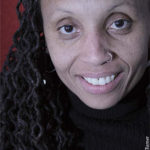 Charmaine Warren (B.A/M.A./PhD) is on faculty at Hunter College and Empire State College, and former faculty at Alvin Ailey/Fordham University, Kean University, and Joffrey Ballet School's Trainee Program. She performs, lectures, writes and teaches dance. Charmaine curates for EMoves, The Wassaic Project and founded "Dance on the Lawn:" Montclair's Dance Festival.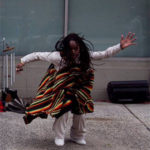 An award-winning interdisciplinary artist, performer and writer, Ni'Ja Whitson, has been referred to as "majestic" and "powerful" by the New York Times. Recent awards include a Hedgebrook Residency, LMCC Process Space Residency, Bogliasco Fellowship, Brooklyn Arts Exchange Artist Residency, two-time Creative Capital "On Our Radar" award including being in its inaugural group, among dozens of other residencies and awards across disciplines. They are currently on faculty at The New School for The Liberal Arts and is the founder/artistic director of The NWA Project. Whitson's current work in progress, A Meditation on Tongues, previewed to sold out New York audiences and will premiere at American Realness 2017.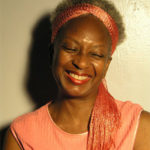 Eva Yaa Asantewaa is an independent arts writer, curator, educator and culture warrior. She has contributed writing on dance to Dance Magazine, The Village Voice, SoHo Weekly News, Gay City News and other publications since 1976. She has also hosted two dance podcasts–Body and Soul and the new Serious Moonlight, co-producted with Tei Blow. She is a member of the inaugural faculty of Montclair State University's new MFA in Dance program. As a WBAI radio broadcaster (1987-89), Ms. Yaa Asantewaa worked with the Women's Radio Collective and the Gay and Lesbian Independent Broadcasters Collective and co-hosted the Tuesday Afternoon Arts Magazine. Since the 1980s, she has also been active with numerous LGBTQ, feminist, POC and arts organizations and initiatives as a workshop facilitator in alternative practices of meditation, divination, ritual, wellness and writing.