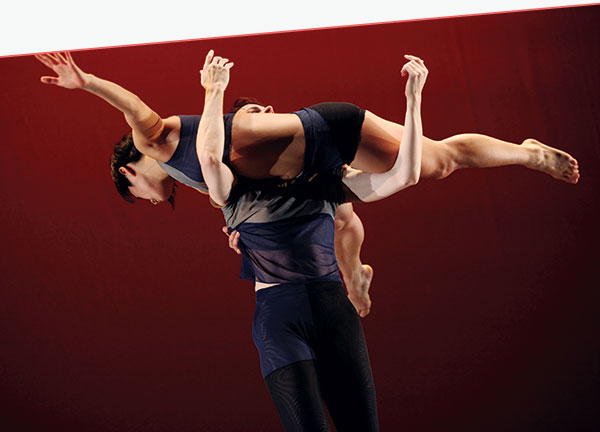 Gibney Dance Company
Work by Women
Wednesday, May 13 – Saturday, May 16 at 7:30 pm
Studio C at Gibney Dance: Agnes Varis Performing Arts Center
$20 General Admission; $15 Students, Seniors, & Class-Card Holders

Gibney Dance Company's spring performance marks a pivotal moment in its twenty-three-year history: it will be the first time the Company will perform the work of choreographers other than founder and Artistic Director Gina Gibney. The program features the work of choreographer Hilary Easton and the Company's Associate Artistic Director Amy Miller. Easton's The Short-Cut from 2005 is loosely based on the work of turn-of-the-century efficiency expert and factory manager Fredrick Winslow Taylor, examining the daily struggle to maximize productivity despite limited time. Miller's premiere of Still and Still Moving uses Peter Swendsen's electroacoustic score to ask: if the composite of two musical notes can create a third overtone, then what happens whens two bodies converge?
---
Driven by powerful performance, Gibney Dance Company is dedicated to exploring the potential of human communication through movement. Our passion is to create and perform engaging work in a cooperative community and to share the power of dance as a means for personal change and social action.
Amy Miller is a former member of the Ohio Ballet, and a founding member and guest choreographer of Cleveland-based GroundWorks DanceTheater. In addition to numerous university residencies, her choreography has been seen at Judson Church, Triskelion Arts, Mark Morris Dance Center, & Scandinavia House and has been produced at Spoke the Hub, West Fest Dance Festival, the West End Theater's Soaking WET series, & Women in Motion. Recent performance credits include David Parker and The Bang Group, Collective Body Dance Lab, & the Metropolitan Opera Ballet.
Hilary Easton creates dances about the human condition, using the experience and work of dancing as a metaphor for our lived lives. Writes Eva Yaa Asantewaa: "Hilary Easton's creativity combines secure craft, sharp intelligence, 
hearty expression and fearless exploration." Her choreography has been presented since 1992 at a wide range of venues, from American Dance Festival to Central Park Summerstage.
Photo by Julieta Cervantes.