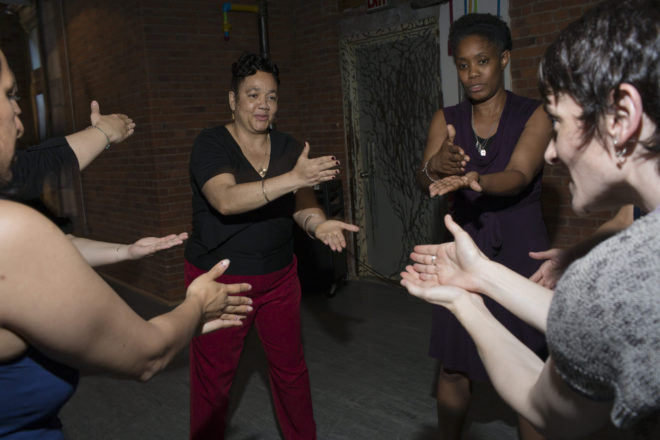 Workshop with Gibney Dance Company
Tuesday, October 10 / 4:00 – 6:00 pm / $8
Gibney Dance: 280 Broadway (Enter at 53A Chambers St.)
As part of Domestic Violence Awareness Month, Gibney Dance Community Action will share its social action model with the public through this workshop. Led by Gibney Dance Company, this event will give participants a chance to experience the movement workshops the Company regularly conducts in domestic violence shelters.
Community Action's evidence-informed program model draws from artistic practices to address issues of choice, self-care, and self-expression. No dance experience necessary.
Learn more about Gibney Dance Company!
Refund Policy:
There is no refund for cancellation of this workshop.
Workshop credit for this same type of event can be offered.
---
Domestic Violence Awareness Month 2017
Domestic Violence Awareness Month is an internationally recognized time to spread knowledge about the issue of domestic violence and support survivors on their journeys towards healthier futures.
Gibney Dance will offer a series of events this October to raise awareness of this important issue, support survivors, and encourage the dance community to take a stand against violence.
Special thanks to New York Health & Racquet Club, the Lead Sponsor of Gibney Dance's 2017 Domestic Violence Awareness Month Activities.