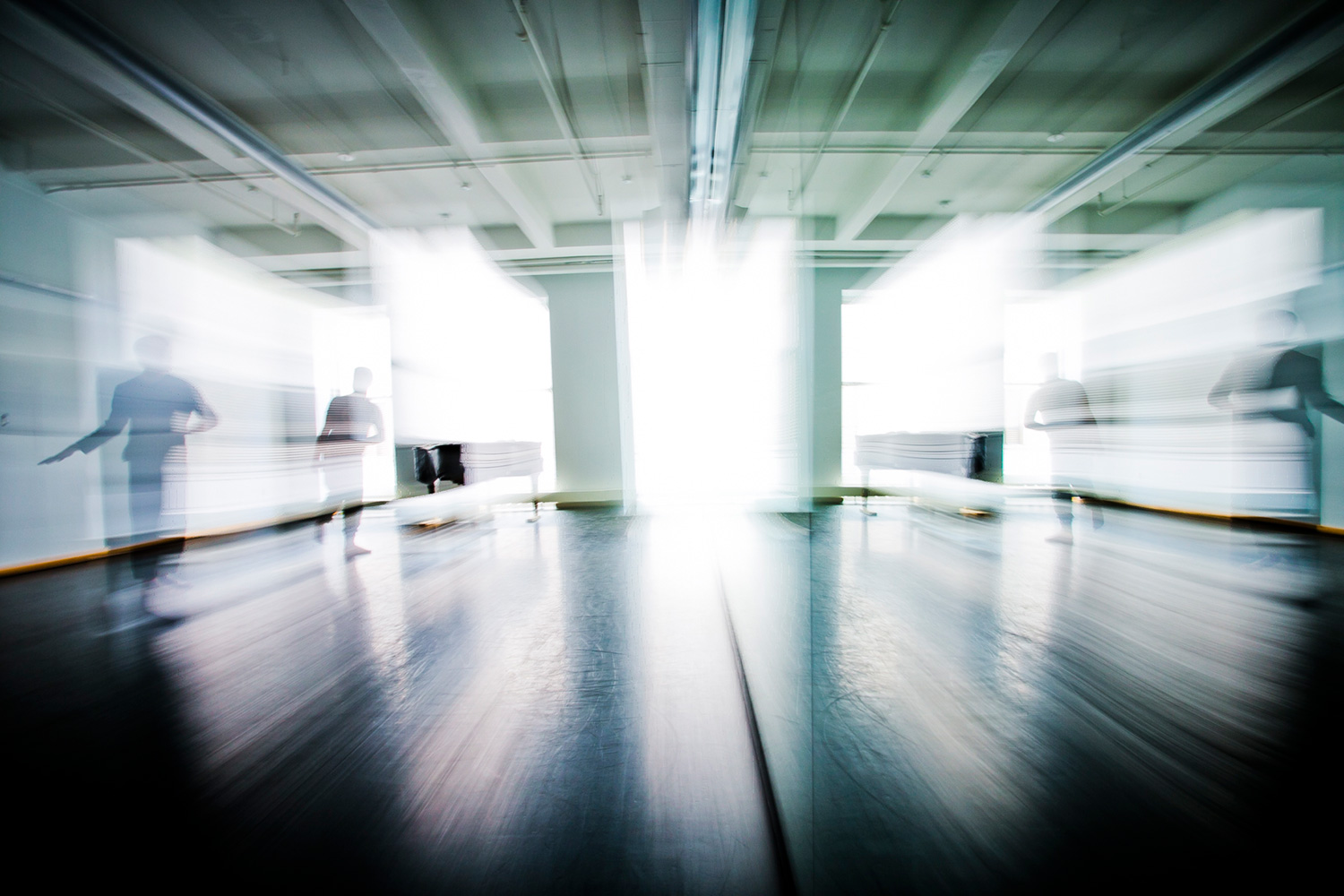 By Meg Weeks
As many of you know, Gibney Dance is in the process of expanding to a new facility at 280 Broadway in Lower Manhattan. In addition to offering more space for rehearsals and a greatly expanded roster of classes, our staff is busy making big plans for the future in the areas of education, outreach, and performance. I was able to discuss these exciting developments with GD Chief Executive Officer and Artistic Director, Gina Gibney. Our conversation is below:
MW: Could you give an update as to where we're at in the construction process?
GG: As of last week, all of the existing studios at 280 Broadway have been renovated and re-opened. That's five studios, plus the theater which will be available for use on May 12 after a Pace University rental. All studios have been patched, painted, and cleaned from top to bottom. The walls in Studio F have been taken down to create one larger room, and the ballet barres have been removed to make more space.  Soon, all the broken mirrors in the studios will be replaced.  We're in the process of furnishing them with storage, a candy jar, and first aid kits.
The public bathrooms are just about finished; they've been repaired, renovated and reopened with new countertops, sinks, and faucets. The Gallery is looking great, with a newly sanded floor and a coat of fresh paint.
MW: Could you talk a bit about the training program that you and Hilary Easton, our new Creative Director of Training and Education, are designing?
GG: We are focused on bringing together the very best of what New York City has to offer! In the initial stages, we are very excited to be working to build a full-fledged Professional Training Program with some amazing partners: Movement Research, The Playground, The Trisha Brown Company, Simonson Technique/New Dance Collective, The Perri Institute for Mind and Body, and our own Contemporary Forms program. A wide array of classes is already underway, building a solid foundation for a full-fledged professional training program that will take shape soon. New offerings will be steadily added, and we are particularly eager to build concentrations in hip-hop and Gaga. Class lovers should stay tuned as exciting new offerings unfold!
MW: Will there be opportunities for dancers from abroad to participate in the Professional Training Program?
GG: We are currently laying the groundwork for an international Visa program, and hope to have a program in place by September. Interested students should continue to check our website for updates.
MW: What is going on with the ballet classes at 890 Broadway?
GG: The Resident Ballet Program is undergoing some exciting changes, and also absorbing the sad news that Christine Wright is leaving at the end of July. I am working with Hilary Easton to build an expanded ballet schedule that includes a solid morning roster, as well as some new weekend and evening offerings. Of course, Janet Panetta and Jackie Villamil will be central to the new schedule, and one or more new morning teachers will be introduced. After doing some research, we will begin to have conversations with teachers. The new roster will be announced by the end of April, and will be gradually implemented over the coming months.
MW: Where do things stand with the performance spaces?
GG: Our organization is currently conducting research and outreach regarding our new role as a presenting organization. I am working with Sara Juli of Surala Consulting to interview leaders in the field, conduct surveys and focus groups, and think through the complexities of this endeavor. We plan to develop a unique presenting vision for the new complex of three performance spaces at 280 Broadway.
Our inquiry is focusing on such questions as:
How can we balance curatorial excellence with artist access?
How can we create synergies and capitalize on the opportunity to build a "complex" of spaces?
How can we serve as a magnet for new audiences and build demand for dance in Lower Manhattan?
How can we be an ethical and transparent presenter?
(Click here to take a survey about performance opportunities at 280 Broadway)
In May, we will commence a search for a new Director of Programs and Presentations. I envision a "big thinker" who can work with me and other members of our organization to make our programming cohesive, relevant, and forward-focused.
MW: I know that plans are underway for creating a Community Action Center. Can you discuss this a bit?
GG: We are in the very beginning stages of creating the vision and case statement for the Community Action Center.  I'm working with a number of people to create a programmatic vision: our Clinical Advisor Beth Silverman-Yam, as well as members of our staff – Amy Miller, Yasemin, Ozumerzifon Jennifer Lott and Janessa Clark. We are all incredibly excited to think about what it will mean to have a physical space for this work!
MW: Is there anything else you are excited about?
GG: Yes! Gibney Dance Company is getting ready for our Benefit on May 14, which will be our first large-scale event at 280. We're also rehearsing there and preparing for a Global Community Action Residency in South Africa at the end of May.  And as always, there's lots going on every front: Center, Company and Community.