DoublePlus: Wesley Chavis + Cori Olinghouse
Curated by Dean Moss
December 14 – 16 at 8:00 pm
Studio H at Gibney Dance 280 Broadway
Post-Show Discussion Moderated by Dean Moss Friday, December 15

DoublePlus presents three weeks of shared evenings for which established artist-curators each choose a pair of emerging artists and mentor them through the creative, production and audience development processes.
From Curator Dean Moss:
"I'm interested in the edges of wellness. Where the structures of life/spirit movements meet flesh in idiosyncratic therapies and worship. Here healing is addressed through auras and gestures tasked with defending heart and mind. They countervail these bare transactional days. Cori Olinghouse's practice of Clown Therapy and Wesley Chavis's physicalized worship are indicative of that art inquiry. They seek to turn faith and science sensory: absorbing these truths (and us) into the vulnerability of their flesh."
---
Ku In Tuo Muah
Wesley Chavis
For Ku In Tuo Muah, Wesley Chavis contemplates the expansion of bodily presence, and the peculiarities of communion with ethereal forces, by moving through the abstracted sound of his family's breath: accessing a complex sense of love and surrender.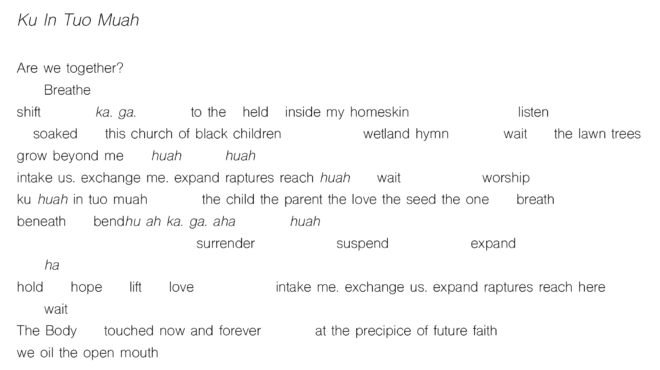 GRANDMA
by Cori Olinghouse, joined by performer Martita Abril
Utilizing Clown Therapy, an original improvisational practice which explores the shape-shifting nature of identity and personhood to parody American consumption practices, Cori Olinghouse presents Grandma, a live televisual set in an American landscape of Twinkies and Wonder Bread, that stars Grandma and Bad Signal, her staticky ghost. Grandma excavates the effects of television, the media, and dark familial pasts as portals. Featuring Cheez Doodles, cans of Spam, Cheese Whiz, Hostess Cupcakes, and a guest appearance by the famous Orange Soda, Fizzy Fizzy.
---
About the Artists
Wesley Chavis is an inter-disciplinary artist and vocalist. In 2014, he received a BA from Yale and recently graduated with an MFA from VCU this past May. His original home is Beaumont, Texas. There resides the ancestral root of the love he receives, nurtures, returns, and interrogates through artworks. He currently resides in New Orleans, LA where he is a participant in the Saint Roch Community Church Artist-in-Residence Program. Growing up in The South, he attended an all-black Baptist church where he witnessed the sensorial power and palpability of God, mediated through the exuberant touch, breath, poly-rhythms and ecstatic praise of communing bodies. Through movement, he both tests and desires mediation between the physically sensuous and the tangible immaterial. The faithful process of questioning the co-mingling between the corporeal and religious ephemeral tills the fertile ground on which Wesley blooms, withers, and resurrects in new seasons.
Cori Olinghouse is an interdisciplinary artist, archivist, and curator. Drawing from fifteen years of improvisational practice, her work examines the body as a site for the slippery construction of identity. Her works employ the queering of the clown form—exploring Lauren Berlant's ideas of humor as a space for transformation, "where you learn how to delight in brokenness" to "shake up what's structural." Her work has been commissioned by Danspace Project, New York Live Arts, BRIC Arts Media, Lower Manhattan Cultural Council, Movement Research, and Brooklyn Museum of Art. Olinghouse danced for the Trisha Brown Dance Company (2002-2006), and has served as archive director since 2009. Over the past ten years, in critical examination of the postmodern aesthetic of her training, she has studied closely with theatrical clown and actor Bill Irwin, and legendary voguers Archie Burnett, Benny Ninja, and Javier Ninja. Olinghouse holds an MA in Performance Curation as part of the inaugural class at the Institute for Curatorial Practice in Performance at Wesleyan University.
DATES & TIMES
Dec. 14 - 16
8pm
Photos: Wesley Chavis, courtesy of the artist; Cori Olinghouse by Andrew Jordan.