Invocation Proclamation Manifesto
Elena Rose Light, Jess Pretty, & Miriam Gabriel/Carlo Antonio Villanueva
September 21 – 23 at 8:00 pm
Studio A at Gibney Dance 280 Broadway

Taking over Agnes Varis Performing Arts Center's intimate ground floor performance space, Invocation Proclamation Manifesto is a series of mixed bill programs featuring short works from choreographers and performance-makers wrestling with the urgency of being a body at risk in 45's America.
Invoking ancestors and legacies, past and present, together we proclaim our values and herstories. When daily life is no longer recognizable, we manifest our authentic selves and seek to create the world we deserve. We can feel it bubbling up. It comes with urgency and can't be contained. We wrestle with it till we can shake it out and make it sing. We push on, screaming, to wake the world up. The time is nigh and the volume is turnt. We are the change if we can conceive it. We are the way if we can believe it.
Invocation Proclamation Manifesto presents Elena Rose Light, Angie Pittman, Kristopher K.Q. Pourzal, Jess Pretty, Kenya (Robinson), Alexandra Tatarsky, Eli Tamondong, Miriam Gabriel/Carlo Antonio Villanueva, and Ashley R.T. Yergens as they tear down the present and build trajectories of futurity in a fully installed environment by visual artist and designer Diego Montoya. Details below.
Elena Rose Light: NEUTRALDANCINGBODYMYASS
Criticality comes with acknowledging one's culpability. In NEUTRALDANCINGBODYMYASS, Elena Rose Light is the culpable critic, glossing over 100 years of Western body culture and the rhetoric that brings it to life. Uniting her version of ventriloquism with capital-D Dance, she takes whiteness to task in an evening of good fun for the whole family.
Elena Rose Light is a Brooklyn-based queer feminist c h o r e o g r a p h e r and performer attempting to shed the remnants of her white neoliberal upbringing while searching for joy and criticality within abstraction. Most recently, she was an artist-in-residence at Chez Bushwick and participated in the EMERGENYC fellowship through NYU's Hemispheric Institute. Elena owes her side hustle—working as an SAT tutor and college application essay editor—to Yale University, where she received a BA in art history and French in 2013.
Jess Pretty: FIVE
FIVE is a practice in the audacity to want more; seeking methods toward living past survival in an attempt to rupture the sociopolitical limitations placed on marginalized bodies. Channeling repetitive desire via time travel, world building and the power of manifestation, movement bounds and swells through space at times shy, at times all too sure of itself.
Jessica Pretty is a New York based dance artist, choreographer and teacher. She received her MFA in Dance from the University of Illinois at Urbana Champaign with a Queer Studies minor. In addition to her showing her own work, Pretty has performed in works by Will Rawls, Leslie Cuyjet, Jennifer Monson, Niall Jones, Cynthia Oliver, Abby Zbikowski and more. She has presented work at New York Live Arts as a 2016-2017 Fresh Tracks Artist in Residence, La Mama as a part of the 2017 La Mama Moves festival, panoply performance lab, the CURRENT SESSIONS, three ACDA conferences, the Emerging Artists Concert Series at Green Street Studios, and Krannert Center for the Performing Arts.
Miriam Gabriel & Carlo Antonio Villanueva: Untitled (Duet in A)
This dance engages focus within and against the hyperstimulation of a volatile pop landscape. Our forces combined, we want to make sense of the mess on which we and our work stands.
Miriam Gabriel and Carlo Antonio Villanueva make performance work with and for each other. mimiandcarlo.com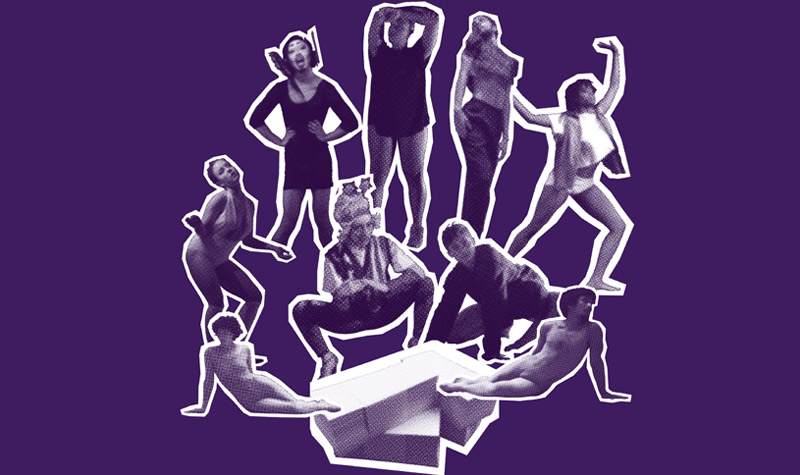 Series Calendar
Elena Rose Light, Jess Pretty & Miriam Gabriel/Carlo Antonio Villanueva
September 21 – 23 at 8:00 pm
Studio A at Gibney Dance 280 Broadway

Kenya (Robinson), Alexandra Tatarsky & Eli Tamondong
September 28 – 30 at 8:00 pm
Studio A at Gibney Dance 280 Broadway

Angie Pittman, Kristopher K.Q. Pourzal & Ashley R.T. Yergens
October 5 – 7 at 8:00 pm
Studio A at Gibney Dance 280 Broadway

DATES & TIMES
Sept. 21 - 23
8pm
Photos: Elena Rose Light by Scott Shaw; Angie Pittman by Jessie Young; Kristopher K.Q. Pourzal by David Gonsier; Alexandra Tatarsky by Lydia Kincaid; Carlo Antonio Villanueva by David Gonsier; Ashley R.T. Yergens by Lia Clay; Jess Pretty by Scott Shaw; Eli Tamondong by Chelsea Robin Lee, and Kenya (Robinson) images courtesy of the artist.