Invocation Proclamation Manifesto
Kenya (Robinson), Alexandra Tatarsky & Eli Tamondong
September 28 – 30 at 8:00 pm
Studio A at Gibney Dance 280 Broadway

Taking over Agnes Varis Performing Arts Center's intimate ground floor performance space, Invocation Proclamation Manifesto is a series of mixed bill programs featuring short works from choreographers and performance-makers wrestling with the urgency of being a body at risk in 45's America.
Invoking ancestors and legacies, past and present, together we proclaim our values and herstories. When daily life is no longer recognizable, we manifest our authentic selves and seek to create the world we deserve. We can feel it bubbling up. It comes with urgency and can't be contained. We wrestle with it till we can shake it out and make it sing. We push on, screaming, to wake the world up. The time is nigh and the volume is turnt. We are the change if we can conceive it. We are the way if we can believe it.
Invocation Proclamation Manifesto presents Elena Rose Light, Angie Pittman, Kristopher K.Q. Pourzal, Jess Pretty, Kenya (Robinson), Alexandra Tatarsky, Eli Tamondong, Miriam Gabriel/Carlo Antonio Villanueva, and Ashley R.T. Yergens as they tear down the present and build trajectories of futurity in a fully installed environment by visual artist and designer Diego Montoya. Details below.
Kenya (Robinson): Paper Rain
Finessed by the visuals of trap music videos and black social media, the mainstream has been (re)introduced to the performance of "making it rain" – the act of pitching money, like a card dealer, into the air and allowing gravity to flutter the bills to the ground. In the age of debit cards, wire transfer apps, and Bitcoin, this strip club staple emphasizes currency-as-object and asserts a distinct symbology created through the direct interaction of practitioner and patron. Paper Rain is an interactive performative investigation that elevates the vernacular of exotic dancing, as performed by women, and transforms male privilege into plastic material for manipulation.
Kenya (Robinson) is a community-taught artist from Gainesville, FL. A past resident of the Lower Manhattan Cultural Council's WorkSpace Program, the Bemis Center for Contemporary Art, and Pioneer Works, she will participate in the Kohler Arts/Industry Program beginning July 2018. Following a residency at the Skowhegan School of Painting and Sculpture, she co-hosted the live stream radio show, #trashDAY, now archived via Clocktower Productions and the Schomburg Center for Research in Black Culture. Her Instagram account (@kenya9) serves as a platform to document the adventures of the #WHITEMANINMYPOCKET, a five-inch talisman that critiques white male heteronormative supremacy. In addition, (Robinson's) sculptural work has been exhibited at the Museum of Contemporary African Diasporan Arts, the Brooklyn Academy of Music and the 60 Wall Street Gallery of Deutsche Bank. Her sculpture, Commemorative Headdress of Her Journey Beyond Heaven, was acquired by the Smithsonian National Museum of African American History and Culture for their permanent collection in 2014. An unapologetic ham, she has presented performance work at Sid Gold's Request Room; MoMA PS1; JACK; The Kitchen; Thomas Hunter Project Space; The Museum of Modern Art. In 2011, her durational performance, The Inflatable Mattress, was featured in the Home Section of The New York Times, and in 2017, an iteration of her Creative Capital funded project, CHEEKY LaSHAE: Karaoke Universal, was included in the Out of Line series for the High Line. (Robinson) has been a contributor to The Huffington Post and Intercourse Magazine, and was included in the October/November 2016 issue of Modern Painters with her essay, "The Fate of Excellence". The inaugural resident for Recess Arts' online residency, ANALOG, she is currently at work on the two-person exhibition, WHITE MAN ON A PEDESTAL, opening at Pioneer Works in November 2017.
Alexandra Tatarsky: Vague, US
Vague, US (pronounced "Vegas") is an American spirit that emerged from some acrylic fingernails painted with red, white, and blue stars and stripes. She is red with rage, blue with despair, and white as can be. She is shiny, fake, and falling apart — caught in the bars of her stripes, obsessed with stardom, selling herself and selling her soul, utterly sold out and soiled. Spirit channeling and channel surfing, everything loops back to an ugliness beneath the surface (surf-face/sir-face), free associating and seeking free-dumb to do and say wtvr. Investigating the bodies of words and how they can break down and be reconstructed, word dances, the space between jester and gesture. An attempt at exorcising, exercising, and examining our demons // truly trying to work them *out* ie: xxx (a death kiss, a death wish — for adults and big babies only)!!
Called a "finely tuned absurdist" (TheatreJones) and "an East Village relic" (Vogue), Alexandra Tatarsky experienced fleeting fame as Andy Kaufman's daughter and sometimes performs as a mound of dirt. She is interested in how selves, words, & worlds are constructed and fall apart. Venues include La Mama, New Museum, Bronx Art Space, Metro Pictures, Dixon Place, and many small dark rooms around the country. She teaches on performance as community organizing at the School of Authentic Journalism and holy fools at the School of Making and Thinking. Tatarsky is a 2016-17 Movement Research Artist-in-Residence.
Eli Tamondong: triplefate
A quasi-drag show poetry reading dance concoction meant as a love letter to the Goddesses that keep life moving.
Eli Tamondong is a hybrid artist practicing and performing under the moniker Projectile Imagery. They have been curated by Dance New Amsterdam, Dixon Place, Movement Research at Judson, Brooklyn Arts Exchange, Chez Bushwick, Gibney Dance, New York Live Arts, New Dance Alliance; published in SLAG Mag and Polychrome Ink; and posted on Instagram (@projectileimagery). They have been a member of the Dance/NYC Junior Committee (2014-2017), a Chez Bushwick Artist-in-Residence (2014), and a New York Live Arts Fresh Tracks Artist (2015-16). Eli is studying Massage Therapy at the Swedish Institute. Find more at projectileimagery.me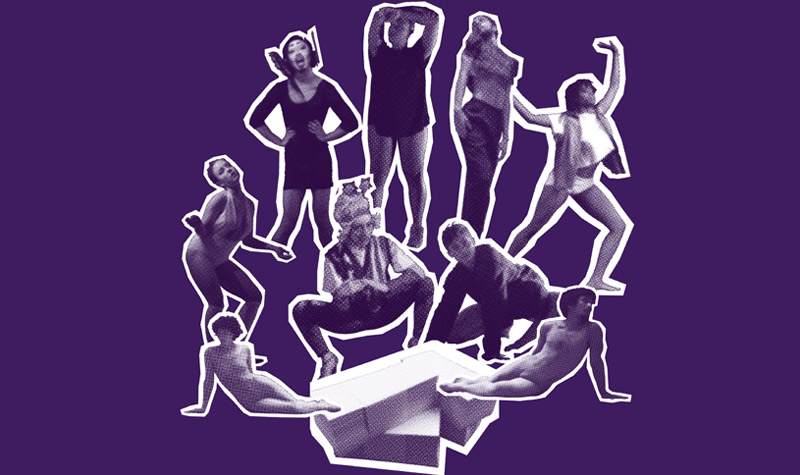 Series Calendar
Elena Rose Light, Jess Pretty & Miriam Gabriel/Carlo Antonio Villanueva
September 21 – 23 at 8:00 pm
Studio A at Gibney Dance 280 Broadway

Kenya (Robinson), Alexandra Tatarsky & Eli Tamondong
September 28 – 30 at 8:00 pm
Studio A at Gibney Dance 280 Broadway

Angie Pittman, Kristopher K.Q. Pourzal & Ashley R.T. Yergens
October 5 – 7 at 8:00 pm
Studio A at Gibney Dance 280 Broadway

DATES & TIMES
Sept. 28 - 30
8pm
Photos: Elena Rose Light by Scott Shaw; Angie Pittman by Jessie Young; Kristopher K.Q. Pourzal by David Gonsier; Alexandra Tatarsky by Lydia Kincaid; Carlo Antonio Villanueva by David Gonsier; Ashley R.T. Yergens by Lia Clay; Jess Pretty by Scott Shaw; Eli Tamondong by Chelsea Robin Lee, and Kenya (Robinson) images courtesy of the artist.