GRIT: Gibney Repertory Initiative for Tomorrow
Featuring Works by Joanna Kotze & Reggie Wilson
Performed by Gibney Dance Company
Thursday, May 4 – Saturday, May 6 at 8:00 pm
Saturday, May 6 at 5:00 pm
Studio C at 280 Broadway
Gibney Dance Company's GRIT series "makes space for the future of dance" by commissioning new works and reimagining signature works by contemporary dance artists. GRIT posits the possibility that the present generation's work will be recognized and celebrated in live performance by future audiences. This spring, the Company performs Joanna Kotze's Already Ready and Reggie Wilson's config. Khoum-baye Heah.
---
Joanna Kotze will create a new work, Already Ready. With an original sound score by Ryan Seaton, Already Ready challenges both dancers and viewers to be fully present, active, and visible. Created through daily investigations of individuality and physicality, the work taps into the multiplicity of life by allowing for the emergence of uniqueness, form, and the unknown
---
Reggie Wilson of Fist and Heel Performance Group will reimagine iterations of three of his previous works, PANG, The DEW WET, and, Big Brick – A Man's Piece, into a re-envisioned work utilizing the five members of Gibney Dance Company, entitled config. Khoum-baye Heah.
About the Artists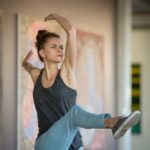 Joanna Kotze is a Brooklyn-based dancer, choreographer and teacher who received the 2013 New York Dance and Performance "Bessie" Award for Outstanding Emerging Choreographer. Her choreography has been presented at the National Arts Centre in Ottawa, Baryshnikov Arts Center, American Dance Institute (ADI), Danspace Project, Bard College, Jacob's Pillow, New York Live Arts, Dance New Amsterdam, Movement Research at Judson Church, and other theaters and galleries. She has created new works on Toronto Dance Theatre, Zenon Dance (Minneapolis), Ririe-Woodbury (Salt Lake City), and the James Sewell Ballet (Minneapolis). Her next evening-length work will premiere at New York Live Arts in Spring 2018 with a work-in-progress showing in May 2017. Joanna danced with Wally Cardona from 2000-2010 and currently dances for Kimberly Bartosik/daela, Stacy Spence, and Kota Yamazaki. She has also worked with Netta Yerushalmy, Sam Kim, Sarah Skaggs, Christopher Williams, the Metropolitan Opera ballet, Daniel Charon, Nina Winthrop and others. Joanna is on faculty at Movement Research and Gibney Dance and has taught at many Universities in NYC and around the country. She is originally from South Africa and has a BA in Architecture from Miami University. www.joannakotze.com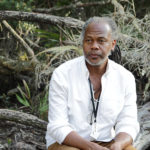 Reggie Wilson
(Executive and Artistic Director, Choreographer, Performer) founded his company, Reggie Wilson/Fist & Heel Performance Group, in 1989. Wilson draws from the cultures of Africans in the Americas and combines them with post-modern elements and his own personal movement style to create what he often calls "post-African/Neo-HooDoo Modern dances."
His work has been presented nationally and internationally at venues such as Brooklyn Academy of Music, New York Live Arts, and Summerstage (NYC), Jacob's Pillow Dance Festival (Lee, MA), Yerba Buena Center for the Arts (San Francisco), UCLA Live, and Redcat (Los Angeles), VSA NM (New Mexico), Myrna Loy (Helena, MT), The Flynn (Burlington, VT), Contemporary Arts Center (New Orleans), Dance Umbrella (Austin, TX), Linkfest and Festival e'Nkundleni (Zimbabwe), Dance Factory (South Africa), Danças na Cidade (Portugal), Festival Kaay Fecc (Senegal), The Politics of Ecstasy, and Tanzkongress 2013 (Germany).
Wilson is a graduate of New York University, Tisch School of the Arts (1988, Larry Rhodes, Chair). He has studied composition and been mentored by Phyllis Lamhut; Performed and toured with Ohad Naharin before forming Fist and Heel. He has lectured, taught and conducted workshops and community projects throughout the US, Africa, Europe and the Caribbean. He has traveled extensively: to the Mississippi Delta to research secular and religious aspects of life there; to Trinidad and Tobago to research the Spiritual Baptists and the Shangoists; and also to Southern, Central, West and East Africa to work with dance/performance groups as well as diverse religious communities. He has served as visiting faculty at several universities including Yale, Princeton and Wesleyan Universities. Mr. Wilson is the recipient of the Minnesota Dance Alliance's McKnight National Fellowship (2000-2001). Wilson is also a 2002 BESSIE-New York Dance and Performance Award recipient for his work The Tie-tongued Goat and the Lightning Bug Who Tried to Put Her Foot Down and a 2002 John Simon Guggenheim Fellow. He has been an artist advisor for the National Dance Project and Board Member of Dance Theater Workshop. In recognition of his creative contributions to the field, Mr. Wilson was named a 2009 United States Artists Prudential Fellow and is a 2009 recipient of the Herb Alpert Award in Dance. His evening-length work The Good Dance–dakar/brooklyn had its World premiere at the Walker Art Center and NY premiere on the Brooklyn Academy of Music's 2009 Next Wave Festival. In 2012, New York Live Arts presented a concert of selected Wilson works, theRevisitation, to critical acclaim and the same year he was named a Wesleyan University's Creative Campus Fellow, received the 2012 Joyce Foundation Award for his new work Moses(es), and was named a Doris Duke Performing Artist. In 2013 Moses(es) had its NY premiere on BAM's Next Wave Festival and continues to tour.