Miguel Gutierrez
Age & Beauty Part 1: Mid-Career Artist/Suicide Note or &:-/
Co-presented with American Realness
Thursday, January 8 at 6:00 pm & 8:30 pm
Friday, January 9 at 5:30 pm & 7:30 pm
Saturday, January 10 at 6:30 pm
SOLD OUT
Age & Beauty Part 1: Mid-Career Artist/Suicide Note or &:-/ is the first of a suite of queer pieces Gutierrez is creating over the course of three years that addresses the representation of the dancer, the physical and emotional labor of performance, tropes about the aging gay choreographer, the interaction of art making with administration, the idea of queer time and futurity, and mid-life anxieties about relevance, sustainability, and artistic burnout. Part 1 is a duet for 43-year-old Gutierrez and 24-year-old performer/dancer Mickey Mahar and follows from a packed set of precise unison dances to an irreverent and celebratory corruption of orderliness, suggesting modes of communication and relations where hyper-emotional affect is not only the conceptual and choreographic core of the performance, but also the only hope for continuing in this fucked-up world.
Age & Beauty Part 1: Mid-Career Artist/Suicide Note or &:-/ was commissioned for the 2014 Whitney Biennial and was made possible with support and developmental residencies from the Maggie Allesee National Center for Choreography at Florida State University, the ]domaines[program at Centre Chorégraphique National de Montpellier Languedoc-Roussillon in Montpellier, France, and Hollins University in Roanoke, Virginia.

---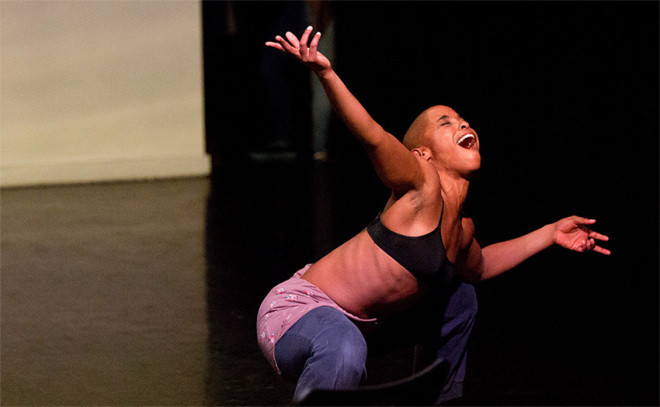 Marjani Forté
being Here…/this time
Saturday, January 10 at 4:00 pm & 9:30 pm
Free; Reservations Recommended
being Here…/this time is the final act of a three-year project examining the intersections of mental illness, addiction and systemic poverty through non-linear storytelling, abstracted embodiment and community engagement. This in-process showing is the "tip of the iceberg" of the third iteration of the project, which is being developed for performance at Gibney Dance in the spring. This section is a shell, a delineation of research discussed in Dr. Carl Hart's High Price: A Neuroscientist's Journey of Self Discovery.
---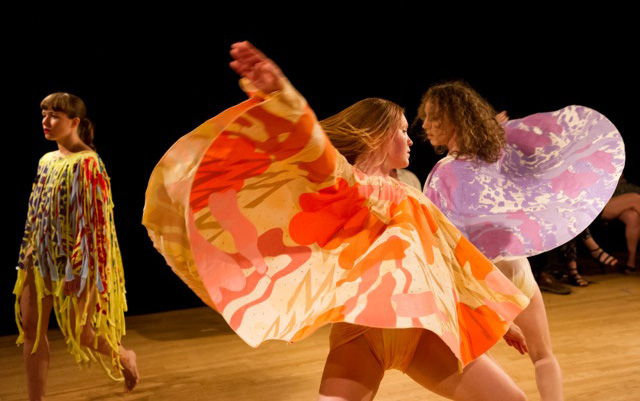 Anna Sperber
Ruptured Horizon
Saturday, January 10 at 4:30 pm & 9:00 pm
Free; Reservations Recommended
This duet is an excerpt of an evening length work for four dancers which will premiere at Gibney Dance this spring. The piece will take place in a lighting environment designed in collaboration with Elliott Jenetopolous. The work mines the relationship between landscape and the body, and the parallel patterns and rhythms found within each territory. The dance material draws from images of arctic tundra explorers, vast desert plains, deep sea dives, tidal forces, Nevada showgirls and geological ruptures. The power of the moving body in this work will lay bare expressions of beauty, agency and strength.
---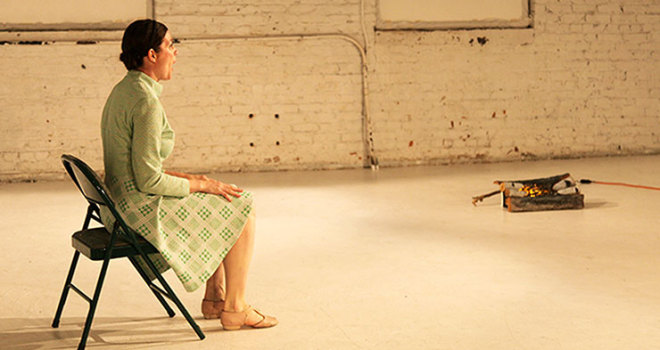 Annie-B Parson/Big Dance Theater
Summer Forever
A Short Solo
Saturday, January 10 at 5:00 pm & 8:00 pm
Free; Reservations Recommended
Summer Forever continues choreographer Annie-B Parson's life-long interest in the darkness of the kitsch aesthetic in post-war twentieth-century Germany. This ten-minute solo is created especially for veteran Big Dance Theater performer Tymberly Canale. Premiere date: Early 2016/The Kitchen, as part of an evening of short form works.
---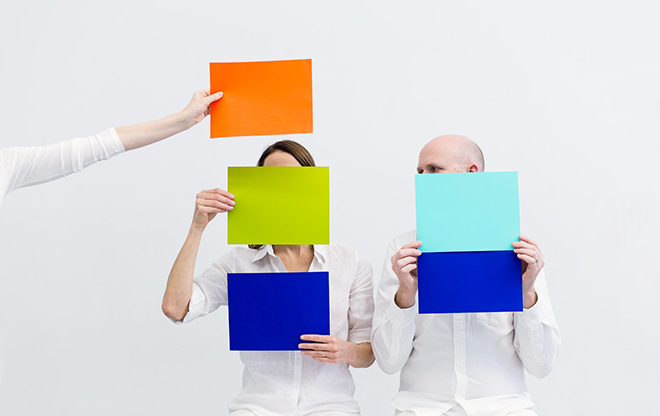 Susan Marshall & Company
CHROMATIC
A collaboration with Susan Marshall, Jason Treuting, and Suzanne Bocanegra
Saturday, January 10 at 6:00 pm & 8:30 pm
SOLD OUT
Choreographer Susan Marshall, composer Jason Treuting and visual artist Suzanne Bocanegra come together in CHROMATIC. Inspired by Josef Albers' 1963 masterpiece of color theory, Interaction of Color, CHROMATIC generates its energy from collisions of color, sound, action, object and scale. The artists perform this work themselves, constructing and deconstructing, making and remaking.
---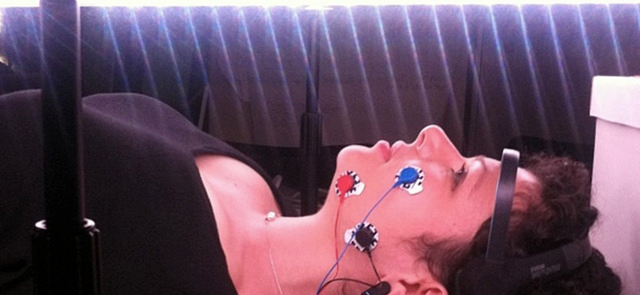 Ryan Holsopple / 31 Down
dataPurge
Co-presented with PS122
Virtual Performance
Online viewing and participation for 24 hours begins 11:00 am on January 15 at
dataPurge.me
Free Opening Reception
Thursday, January 15 from 7:00 – 9:00 pm
Free; Reservations Recommended
dataPurge is the first live exploration of PS122's Virtual programming which investigates how we create live performance digitally, interactively and beyond the stage.
dataPurge is a live, virtual cleansing of one's digital life. Clients will undergo data dialysis by monitoring the emotions associated with their online identities using body sensors and brain wave monitors during a live-streamed event. Online viewers can influence client outcomes through an interactive platform – a dataPurge version of group therapy. Upon completion, each client leaves with their soul awakened and ready to re-enter the digital world again with a clean slate.
dataPurge is co-presented by Gibney Dance and Performance Space 122 (PS122) as part of the COIL 2015 Festival and is commissioned by PS122 with an exploration grant from the Doris Duke Charitable Foundation for the Building Demand for the Performing Arts Program.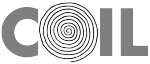 Miguel Gutierrez photo by Eric McNatt; Marjani Forté photo by Mark Simpson; Anna Sperber photo by Ian Douglass; Annie-B Parson photo courtesy of Annie-B Parson/Big Dance Theater; Susan Marshall photo by Peter Serling; Ryan Holsopple photo by Jeso O'Neill.
This program is supported, in part, by public funds from the New York City Department of Cultural Affairs in partnership with the City Council. Additional support provided by The Harkness Foundation for Dance and the Jerome Robbins Foundation.