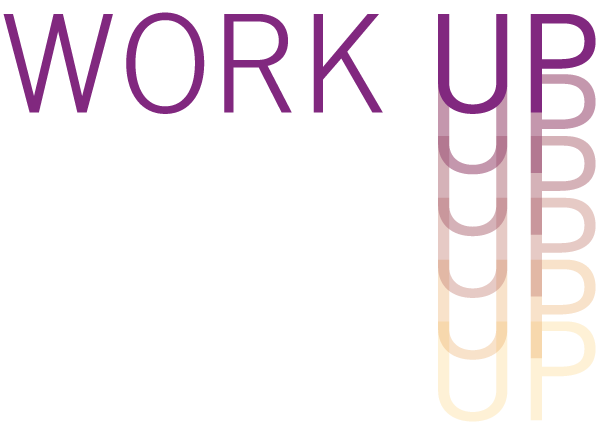 Work Up 1.1
Abigail Levine, seymour::dancecollective &
Sophie Sotsky | TYKE DANCE
Thursday, April 9 – Saturday, April 11 at 7:30 pm
Studio C at Gibney Dance: Agnes Varis Performing Arts Center
$20 General Admission; $15 Students, Seniors, & Class-Card Holders
Abigail Levine
Well Mother
We make these forms again and again. We learn our materials so well, it's hard to tell if we shape them or they shape us. Well Mother is a choreographic cycle for one dancer and four 50-foot extension cords. A live electronic score by composer Ted Coffey alternately supports and pushes against the progress of the dance. In its formal design and use of repetition, the work makes a nod to Robert Motherwell's monumental painting cycle "Elegy for the Spanish Republic."
Abigail Levine is a New York-based choreographer and performer. Her works have been presented at the Movement Research Festival, Mount Tremper Arts Festival, Danspace Project, Center for Performance Research, Roulette, Movement Research at the Judson Church, and internationally in Cuba, Venezuela, Mexico, Brazil, Canada and Taiwan. Abigail was a reperformer in Marina Abramovic's MoMA retrospective and has also performed recently in the work of Clarinda Mac Low, Larissa Velez-Jackson, Will Rawls and Mark Dendy. In 2014, Abigail learned Yvonne Rainer's iconic 1965 work Trio A, coached by Pat Catterson. She holds a Masters in Dance and Performance Studies from NYU.
seymour::dancecollective
Median
Median is a piece about race in a "post-racial" society. Using Al Young's poem A Dance for Militant Dilettantes and Ralph Ellison's novel Invisible Man as an entry point, the piece takes a raw approach to format, where text, music, and movement are all on equal footings of expression and precedent. The collective lays bare the central ideas and challenges for the audience to draw their own conclusions from our expositions. The work is primarily an exploration of race and identity through the text as well as a wide array of musical selections, from Chopin to Biggie Smalls.
Chafin Seymour is a Brooklyn native whose training and experience in dance have been investigative and eclectic. He received his BFA with Distinction in Dance from The Ohio State University in 2012. Since then he has returned to his home borough and has had the pleasure of working with such artists as Dante Brown | Warehouse Dance and Ni'Ja Whitson Adebanjo. He founded seymour::dancecollective in 2011 with aims of crossing boundaries culturally and aesthetically. He has performed and presented work in such venues as Judson Church, Dixon Place and Center for Performance Research (CPR).
Sophie Sotsky | TYKE DANCE
i am an empath
For years my work has foregrounded athletic women, masculine posture, muscular tension in the upper torso, strength, sweat, and heroic acts of dance. In this movement study, I ask a difficult question: What about the softness and femininity of the dance technique I have been taught makes me so angry? (Self-consciousness? Or Feminism?) The questions is equal parts political and personal. Why am I embarrassed by the softness of contemporary dance technique? This is a mining of my own physicality, my freneticism and my ductility.
Sewing exertion, exhaustion, effort and error into the language of dance technique, I aspire to present movement that neither relies on classical notions of technique and virtuosity nor relinquishes the primacy of physical challenge in dance performance. I work closely with physical ordeal as a process for creating dance.
---
Work Up 1.2
Evvie Allison, Ayano Elson & Alex Romania
Thursday, April 16 – Saturday, April 18 at 7:30 pm
Studio C at Gibney Dance: Agnes Varis Performing Arts Center
$20 General Admission; $15 Students, Seniors, & Class-Card Holders
Post-show talk Friday, April 17 moderated by Craig Peterson
Pre-show talk Saturday, April 18 moderated by Ursula Eagly
Evvie Allison
Dance Nun
I am interested in choreography as queered baptism. Drawing from the patriarchal framework of classical ballet and the phenomena of religious experience, the inquiry that inspired this new solo lies at the intersection of conviction and performance. What are the mechanisms of belief in the body? How do we get there, and how does belief function in a room and in relationship with an audience? In contrast to early experiments for Internet and video, this piece deals with live exchange and uses formal conventions of composition in an attempt to storm the master's house by subverting the master's tools.
Evvie Allison was raised in Birmingham, Alabama, where she attended the Alabama Ballet School, went to church/did not go to church, and presided over a nonconsensual theatre boot camp for unwitting neighborhood children one summer in the late 90s. She performs and, recently, makes dances. Evvie is currently a Chez Bushwick Artist in Residence.
Ayano Elson
Name is Yoko
Name is Yoko includes four female dancers, a score combining an original electronic composition with my grandfather's performance of folk songs, and video I filmed. It begins in stillness and silence on the floor before unraveling vertically. This happens through varied patterns and gestural movement taken from videos of my grandparents. The piece attempts to bring Okinawa and my grandparents in front of an audience they will probably never meet.
Ayano Elson is a choreographer and performer, originally from beautiful New Jersey and Okinawa, Japan. She has performed in works by Kim Brandt and Steven Reker at the Kitchen, Invisible Dog, Roulette, AUNTS, Catch, and Lincoln Center, and has presented her own choreography at the New Museum, Movement Research, and AUNTS. Ayano graduated from Connecticut College with a dual major in dance and art history, where she studied with David Dorfman, Heidi Henderson, Adele Myers, and Lisa Race. She currently works as the online manager for the New Museum.
Alex Romania
CBT
Love, pornography, and feminist masculinity, are considered through physical process resulting in a dance in the realm of BDSM. This physically vulnerable choreography frames my white cisgendered male body between violence and pleasure. Through genital hypnosis and rigorous discomfort, this is a dance of (narcissistic) pleasure and (quiet) longing, (self) mutilation and (self) care, to flatten and complexify the male body. To move beyond, to newly inhabit — a phallic solo to recompose the phallus.
As a multidisciplinary maker, performer, organizer, and teacher, Alex Romania has performed and taught around the States. Recent work has been presented by SOLOW Fest (Philly), Old Furnace Artist Residency (VA) and Glasshouse ArtLifeLab(NYC) where Romania organizes evenings of work and public discussions for online journal 'Invisible Artists' (cargocollective.com/invisibleartists). Romania has performed in works by Eddie Peake, Simone Forti, Steve Paxton, and currently dances for choreographers Kathy Westwater and Jacob Slominski. Romania looks forward to showing in the Performance Mix Festival this June and developing work as an AIR at Chez Bushwick this Spring. cargocollective.com/alexromania
---
Work Up 1.3
Work Up 1.3
Ni'Ja Whitson Adebanjo/The NWA Project, Elena Rose Light & Alyssa Gersony
Thursday, April 23 – Saturday, April 25 at 7:30 pm
Studio C at Gibney Dance: Agnes Varis Performing Arts Center
$20 General Admission; $15 Students, Seniors, & Class-Card Holders
Post-show talk Friday, April 24 moderated by Craig Peterson
Pre-show talk Saturday, April 25 moderated by Ursula Eagly
Ni'Ja Whitson Adebanjo/The NWA Project
When Water Dries the Mouth
When Water Dries the Mouth is a ritual diptych exploring the layered consequences of faith, prayer and homophobia. Ayaba, the second installment of the diptych, studies the emotional experience of deprivation. Inspired by the impact of Nigerian anti-gay laws on centuries-old customs of same gender intimacy, Ayaba is a study on absence and dispossession. When Water Dries the Mouth, the first work, is inspired by the recent abduction of 279 school girls in Chibok, Nigeria. Exploring the perversion and role of faith in the girls' abduction, this work deconstructs where prayer emerges as a structure, detached religious symbolism, and recourse for survival.
Ni'Ja Whitson Adebanjo is a 2013-2015 Movement Research Artist in Residence, a 2014-2015 BAAD! Artist in Residence, and Creative Capital "On Our Radar" Artist. As a choreographer and performer they have worked alongside leading artists across disciplines including: Sharon Bridgforth, Dianne McIntyre, Douglas Ewart, La Pocha Nostra and Alison Knowles. Whitson Adebanjo has received awards from the Kennedy Center American College Theatre Festival, Downtown Urban Theatre Festival, LinkUp as the Inaugural Artist in Residence, John G. Curtis Jr. Prize, and an MFA Fellowship Award from the School of the Art Institute of Chicago.
Elena Rose Light
English Country Ballz (Sadie Hawkins Remix)
The waltz, Western civilization's dance of love. It is a step that connotes grace, decorum, and gentility in an implied past of chastely-placed hands and well-appointed petticoats. English Country Ballz (Sadie Hawkins Remix) embraces this bygone era and turns it on its head, slowly moving the waltz into a world of aggressive female sexuality as embodied by performers Elena Light and Margaret Tudor.
Elena Rose Light is a dance artist and writer based in Brooklyn. She grew up in the world of classical ballet, where she cultivated a love of bygone eras and all their accompanying rituals. In 2013, Elena graduated with a BA in French and the History of Art from Yale University, where she was awarded the Jonathan Edwards College Arts Award and performed in the work of Twyla Tharp, Merce Cunningham, Akram Khan, and Reggie Wilson. Elena now writes about dance for her blog danceandcircumstance.com; for contemporary performance blog Culturebot; and for the Movement Research Performance Journal.
Alyssa Gersony
this place with the pretty-sounding name
With a slight shift her body turns. The anonymous figure stands facing you. A woman, scanning. Caught in a dream she slips into a private rave. One, two, three, four, five. "He pleaded for an overhaul of a system that allowed retarded children to live in a snake pit." Nameless voices echo softly beneath currents of whispers and static. She waves. "This is what it looked like, this is what it sounded like, but how can I tell you about the way it smelled?" The aural fog steadily builds, galvanizing her body into cyclical, bound form.
Alyssa Gersony currently lives and works in Brooklyn as a freelance dance artist and job placement specialist for people with disabilities. Her solo performance work has recently been curated by Chez Bushwick at the Center for Performance Research (2Night Show), and Green Space (Green Space Blooms) in Long Island City. Professionally she has worked as an assistant choreographer with Thomas Lehmen at the Zodiak Center for New Dance (Helsinki, Finland) and PACT Zollverein (Essen, Germany). Upon graduating from Arizona State University she collaborated on new works with Moya Michael, Cristian Duarte, Liz Lerman, Eileen Standley and Grisha Coleman.
---
Work Up 1.4
Lauren Ree Slone and Eli Tamondong / Projectile Imagery; Theater Pre-show by Jacob Slominski
Thursday, April 30 – Saturday, May 2 at 7:30 pm
Studio C at Gibney Dance: Agnes Varis Performing Arts Center
$20 General Admission; $15 Students, Seniors, & Class-Card Holders
Post-show talk Friday, May 1 moderated by Craig Peterson
Pre-show talk Saturday, May 2 moderated by Karinne Keithley Syers
Lauren Ree Slone
207 ideas in 15 minutes
207 unfolds as a streaming series of motifs that are quickly abandoned – beginnings without resolutions. Rather than rote repetition of fixed ideas, the solo changes every time in response to the individual that activates it. The work is an effort to activate courage ("tonight I am not sorry for what I have done or what I have failed to do"). 207 is also motivated by questions about ceaseless endurance, The Performer As EVERYTHING or Savior Of Dance From Imminent Cultural Extinction, and an upgrade culture that fosters perpetual dissatisfaction / the need to publicly perform self-improvement.
Following her classical dance training in St. Petersburg, Florida, Lauren Ree Slone earned a B.A. in Religious Studies and Philosophy, which led to archaeological digs, photography, and writing. In 2012 Lauren completed an MFA in Dance Performance and Choreography from Florida State University. She was a Teaching and MANCC Arts Administration Fellow, studied performance in Israel, and received grants to conduct choreographic research in Spain and Paris. Most recently, she has presented work at Movement Research at Judson Church, Church of Saint Paul the Apostle, Wassaic Festival, among others. She is also thrilled to serve as MAP Fund Program Associate.
Eli Tamondong / Projectile Imagery
Feast or Famine
Feast or Famine is a solo dance piece loosely inspired by Vicente L. Rafael's book White Love and Other Events in Filipino History. Struggling with themes of fetishization and colonized bodies, this dance attempts to challenge American defaults of racial and ethnic identity in queer attraction and relationships. Over a sound arrangement of golf commentary and gay sex, I attempt to blur and juxtapose elements of the traditional Filipino dance called tinikling with a balletic waltz. I read text that exposes American colonialism but get strangled by white love while doing so.
Eli Tamondong is a Brooklyn-based artist creating through dance, text, and/or sound under the moniker Projectile Imagery. Since 2013, he has been presented locally by Dance New Amsterdam, Dixon Place, Movement Research at Judson, Brooklyn Arts Exchange as well as Philadelphia venue Hylo Labs. He has also shown at Green Space Studio, Gibney Dance Center, and Muchmore's Bar in Brooklyn. He has been a 2014 Chez Bushwick Artist-in-Residence, and is currently a member of the 2014-15 Dance/NYC Junior Committee.
Jacob Slominski
Theater Pre-show
Jacob Slominski has been making and performing dance since 2005. Since moving to New York in 2009, he has performed for Faye Driscoll, Ishmael Houston-Jones, and Jack Ferver. His own work has been shown at CPR, BAX, CATCH, and Chez Bushwick.