POP Performance Application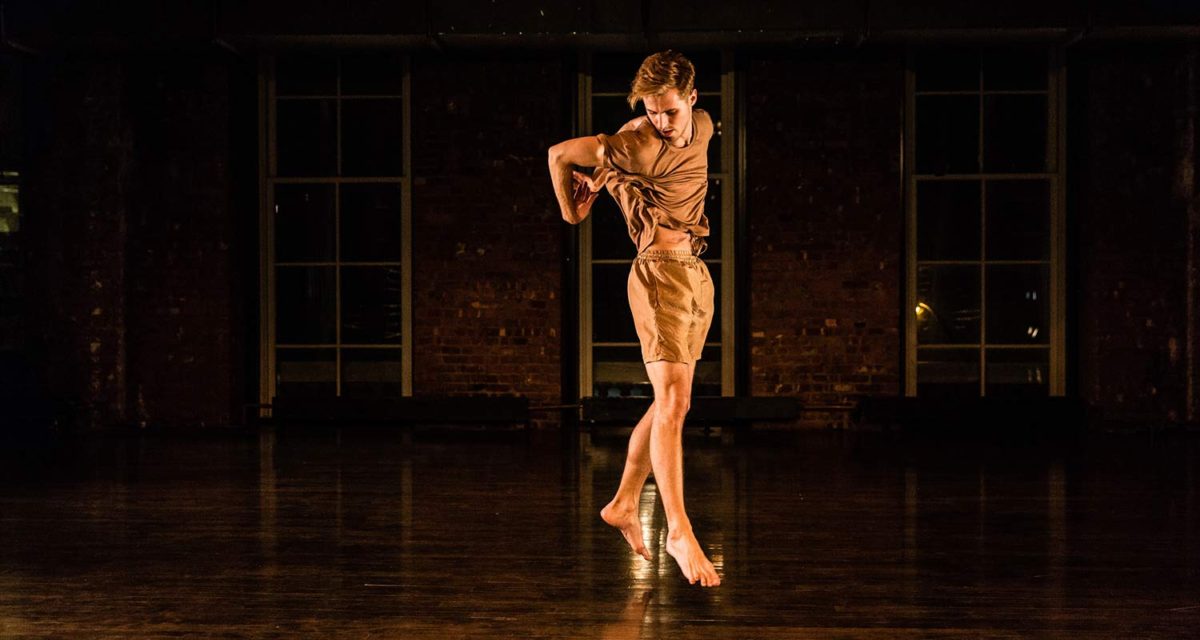 The Summer 2018 POP Performance application is now closed. Stay tuned for future opportunities.
Photo: Nico Brown, DoublePlus 2015. Photo by Scott Shaw.
OVERVIEW
POP: Performance Opportunity Project serves the dance community by providing space, support, and subsidized theater rental rates for performances to non-profit companies and individual dance artists. POP takes place in The Theater, Gibney's 114 seat performance space at 280 Broadway.
Artists participating in the POP performance series receive time for technical rehearsal and a three-night performance run. Refer to Technical Rider for more information on The Theater. Technical and dress rehearsal take place on Wednesday and performance nights are Thursday-Saturday. Performances will begin either at 7:30pm or 8pm, pending length of show and to be determined by Gibney's Technical Director. Show run time is limited to 75 minutes including any intermissions.
Applications for Summer 2018 performance dates are due on Friday, March 30, 2018. Available dates include:
June 13 – 16 (performances 14 – 16)
July 18-21 (performances 19-21)
July 25-28 (performances 26-28)
August 1 – 4 (performances 2 – 4)
August 8-11 (performances 9-11)
August 15-18 (performances 16-18)
Gibney's Director of Performance and Residency Programs will lead two info sessions on the program, Tuesday March 13, 1:00pm – 2:00pm and Thursday March 22, 6:30pm – 7:00pm. Both sessions will take place in the Learning & Leadership Studio at Gibney 280 Broadway (Enter at 53A Chambers Street). Any questions can be directed towards Nora Alami, Performance and Residency Programs Manager at Nora@GibneyDance.org.
TECHNICAL PERSONNEL
Gibney will provide each production with 3 crew members, one or all of whom may be a participant in the Gibney Resident Production Training Program. Each production is staffed with one (1) Light Board Operator, and one (1) Sound/Video Operator, and one (1) Deck person. If Renter's production requires additional personnel or Renter feels that trainees cannot handle the production needs, the Renter is responsible for hiring additional personnel at the Renter's own expense. Please inform Gibney if you intend to hire additional personnel for your production at least 30 days in advance of performance.
Renter must provide a Lighting Designer to create the shows lighting design during the technical rehearsal, and a Stage Manager available for calling cues during each performance.
Leading up to the rental, Gibney's Technical Director will act as liaison with the Renter and Renter's Lighting Designer to assist in the planning of the show.
The Renter and Renter's Lighting Designer must have a production meeting with Gibney's Technical Director at least one-month before the performance date.
BOX OFFICE AND TICKET SALES
Each artist receives an individualized performance page in the Performance Series section of Gibney's website through which tickets are sold.
Tickets are priced at $15 for advanced web sale and $20 at the door. Advanced web sales will be taken up until Noon on the day of show. The artist will receive $15 per ticket sold to be paid out by Gibney after close of performance.
Gibney provides a Box Office Manager to oversee the ticket sales and distribution for each evening, as well as manage comp ticket requests. The Box Office Manager will provide artist with weekly ticket sales reports leading up to the performance, and daily ticket sales reports the week of the performance run.
Box Office will open 1.5 hours before curtain time and is located in the Gallery or lobby outside of the Theater.
GIbney will provide a concession stand. Renter cannot provide additional concessions.
MARKETING
All events taking part in the POP: Performance Series are listed on Gibney's website and included in digital marketing. POP: Performance Series events also receive two Gibney social media posts.
Gibney must approve promotional materials created by the artist prior to being released to the public. In any promotional materials, including posters, flyers, e-blasts, etc, as well as any printed program, artists must include the POP logo and the following line:
This performance is a part of Gibney's POP series, a program supporting the dance community through subsidized theater rental.
Gibney's location should be listed in one of the two following ways:

Gibney: Agnes Varis Performing Arts Center or Gibney: Agnes Varis Performing Arts Center 280 Broadway (entrance at 53A Chambers) New York, NY 10007
FRONT OF HOUSE
Gibney provides a staff House Manager to oversee the Front of House for each performance.
Artist must provide 2 nightly ushers to assist with program distribution, ticket taking, and patron seating. Ushers must arrive one hour before curtain.
Audience members arriving for performances are to use the 53A Chambers Street entrance as the point of entry/exit. ADA accommodations are to be pre-arranged with Gibney through the 280 Broadway entrance 48 hours in advance.
Gibney will provide printed programs for each performance night. Program copy is due at least one week in advance of opening night. A proof of the program will be sent to artist for approval.
ADDITIONAL SERVICES
The artist may rent the Gallery space for a one-hour post-show reception for an additional fee of $95 per night.
POP RATES
The POP: Performance Opportunity Project package is $5,340. In addition, the Renter is required to pay a $200 cleaning and damages deposit, which will be returned to the Renter three weeks after the engagement, assuming no damages are incurred. A $800 non-refundable rental deposit is due at the contract signing, with $2,240 due 60 days before performance date and the remaining balance of $2,300 is due 30 days before performance date.