GibneyPRO Professional Certificate Program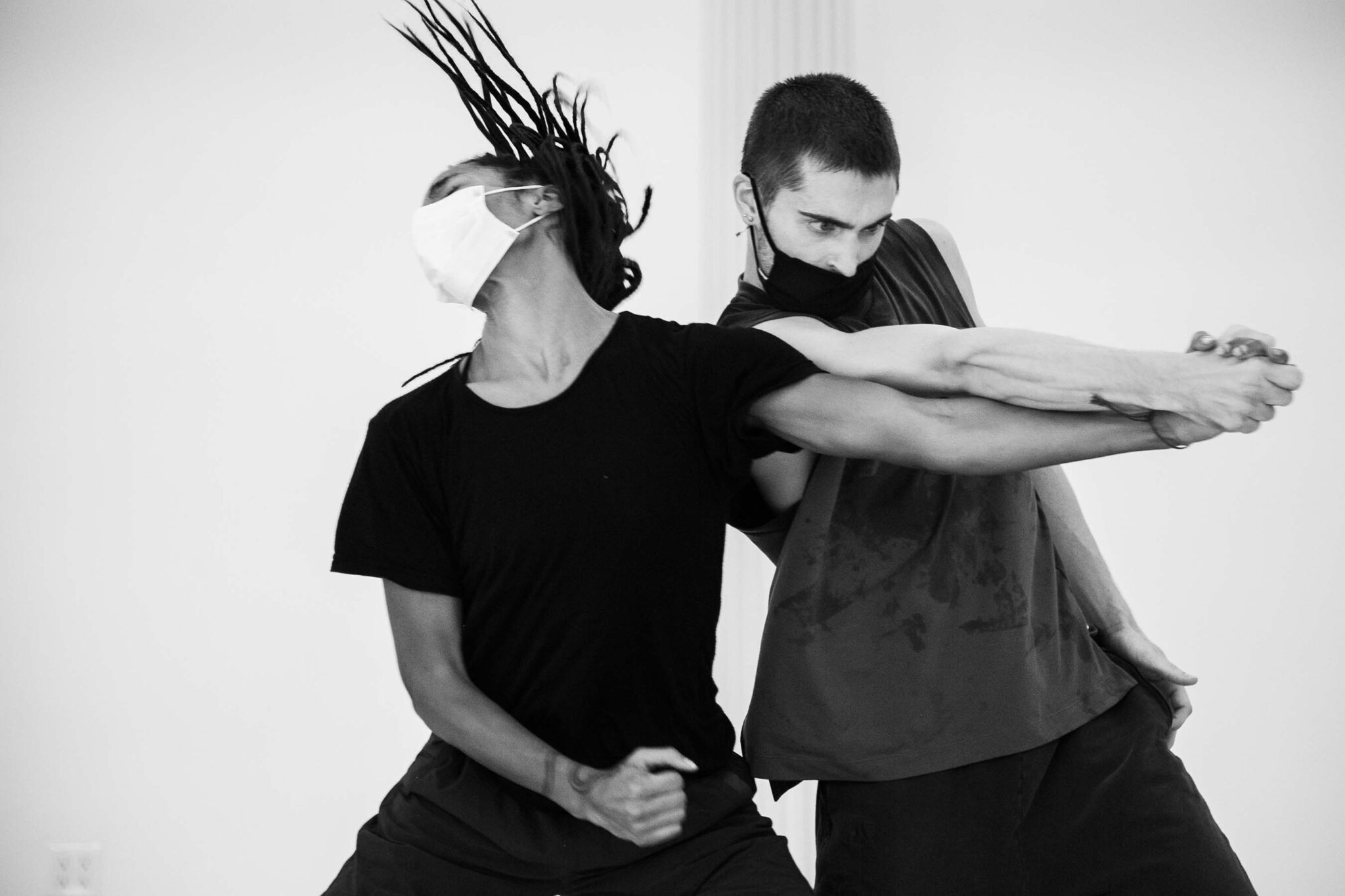 Pilot Program: September 12 – December 16, 2022
To succeed in today's climate, dance artists are expected to be versatile collaborators with extraordinary technical capacities. In response, Alexandra Wells, Gibney Company Advisor & Senior Director of Education and Founder & Artistic Director of Springboard Danse Montreal, has developed GibneyPRO—a Professional Certificate Program unique to Gibney. Drawing upon her vast network and experience as curator of educational programs, GibneyPRO will equip emerging dance artists to lead our field forward.
GibneyPRO prepares emerging dance artists to thrive in a dynamic artistic landscape and facilitates a global network of professional relationships, including an intrinsic connection with Gibney Company. Through a series of immersive creative processes, dancers will be equipped with the strategies to flourish as adaptable artists in a multitude of career paths, from full-time company positions to freelance pursuits. Gilbert T Small II, Gibney Company Director, Bret Yamanaka, Guest Rehearsal Director will partner with Alexandra Wells to support the exploration and evolution of the Gibney PRO cohort.
GibneyPRO centers the development of sustainable, value-driven career practices through its commitment to process, collaboration, agency, mentorship, problem-solving, equity, and inclusion.
PROGRAM LEADERSHIP
Alexandra Wells, Senior Director of Education & Company Advisor
Gilbert T Small II, Gibney Company Director
Bret Yamanaka, Guest Rehearsal Director
PILOT PROGRAM GUEST CHOREOGRAPHERS
Rena Butler & Maleek Washington (Co-Creation)
Laja Field
Elia Mrak
ABOUT THE PILOT PROGRAM
Gibney will launch a three-month Pilot Program in September 2022, with the intent to launch a full-year program in 2023. Scholarships and M-1 Student Visas are available. Details below.
GibneyPRO will serve an intimate cohort of 24 dancers, selected through a rigorous audition process. The program cultivates collaboration, agency, embodied listening, humility, and problem-solving, and provides fertile ground for braiding these values into the future of the dance profession.
The three-month, thirteen-week Pilot Program is centered around creative process and features guest choreographers Elia Mrak, Laja Field, Rena Butler and Maleek Washington, alongside a diversity of techniques classes, somatic offerings, professional development, mentorship from Alexandra Wells, Gilbert T Small II, Bret Yamanaka, and a close connection with the Artistic Associates and leadership of Gibney Company.
LEARN MORE
Dancers will have daily access to studio space for creative exploration and choreographic development. Each semester will include three studio showings followed by feedback sessions with Gibney Company Artistic Associates. The culminating, end of semester, final showings of the guest choreographer's works in process at New York Live Arts (NYLA) and dancer works at Gibney: Agnes Varis Performing Arts Center will gather industry professionals, directors, management, friends, and family members.
At the core of the program is its intimacy with Gibney Company. Participants will connect with the Company's Leadership and Artistic Associates through:
Weekly classes with Gibney Company Director, Gilbert T Small II; Company Advisor, Alexandra Wells; and rotating Artistic Associates

Mentorship from Gibney Company Director, Gilbert T Small II, Company Advisor, Alexandra Wells, and Guest Rehearsal Director, Bret Yamanaka.

A creative process with the Company Choreographic Associate, Rena Butler in a co-creation with Maleek Washington

Informal showings and dialogue with Gibney Company centered upon participants' creative processes

Regular observation of Gibney Company rehearsals and access to select, private dress rehearsals

One complimentary ticket to Gibney Company performances

Professional development workshops with Gina Gibney and Company Directors

Invitation to participate in future Gibney Company auditions
Weekly Schedule
MONDAY
10:00am-12:00pm: Class with Guest Choreographer
12:30-3:30pm: Rehearsal with Guest Choreographer
4:00-6:00pm: Autonomy – Open Studio Access

TUESDAY
10:00am-12:00pm: IMAGE TECH + Ballet with Alexandra Wells
12:30-2:30pm: Countertechnique
3:00-5:00pm: Hip Hop
5:00-6:00pm: Artist Talk
WEDNESDAY
10:00am-12:00pm: Class with Guest Choreographer
12:30-3:30pm: Rehearsal with Guest Choreographer
4:00-6:00pm: Autonomy – Open Studio Access
THURSDAY
10:00-11:30am: Ballet
12:00-1:15pm: Gaga/dancer
2:00-4:00pm: Professional Development
4:30-6:00pm: Autonomy – Open Studio Access
FRIDAY
10:00-11:30am: Contemporary/Improvisation
12:00-3:00pm: Rehearsal with Guest Choreographer
3:30-5:30pm: Rehearsal or Mentoring
Note: Company interaction will shift to accommodate the company residency and touring schedules as needed.
Content will shift week to week. Daily start and end times are consistent throughout the program with the exception of additional evening showings held on 10/7, 11/4, 12/2, 12/10, 12/11, and 12/15 (details below).
PROGRAM CONTENT DETAILS
Connection with Gibney Company

, including interaction with Company Directors and Artistic Associates.

Daily Technique Classes

, curated exclusively for the Gibney PRO dancers by Alexandra Wells. Styles offered include floorwork, Ballet, Contemporary, 

Countertechnique

, 

Flying Low

, 

IMAGE TECH

, Improvisation, 

Gaga

/dancers, Qi Gong, and Hip Hop.

Creative Processes

for new works with Elia Mrak, Laja Field, Rena Butler and Maleek Washington, will incorporate research, collaboration, improvisation, and open dialogue.

Autonomy – Open Studio Access 

provides an opportunity for dancers to deepen their creative practices through the availability of up to seven hours of studio space per week.

Informal Studio Showings 

mark the culmination of each guest artist creative process. Select work created by the dancers will also be presented at the informal showings.

Final Showings

PRO guest choreographer's 

works in process 

at NYLA 

will be held on December 10 at 7:30pm & December 11, 2022 at 3:30pm.

PRO dancer's creative process dancer works at The Theater at Gibney: Agnes Varis Performing Arts Center will be held on December 15, 2022 at 7:30pm.

The final showings are by invitation-only for industry professionals, directors, management, friends, and family members.

Mentoring 

cultivates continual opportunities to connect with program leadership and renowned directors and educators Alexandra Wells, Gilbert T Small II, and Bret Yamanaka. Program leadership will listen and support each individual's research, pathfinding, choice-making, and dreaming, and will work with every dancer to consider their whole artist-self in everything they do.

Professional Development

 offerings, curated by Gibney Director of Education Jessie Kardos, support the pursuit of unique and sustainable careers through accessible learning and the prioritization of a diverse and inclusive community. Dancers will gain the necessary tools to build and sustain their own unique career in dance. Workshops will cover an array of foundational skills for independent artists including writing compelling artist statements, financial literacy, marketing, entrepreneurship, and more.

Artist Talks facilitate conversations with artists and dance-workers of diverse backgrounds. Dancers will connect with esteemed artists who are critical thinkers, community builders, and artist-entrepreneurs
Kinected Pilates Certification Program. Gibney PRO participants receive exclusive discount opportunities for pilates certification programs offered by kinected edu! This discount does not expire and can be redeemed at any time. Learn more.
PROGRAM LEADERSHIP & 2022 FACULTY
DATES, SCHEDULE & FACULTY
PILOT PROGRAM DATES
September 12 – December 16, 2022 
Monday – Friday, 10:00am – 6:00pm daily
No classes:
October 10 – 11
November 21 – 25
Informal showings:
Thursday, October 7, 6:00pm – 8:00pm
Friday, November 4, 6:00pm – 8:00pm
Thursday, December 2, 6:00pm – 8:00pm
Final Showings:
PRO Guest Choreographer's Works in Process presented at NYLA
Saturday, December 10, 7:30pm and Sunday, December 11, 3:00pm

PRO Dancer's Creative Process Dancer Works presented at Gibney 280
Thursday, December 15, 7:00pm 
Tuition: $6,500
Scholarships Available
M-1 Student Visas Available
APPLICATION & AUDITION PROCESS
The application for the Pilot Program is now closed.
Thank you for your interest! The application for the Fall 2023 program will be available in December 2022.
Application Process Details
Application Deadlines
For Video Submissions: Sunday, March 20, 2022, 11:59 pm EST
For In-Person Auditions: Sunday, April 3, 2022, 11:59 pm EST
Application Details
You will be asked to submit:

Demographic Information 

If applying for a visa, you will be asked to provide your nationality and visa status

Dance Resume

Headshot

A Statement of Interest (written or video)

Non-refundable application fee

$35 for Mail-in Video Application

$25 for In-Person Audition Application

If the application fee is prohibitive for you, please contact 

jessiek@gibneydance.org
Audition Process Details
In-Person Auditions
The in-person audition will take place on Saturday, April 9 or Sunday, April 10, 2022 from 12:00pm – 6:00pm at Gibney 280.

Applicants can select their preferred day and we will do our best to accommodate requests. Applicants should be prepared to stay the full six hours.

Please note that masks are required for all individuals at Gibney Center, and Gibney requires proof of full vaccination for all visitors. Read more about our COVID-19 safety plan on our 

Plan Your Visit page.

The in-person audition will include Ballet, Repertory, and Improvisation.

Select dancers will be called for interviews on the day of the audition.
Video Auditions
Submit three minutes of ballet center exercises and three minutes of improvisation and/or repertory in your preferred vernacular.

Select dancers will be scheduled for virtual interviews.
Notification & Payment Dates
Applicants will be notified of acceptance by Monday April 18, 2022.

Accepted dancers must accept, confirm their enrollment, and submit a 50% deposit by May 2, 2022.

Final tuition payments are due by June 12, 2022.

For visa applicants, I-20 Application information is due by June 12, 2022.
Cost
Full Tuition for Pilot Program: $6,500
Scholarships
A limited number of scholarships are available based upon financial need.

We cannot guarantee any requested scholarship amount, but we will do our best to meet your needs.

Within your audition application, please note that you are interested in applying for a scholarship.

If accepted, you will be asked to provide recent tax forms and a statement of need by April 22, 2022.

Scholarship interest and applications will be reviewed separately from program applications, and are not shared with audition panelists.

Scholarship awards will be shared by April 26, 2022.
Payment Schedule
50% deposit due by May 2, 2022

Final tuition due by June 12, 2022

Payment plans available upon request
Refund Policy
Application fees and deposits are non-refundable.

If you are applying for Visa sponsorship and your visa is not approved in your home country, Gibney will refund 90% of tuition paid to date, prior to the start of the program.

No refunds are given once the program has started, regardless of program completion or withdrawal. Dismissal from the program will not constitute a reason for any refund.
Eligibility
Ideal candidates are porous individuals who are deeply invested in furthering their artistic research and physical skills, as well as engaging in collaborative creative processes. Ideal candidates are accustomed to or prepared for a rigorous dance training schedule.
All applicants must be 18 years of age or older by the start of the program.
COVD-19 vaccination is required for participation in the program. Read more about Gibney's COVID-19 safety plan and vaccination policy on our Plan Your Visit page.
Although English Proficiency is not required, an understanding of English is strongly encouraged to take full advantage of all program components.
Gibney can sponsor M-1 Student Visas for International participants (information below).
Participants are expected to attend all classes, rehearsals, sessions, and showings. The program is centered around creative processes with guest choreographers, which rely on collaboration. Therefore, the cohort's collective and consistent presence is fundamental to the success of the program.
Location
All program components take place in-person at Gibney: Agnes Varis Performing Arts Center

Address: 280 Broadway, New York, NY 10007

Facility Entrance: 53A Chambers Street in Lower Manhattan
Attendance & Program Policies
Attendance Policy: Participants are expected to attend all classes, rehearsals, sessions and showings. Absences due to illness, injury, emergency, or auditions will be discussed on a case-by-case basis. COVID-19 symptoms and diagnosis will be navigated according to New York City protocol.
Causes for Dismissal: If, at any point, a participant has demonstrated behavior deemed in violation of the code of conduct, including violation of COVID-19 safety policies, it may be cause for dismissal from the program. Dismissal from the program does not constitute a reason for any refund. If a Visa participant is expelled from the program, they must leave the US immediately.
Housing
Participants are responsible for finding their own housing for the duration of the Professional Training Program. In order to assist participants in choosing a suitable housing arrangement, Gibney provides a list of housing options as a helpful starting point. Gibney is not in any way affiliated and does not benefit financially from these presented options. The list will be shared upon acceptance into the program.
STUDENT VISA SPONSORSHIP
Gibney sponsors M-1 Student Visas for international students participating in the program.
The M-1 visa is for nonacademic or vocational studies. M-1 visa holders for technical and vocational programs are not permitted to work during the course of their studies. Therefore, M-1 visa applicants must have evidence that sufficient funds are immediately available to pay all tuition and estimated living expenses for the entire period of their intended stay. The estimated living expenses and tuition totals for the three-month Pilot Program amount to $11,300 USD.
ESTIMATED MONTHLY LIVING EXPENSES: $1,600
Rent & Utilities: $925

Food: $350

Transportation: $125

Personal (cell phone, clothing, etc.): $200
While studying in the United States, it is essential to maintain your M-1 student status. M-1 visa holders must complete at least 22 hours of class per week and it is the duty of the individual to maintain their status by respecting attendance requirements. Full program participation will meet or surpass the required hours for M-1 visa holders. Failure to meet the attendance requirements could result in dismissal from the program and/or loss of M-1 status for visa holders.
If you are accepted into the program, you will receive detailed information about applying for the M-1 visa. You will submit information for your I-20 form and your Statement of Finances. Then, Gibney creates your I-20 form and mails it to you. Upon receipt, you will  pay a SEVIS fee and schedule an appointment at the US Consulate in your home country. After attending the consulate appointment and receiving approval for the visa, you may enter the US up to 30 days before the start of the program.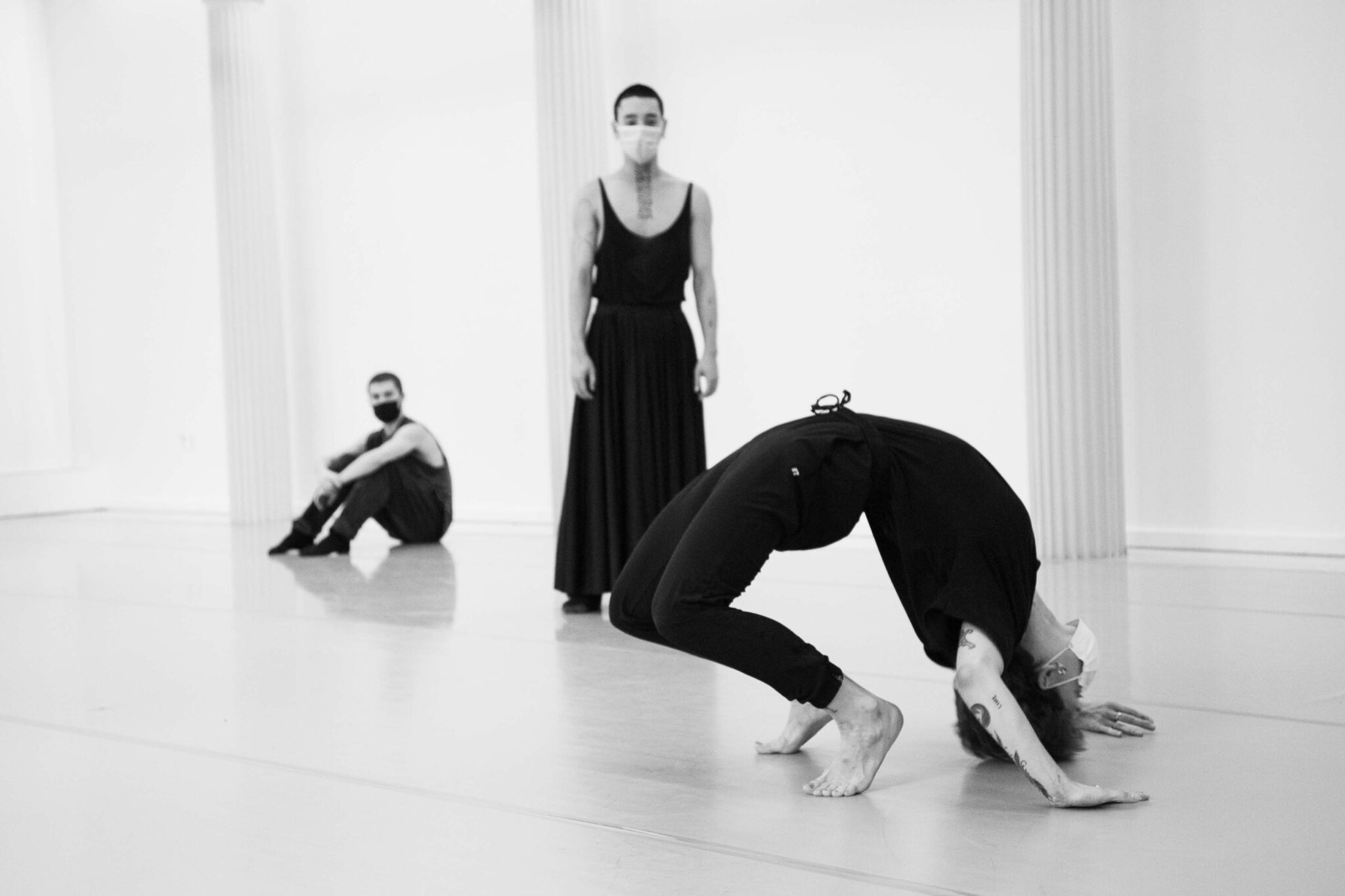 ABOUT GIBNEY
Mission
Gibney's mission is to tap into the vast potential of movement, creativity, and performance to effect social change and personal transformation.

Gibney's Education Program
Through the cultivation of an inclusive and positive space, our offerings make space for exploration, risk-taking, personal and artistic growth, connection, and fun. It is our priority to listen to and support our community and to empower the future leaders of the field. Learn more.
Equity & Inclusion
Inclusion, diversity, equity, and accessibility (IDEA) are core tenets of Gibney and central to our mission, vision, values, and daily engagement with our community. We are committed to advancing our programming, services, and the dance field at large through these lenses and acknowledge that continued organizational learning and growth are required to do so effectively.
QUESTIONS?
If you are interested in the program and you have additional questions, please contact Director of Education, Jessie Kardos, at jessiek@gibneydance.org. We are always happy to help!
SUPPORT
Gibney PRO has received generous support from Andrew A. Davis and the Shelby Cullom Davis Charitable Fund, The Meringoff Family Foundation, and The Ready Foundation.
Photos by Whitney Browne