Gibney x Springboard Danse Montréal
Since 2015, Gibney has proudly partnered with Springboard Danse Montréal and Founder Alexandra Wells to offer dynamic, diverse learning opportunities for New York City-based dance artists.
Learn more about Springboard and our joint initiatives below!
SpringboardX skills + process, Winter/Weekend workshops, Pop-Up workshops
Since 2015, SpringboardX has presented Springboard artists in diverse opportunities worldwide. In an ongoing visionary expansion of the partnership between Springboard and Gibney (NYC), these intensives offer a taste of Springboard Danse Montréal in a non-audition workshop setting. Ranging from weekend workshops to two-week intensives, SpringboardX brings artists together for an up-close-and-personal experience, often accompanied by panel discussions and informal showings.
Springboard Fellowship
Springboard's new Fellowship program is designed to provide equitable support explicitly to BIPOC Choreographers. Beginning in 2022, the Springboard Fellowship will support one to two BIPOC artists through a new branch of the Emerging Choreographers Program. The program is designed to provide Fellows with residency opportunities, marketing, and mentoring resources within Springboard's global network. We believe that artists know what they need best, and we look forward to uplifting the artistic visions of each Fellow.
This initiative is fueled in part by Springboard and Gibney's continued partnership, as well as a supportive partnership with the Jonah Bokaer Arts Foundation and its programming at Chez Bushwick. As partners, we are thrilled to pool, share, and distribute resources to address targeted inequities in the wider dance field.
Gibney Company/Springboard Illume Award
ibney Company partners with Springboard Danse Montréal to offer the annual Gibney Company/Springboard Illume Award. Formerly the EMERGE Award, under new Company Director Gilbert T Small II the Illume Award aims to cultivate and actualize the burgeoning visions of today's emerging artists toward becoming tomorrow's creative leaders in the field. Illume Awardees receive:
A two-night run of a new or existing choreographic work at Gibney Center, including technical and marketing support

Opportunities to teach classes and share their creative process through dialogues at the Center

A $5,000 stipend to support their artistic work
Each year, one of Springboard's Resident, Fellow, or Emerging Choreographers, past or present, is selected by Gibney Company to present in Studio H (The Theater) at Gibney: Agnes Varis Performing Arts Center, which is Gibney's largest production space. The awardee is selected by the Gibney Company Director, who travels to Montréal each summer to observe the Resident, Fellow and Emerging Choreographers at Springboard Danse Montréal.
Launched jointly in 2018, the ILLUME Choreographic Award is a natural extension of Springboard Danse Montréal's mission to connect artists to new opportunities, collaborators, and cultural organizations worldwide. It highlights the continual expansion of Gibney Company's mission: from its beginning as a vehicle for the choreographic vision of its Founder Gina Gibney to then welcoming re-stagings and new commissions from a wide range of guest choreographers, and now creating a platform to provide visibility, resources, and space to rising voices in the community.
Previous EMERGE Awardees
La Tresse – 2020-2021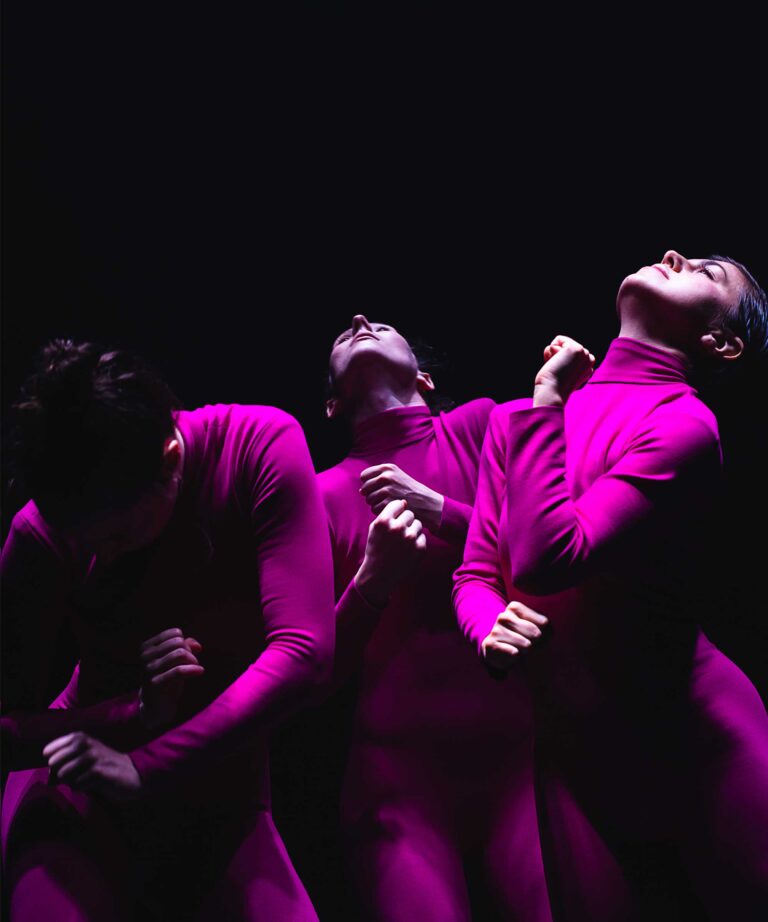 After the three dancers' serendipitous meeting in Tel Aviv, Erin O'Loughlin (Calgary) and Laura Toma (Ottawa, the first certified Gaga teacher in Canada) decided to relocate to Montréal and formed the collective LA TRESSE together with Geneviève Boulet. Their first work, Beauté Brute has been shown at numerous festivals and venues including Zone Homa, Vue Sur La Relève, OFFTA (Montréal), Dance Matters (Toronto) and La Rotonde (Quebec City). Created during a residency at Arsenal Gallery, their second trio Volume II premiered in 2016 at Festival Quartiers Danses where they were awarded the "Prix Coup de Coeur du Public" (Audience Choice Award) and has been presented at VALSPEC (Valleyfield) and The Grand YYC (Calgary). Their piece A Walkabout is a work developed for outdoor, public performance, and was premiered at the 2017 edition of Festival Quartiers Danses.
LA TRESSE has been awarded creative residencies from: La Rotonde, Shawbrook Dance (Ireland), Agora de la Danse, Danse Danse/Arsenal Art Contemporain, and CCOV. They have received support from the Canada Council for the Arts, Conseil des arts et des lettres du Québec, and the Conseil des arts de Montréal. LA TRESSE was featured as Emerging Choreographers in the 2017 edition of Springboard Danse Montreal and returned in 2019 as Resident Choreographers. They were invited choreographers for the Winter 2019 session at the École de Danse Contemporaine de Montréal where they created a new work, World was on fire; l'ère du Verseau, for the second-year students. Their new creation and first full-length piece L'Encre Noire was presented at Agora de la Danse in November 2019. They continue to collaborate with other Montreal artists on various projects, including the creation and performance of promotional material for the Fall/Winter 2018 campaign for local fashion brand Sokoloff. In 2018 they were also featured in a photo essay titled Inviting Contradiction in The Dance Current, Canada's premiere dance magazine.
Mark Caserta – 2019-2020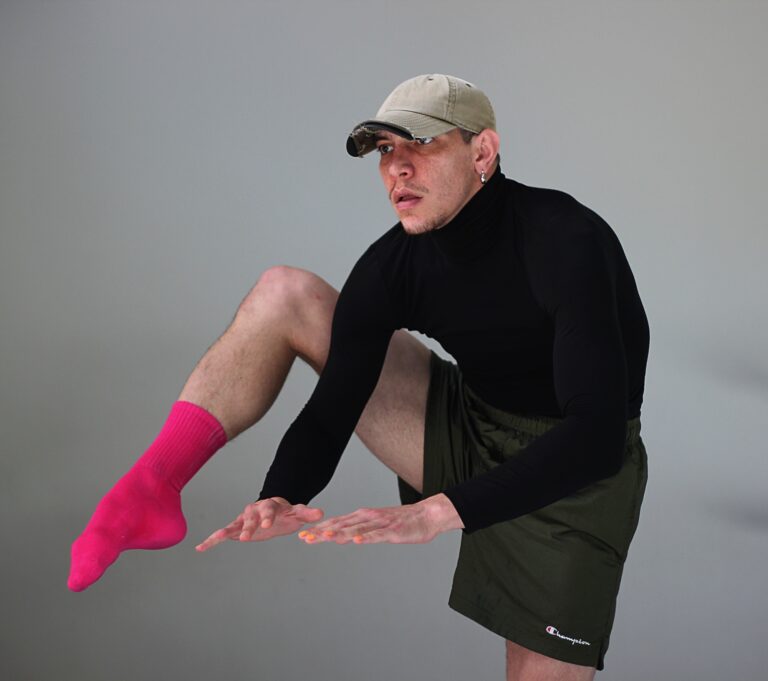 Mark Caserta, from Philadelphia, graduated from the University of the Arts with a BFA in 2010. He danced professionally with international touring companies Complexions Contemporary Ballet, Les Ballets Jazz De Montreal and Camille A. Brown & Dancers since then. Mark was a 2018 Emerging Choreographer at Springboard Danse Montreal and recently premiered his first full evening-length work as part of Gibney's Performance Opportunity Project in February. In the past year, Mark was commissioned to set work on Dark Circles Contemporary Dance with partner Mikey Morado and Atlanta based company Kit Modus. Mark has presented work at Wanderlust Dance Festival, The Austin Dance Festival, The Banff Center for Performing Arts, Steps On Broadway Choreography Lab and the Brooklyn Dance Festival. He has also created work on the University of the Arts School of Dance and Pace University. He currently teaches full time while co-directing the Pre Professional Company at Dance Industry Performing Arts Center, co-directing a non profit the Thriving Artist Project and creating new work for his own project.
Watch Mark Caserta's Gibney Company repertory work UMEUS
Micaela Taylor – 2018-2019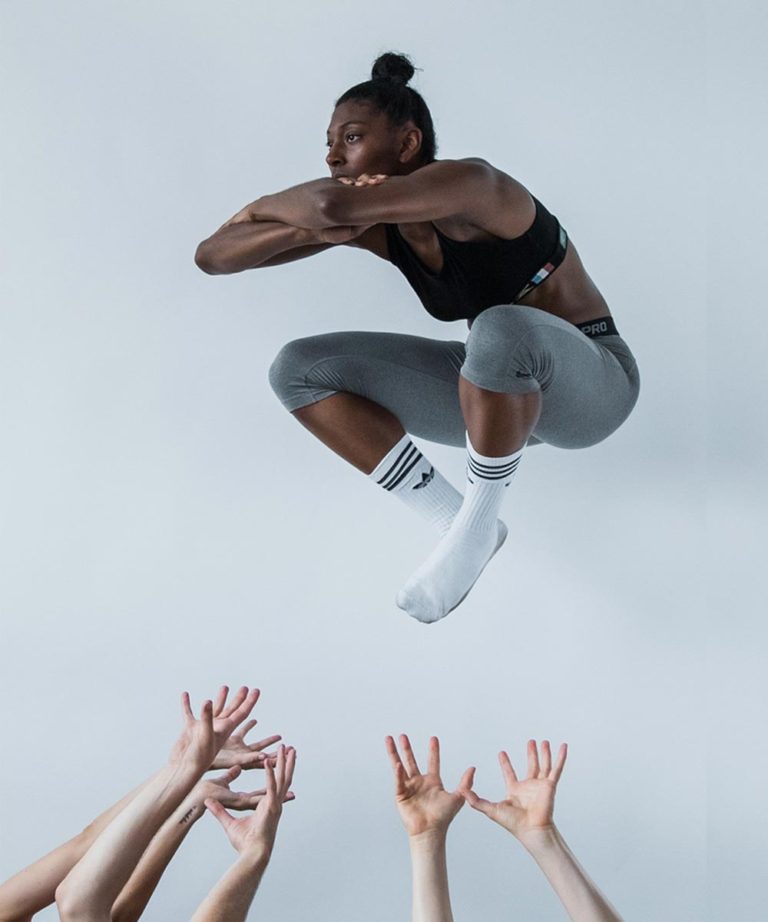 Micaela Taylor is a professional dancer/teacher/choreographer from Los Angeles, CA, where she trained at Marat Daukayev School of Ballet and Los Angeles County High School of the Arts. She graduated from Cornish College of the Arts and earned a Bachelor of Fine Arts degree in dance, 2014. She has worked and performed with Ate9 Dance Company, Zoe Scofield, Camille A. Brown, Kate Wallich, & BODYTRAFFIC. Nonetheless, her choreographic passion led her to found Los Angeles based contemporary dance company, The TL Collective in 2016. Her individual movement style of Hip Hop combined with contemporary technique has led her to find a new way for people to move which is best described as Contemporary/Pop. Alongside the launch of The TL Collective, Taylor has been commissioned to choreograph and teach by LA Contemporary Dance Company, AMDA College, Springboard Danse Montreal, MOVE(NYC), Cal State Long Beach, and Heidi Duckler Dance Theatre. Her work has been presented by Gelsey Kirkland Performing Arts Center, ACE Hotel, Raymond Kabaaz Theatre, Grand Performances, and Odyssey Theatre Ensemble.
Springboard Presents
On behalf of Springboard Danse Montréal, Alexandra Wells will begin curating Springboard artists in 2022 for performances as well as technical residencies at Gibney: Agnes Varis Performing Arts Center. More information forthcoming.
Springboard's visionary partnerships allow our mission to manifest more deeply and broadly. Collaboratively, we are able to share resources internationally across institutions to better support artists.
About Springboard Danse Montréal
Springboard Danse Montréal is a dynamic, artistic ecosystem that facilitates job placement and successive career development. Committed to addressing the current needs of dancers striving to enter the evolving job market through the cultivation of equitable access and opportunity, Springboard has been connecting dancers and choreographers since 2001. Our programming fills the crucial gaps in our field with opportunities for artists to flourish as they develop lifelong professional relationships. We welcome artists into our expansive network and multigenerational family through our year-round programming.
MISSION
Springboard Danse Montréal is a not-for-profit contemporary dance organization that centers career development and connects professional dancers, choreographers, and companies. Springboard's dynamic ecosystem facilitates jobs, mentorship, and ethical practices in the larger international dance field. For 20 years and counting Springboard has been deeply rooted within the community of Montréal, deriving from and contributing to its cultural vibrancy. Annual collaborations with Place des Arts, Agora de la Danse, Les Grands Ballets Canadiens de Montréal, among others invite cultural exchange between artists and members of the community. Springboard believes that the future of the field comes from the artists, and commits to supporting their success both within and beyond the existing institutional frameworks.