Learning & Leadership Group Programs
Connect your group to the Gibney community. Together, we can move our bodies and exchange ideas.
Fill out our Inquiry Form or email Susan Epstein at susan@gibneydance.org
Designed to meet the challenging needs of dance artists to build a portfolio and multifaceted career and for educators to meet their students needs, Gibney's Learning & Leadership Group Programs weave artistry, activism and ever-expanding definitions of leadership into experiences facilitated by members of the Gibney staff and community. Students come away with a new understanding of leadership, community and career-building.
All built around the Gibney ethos, we welcome student groups for experiences at our Lower Manhattan location through NYC Group Visits, Director Amy Miller travels across the country to activate our Learning on Location opportunities with students and educators alike, and we develop Yearlong Learning collaborations with academic institutions toward deeper exchange. All programs are offered in-person or online and are 100% customizable to suit your educational and budget goals.
Go Deeper
"As we are all lifelong learners embodying roles that cycle between student and teacher, how can we all build 'leadership' skills that more deeply value both expressing and listening? This is leadership – this is followership – this is the moving forward and moving back of the 'new choreography' in front of us all." – Director Amy Miller
Hybrid Approach to Artistry, Leadership and Social Action across Learning & Leadership Group Programs

Inspired by 25 years of working alongside survivors of gender-based violence with a trauma-informed approach, Gibney has enlivened its overall sensibility to education across our platforms as opportunities to weave artistry/innovation and social action together. Our vision is to work toward a 'new fabric' that prioritizes both priorities in equal measure no matter the context. We work to expand the definition of our 'community' to include those we engage with every day and leadership as rooted in awareness of the self.
With over 30 years of experience in the field as a dancer, educator, choreographer, and community builder, Director of Learning & Leadership, Amy Miller, champions a shared mission of weaving together artistry, social action, and leadership skills into holistic programming. Having joined the Gibney organization in 2011, Miller brings with her institutional knowledge across all three aspects of the organization: Company, Center and Community Action. With 12 years of experience as a performing member of our resident Gibney Company, and 9 years in a supportive Gibney Company directorship role alongside Gina Gibney and Nigel Campbell, Miller also brings with her 12 years of experience addressing gender-based violence through deep work alongside Senior Director of Community Action, Yasemin Ozumerzifon, social workers from our partner organizations and communities of survivors both here in NYC and abroad. Over two decades ago, Gina Gibney and team braided the tenets of creative process in the studio to addressing needs in the recovery of abuse to arrive at Gibney's Community Action Model: Look Inside (reflection), Speak through Movement (expression), Work Together (collaboration) and Take Care (sustainability).
If trauma and abuse can set us on a path of disconnection and lack of agency, then recovery and repair grow from opportunities for connection and choice. Even if we do not identify as survivors of violence, each one of us has experienced at some point what it feels like to have our choices taken away from us or a form of isolation from ourselves, each other and our environments. We have all lived through a pandemic, and made our way in an often problematic dance field. We also continue to experience harm from our areas of marginalization across our intersectional identities that became even more visible during this time. We all bring our multifaceted lives with us into spaces and are all repairing from something in our lives.
Trauma-informed approaches to leadership, facilitation and holding space for each other are not reserved for a specific workshop or space as they benefit us all. Building on years of training and facilitating movement experiences within this trauma-informed approach, the mission of Gibney's Learning & Leadership Group Programs is to offer 'windows in' on this hybrid approach of weaving artistry/innovation and social action together and out of their respective buckets. Our vision is to work toward a 'new fabric' that prioritizes both priorities in equal measure across all contexts of the field. What do artistry/leadership/social action share in common? How are we practicing each of these in the studio, stage, office, our relationships, our greater community?
As we strive to find the balance of precedent and innovation in our dance education platforms, pinpointing what has worked before as well as what we need to shift for greater equity needs thoughtful untangling. Let us each start with a definition of leadership for this reimagining that begins with internal reflection of knowing the self, moves toward external expression by taking action, then listening and braiding ideas from those around us through collaboration, and completing the loop by moving toward care and sustainability that cycle back toward the self as regenerative fuel to start the circulation anew.
CHOOSE THE PROGRAM THAT WORKS BEST FOR YOU
NYC GROUP VISITS
Ideal for universities, high schools, and dance groups worldwide, NYC Group Visits is a fully customizable program that fits the needs and aspirations of your dancers. Supplement your curriculum with access to the highest quality of teaching excellence in a range of contexts: movement classes, artist discussions, workshops, student showings/performances and receptions. Our team works with you to tailor a unique experience that fits your group's time frame and budget. Visits to Gibney's Lower Manhattan location can range from a single class to a full week of programming!
MOVEMENT CLASSES
Learn from Gibney's renowned faculty in private classes for any level in any style or participate in Gibney's daily professional level classes. Class descriptions and a list of available styles are available upon request.
ARTIST DISCUSSION PANELS
Join a moderated discussion and Q & A with professional dance artists about their career paths and advice for emerging artists. Topics include: Dancing in New York City, Navigating from Student to Professional, Community Engagement and Dance, Building a Multifaceted Career, Entrepreneurship, and more.
WORKSHOPS
Participate in interactive sessions led by professionals from Gibney, the Harkness Center for Dance Injuries, and The Community Entertainment Fund. Workshops expand the definition of leadership in relation to a variety of topics including: Career Planning, Wellness, Activism, Pedagogy, and Fundraising.
PERFORM IN NYC
Share your work at Gibney with an informal showing/performance in a state of the art studio at Gibney's Lower Manhattan location. For all showings/performances, groups should plan to provide a stage manager, sound operator, device to connect to Gibney's sound system, programs, any costumes or props, and be responsible for marketing. Showings/performances are limited based on studio and staff availability.
OPTION 1: INFORMAL STUDIO SHOWING
An opportunity for students to share works in an informal studio setting. Includes access to four hours of studio space, chairs for audience members (capacity of up to 100, based on studio size), sound system, coat racks for costumes and coats, and Gibney staff support throughout.
OPTION 2: INFORMAL PERFORMANCE
Perform in one of Gibney's theater spaces. Includes riser seating (capacity of 60 or 100 seats, based on studio size), one stage light look, a pipe and drape backstage area, and all components of the informal studio showing, above. Gibney staff will set up and break down space configuration and will be available throughout the event.
RECEPTIONS
Receptions are hosted in a studio at our Lower Manhattan location for alumni, guests, and performers. Catering prices can include appetizers, wine and/or non-alcoholic beverages and are based on length of event, desired menu and number of guests.
NYC GROUP VISIT PRICING
In-person Movement Classes, Artist Discussions, and Workshops
Pricing for a 90-120 minute in-person session starts at $600 per session, and includes

studio space

Group pricing for drop-in classes is $20 per person per class. View the current drop-in class schedule

here
Online Movement Classes, Artist Discussions, and Workshops
Pricing for a 60-90 minute online session starts at $275 for 1 teaching/guest artist and $525 for 2 guest artists

Groups may be required to submit a $15 Zoom account activation fee, or we can work with your school's Zoom or other meeting platform account
Perform in NYC
Pricing for Informal Studio Showings starts at $800

Pricing for Informal Performances starts at $1,500
Receptions
Catering prices can include appetizers, wine and/or non-alcoholic beverages and are based on length of event, desired menu, and number of guests. Prices upon request.
All programs are subject to a 15% administration fee.
If you have any questions or concerns about pricing please reach out to Producing Director of Learning & Leadership, Susan Epstein, at susan@gibneydance.org.
LEARNING ON LOCATION
Learning on Location brings Amy Miller, Gibney's Director of Learning & Leadership, to you to work directly with your students and community. With over 30 years of experience in the field as a dancer, educator, choreographer, and community builder, Amy weaves together artistry, social action, and leadership skills into holistic experiences. We work with you to develop a plan that meets your community and educational goals based on our comprehensive curriculum.
MOVEMENT CLASSES
Experience contemporary and ballet classes that cultivate available bodies and curious spirits while celebrating the collective wisdom of the group.
'CHOREOGRAPHIES OF LEADERSHIP' TRAINING
Rooted in trauma-informed facilitation practice, Miller's numerous trainings for students, educators, and staff aim to expand the definitions of personal and interpersonal leadership within specific frameworks of dance pedagogy and beyond.
SOCIAL ACTION TRAINING
Experience Community Action workshops built from Gibney's mission to activate the arts to address social action.
CREATIVE PROCESS
Weaving these leadership strategies within the creative process, Miller creates new dance works in collaboration with your students during week-long residency periods.
LEARNING ON LOCATION PRICING
Movement Classes
Pricing for a 90-120 minute in-person session starts at $250 per session
Trainings
Pricing for a 90-120 minute session starts at $250 per session
Creative Process
Pricing for the creation of a new work starts at $3,000
Additional Costs
Roundtrip Travel to-and-from New York City

Housing Accommodations

Daily Per Diem

15% Administrative Fee
Minimum levels of engagement may apply for Learning on Location bookings outside the NYC area.
YEARLONG LEARNING
Gibney creates multi-year collaborations with academic institutions dovetailing our resources and expertise to offer a comprehensive interplay between students, faculty, and university audiences.
Director of Learning & Leadership, Amy Miller, works closely with your institution to develop cross-department exchanges, leadership training, and the facilitation of co-created lesson plans. Experiences can occur on your campus and at Gibney's Lower Manhattan location in NYC, as well as virtual supplemental classes.
Curriculum may include all programming from NYC Group Visits and Learning on Location in addition to integrated training alongside local activist organizations and cross-department exchanges between Dance, Theater, Human Rights, Gender Studies, and Title IX Offices.
CONTACT US
Contact Us or email Producing Director of Learning & Leadership, Susan Epstein, at susan@gibneydance.org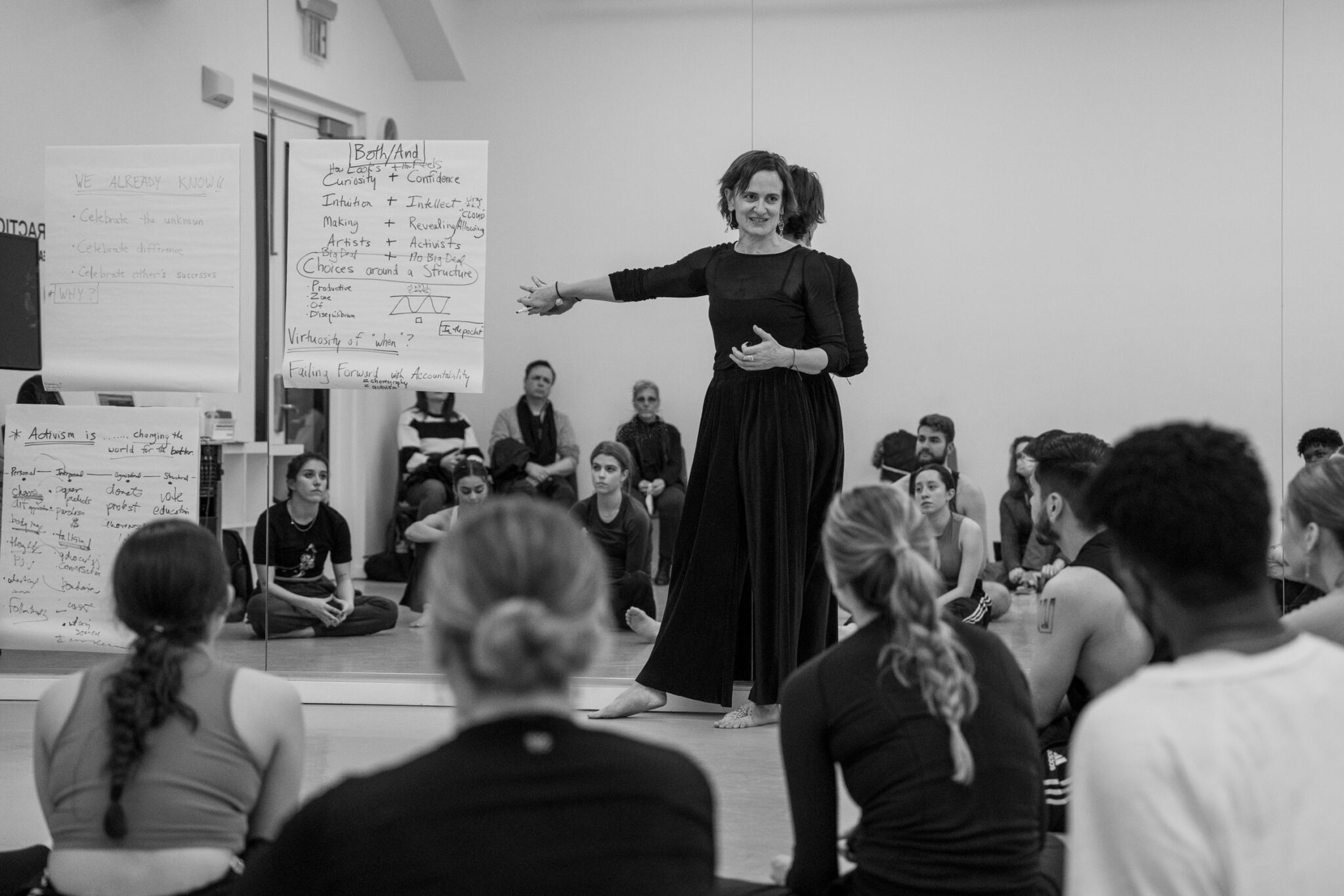 View our complete list of groups that have attended NYC Group Visits!
TESTIMONIALS
"We enjoyed every minute and the students took so much away. It was truly something they looked forward to with a year of suspense building back up to this experience. I hope to continue to work with you and expose our students to these opportunities in the future."
–Caitlin Quinn Pittenger, Assistant Professor of Dance, Stockton University
READ MORE
"Dance education today is so much more than training and coaching young students to enter the profession as performers and/or choreographers. The landscape of dance in higher education is continuing to evolve and change with the times and interests of our young population. Gibney has always reflected this – Dance in the larger sense of the word. Gibney exemplifies what Dance as an art form can do, as well as the power and contributions it can bring to, and have on, society. As always, our group visit was a wonderful experience and we all enjoyed it very much. Thank you for the amazing work you all do at Gibney."
–Yoav Kaddar, West Virginia University Professor & Director of Dance, NDEO President & Maureen Mansfield Kaddar, Teaching Assistant Professor, West Virginia University
"The Learning and Leadership Group Programs at Gibney have been an essential component to the professional development and career preparation portion of our senior capstone course. Each year, the program is tailored to our needs and provides meaningful insight about how to creatively and successfully navigate the field of dance beyond graduation."
–Brandi Coleman, Assistant Professor, Meadows School of the Arts, Southern Methodist University
"We have loved bringing our students to Gibney Studios. Their instructors are always very knowledgeable and genuinely care about educating our young people. We also feel that the workshops are fairly priced. We will continue to bring students to Gibney for years to come! Thank you for your dedication!"
–Greta Crockett, Infinity Tours + Events
"If your budget only allows for one online tool this semester, let it be Gibney: Professional, Approachable, and Memorable."
–Susan Lloyd, Adjunct Faculty Member, Las Positas College
ABOUT GIBNEY
Mission
Gibney's mission is to tap into the vast potential of movement, creativity, and performance to effect social change and personal transformation.
Gibney's Education Program
Through the cultivation of an inclusive and positive space, our offerings make space for exploration, risk-taking, personal and artistic growth, connection, and fun. It is our priority to listen to and support our community and to empower the future leaders of the field. Learn more
Equity & Inclusion
Inclusion, diversity, equity, and accessibility (IDEA) are core tenets of Gibney and central to our mission, vision, values, and daily engagement with our community. We are committed to advancing our programming, services, and the dance field at large through these lenses and acknowledge that continued organizational learning and growth are required to do so effectively.