Dance in Process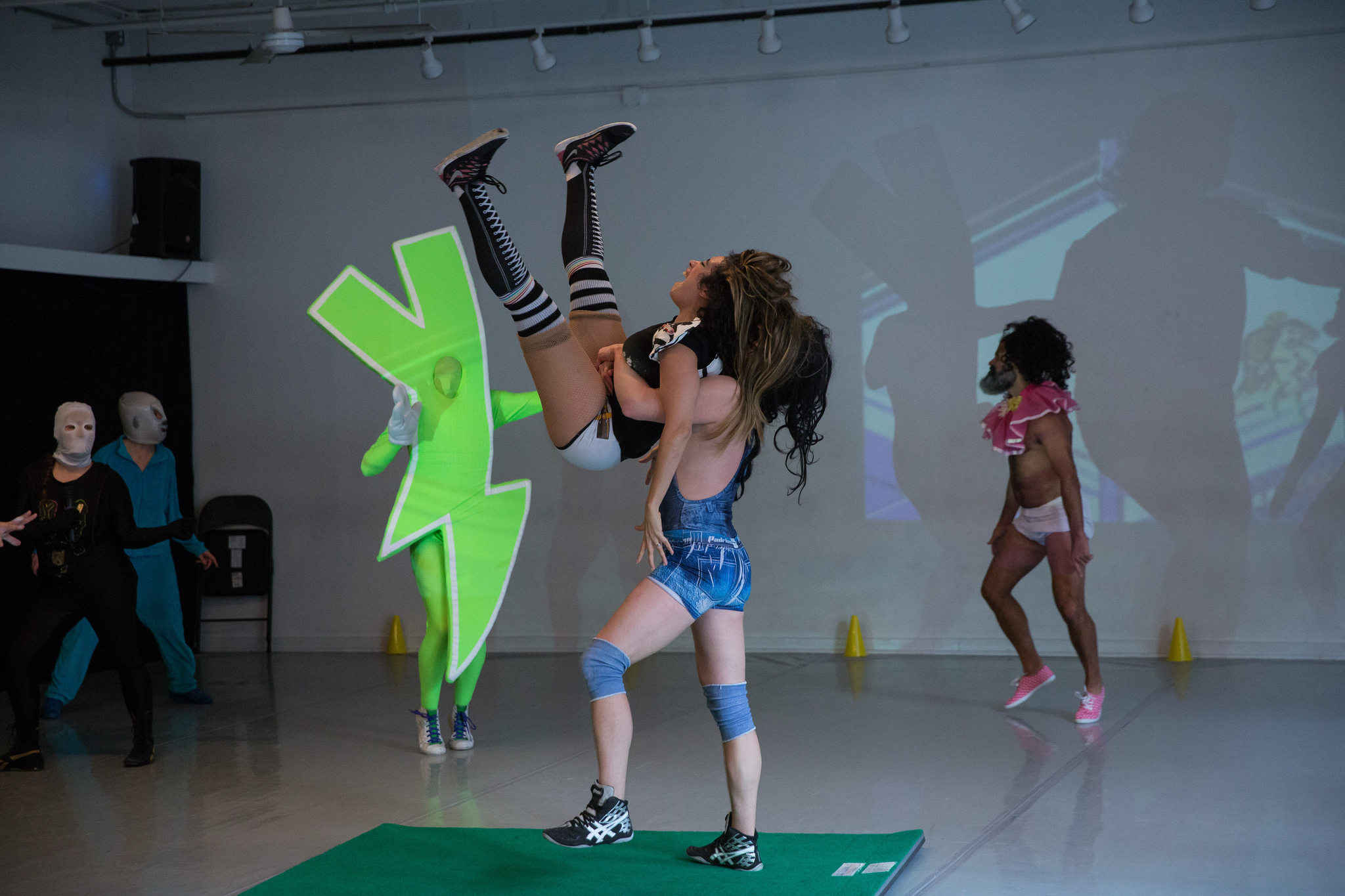 Dance in Process (DiP) is designed to provide extensive, holistic support for mid-career New York-based dance artists who are in the middle stages of work on a new project.
The application for 2022-23 Dance in Process (DiP) Residencies is now closed. Thank you for your interest.
The artists awarded the 2022-23 Dance in Process (DiP) residencies with generous support from The Andrew W. Mellon Foundation are: Ori Flomin, Antonio Ramos, Stacy Matthew Spence, Vangeline, Kate Watson-Wallace and Director's DiP/AiR Recipient Sidra Bell.
These artists make up the first of two cohorts funded by a generous grant from The Mellon Foundation to support Dance in Process over the next two years.
DiP ARTISTS
Past
DANCE IN PROCESS 2015-16
KIMBERLY BARTOSIK
Bessie Award-winning performer Kimberly Bartosik creates viscerally provocative choreographic projects that are built upon the development of a virtuosic movement language, rigorous conceptual explorations, and the creation of highly theatricalized environments. Her work, which is deeply informed by literature and cinema, involves complex plays on space, time, and audience perspective, dramatically illuminating the ephemeral nature of performance. Bartosik's work has been commissioned and presented by New York Live Arts, Dance Theater Workshop, Gibney Dance Center (2016), The Chocolate Factory Theatre (2016-17), Abrons Art Center; The Yard (2015), Danspace Project, French Institute Alliance Francaise's Crossing the Line Festival, Festival Rencontres Chorégraphique Internationales de Seine-Saint Denis (France), Artdanthe Festival (France), BEAT Festival, The Kitchen, La Mama, Mount Tremper Arts, Barnard College, University of North Carolina School of the Arts, Arizona State University, Purchase College Conservatory of Dance, and Movement Research. (Photo by Junenoire Mitchell)
NORA CHIPAUMIRE
Born in Mutare, Zimbabwe and based in New York City, Nora Chipaumire has been challenging and embracing stereotypes of Africa and the black performing body, art, and aesthetic for two decades. Chipaumire's work has been performed throughout NYC, the US and in Africa, Europe and Japan. Fellowships and awards include 2014-15 Hodder Fellow at Princeton University, MANCC 2014, 2007-08; 2012 Alpert Award, 2011 US Artist Ford Fellow, 2009 AFROPOP Real Life Award for her choreography in the film, Nora, three "Bessie" Awards (2014, 2008, 2007), and 2007 Mariam McGlone Emerging Choreographer Award from Wesleyan University Center for the Arts.
BETH GILL
Beth Gill has received commissions from New York Live Arts, The Chocolate Factory, The Kitchen, and Dance Theater Workshop, and her work has toured nationally and internationally. Gill was given "Bessie" Awards in 2011 for Outstanding Emerging Choreographer and the prestigious Juried Award. In 2012 Dance Magazine named her one of the top 25 artists to watch. Gill is the recipient of a 2015 Guggenheim Fellowship, the 2015-2016 Hodder Fellowship at Princeton University, a 2015-2016 LMCC Extended Life Artist Residency, a 2013-2015 New York City Center Choreography Fellowship, and the 2012 Foundation for Contemporary Arts Grants to Artists Award. (Photo by Chris Cameron)
MIGUEL GUTIERREZ
Miguel Gutierrez lives in Brooklyn and makes performances. He is currently making a series called Age & Beauty. His work has toured internationally to a host of venues and festivals and has been supported by a variety of foundations. He writes songs and scores for his work and has sung with many great artists. His book WHEN YOU RISE UP is a collection of early performance texts. He is training to become a Feldenkrais Method practitioner. (Photo by Eric McNatt)
AMANDA LOULAKI
Amanda Loulaki was born in Crete. In 1990 she received a BA in Education from the Department of Pedagogy in Crete and in 2007 received an MFA in Dance from Hollins University. In 1994 Amanda was awarded a Fulbright Scholarship and moved to New York. Her choreography has been presented at Danspace Project, La MaMa, PS 122, DNA, The Kitchen, The Flea , CPR, DTW, The Chocolate Factory, 11th Biennale of artists of Europe, BucharEast.West International Dance Festival , Mediterranean Contemporary Dance Platform , ADF, MIT, the Choreographic Center Archauz , and ZVRK Festival.
JULIETTE MAPP
Juliette Mapp is a choreographer, dancer, and teacher and have been making my own work since 1999. Her dances have been commissioned and presented throughout New York including at Danspace Project and Dance Theater Workshop (now New York Live Arts). She has received two "Bessies": one for choreography (2006) and the other for dancing (2002). She has received numerous residencies including at MANCC and Movement Research and been a guest artist at Tanzquartier Wien, Barnard College, and George Washington University. She is currently on the faculty of The New School, Movement Research, and PARTS in Brussels, Belgium.
JULIANA F. MAY
Since graduating from Oberlin College in 2002, Juliana F. May has created twelve works including seven evening length works, commissioned and presented by The Chocolate Factory Theater, Dance Theater Workshop, New York Live Arts, Barnard College, The New School, Joyce SoHo, American Realness, I.C.E. and The Cleveland Repertory Project. May was a 2011-13 Movement Research Artist-in-Residence as well as a resident artist on Governor's Island and at The Kaatsbaan International Dance Center. In 2014 May received a MAP fund grant and a Jerome foundation grant towards the creation of ADULT DOCUMENTARY. In 2011 May received her MFA from The University of Wisconsin- Milwaukee. This summer May will be in residence on Governors Island through LMCC's Process Space program.
TERE O'CONNOR
Tere O'Connor is Artistic Director of Tere O'Connor Dance. He has created over 40 works for his company and toured these throughout the US, Europe, South America and Canada. He has created numerous commissioned works for other dance companies, including the Lyon Opera Ballet, White Oak Dance Project and solo works for Mikhail Baryshnikov and Jean Butler. O'Connor received a 2013 Doris Duke Performing Artist Award, is a 2009 United States Artist Rockefeller Fellow, and a 1993 Guggenheim Fellow among numerous other grants and awards. His work has been supported by the National Endowment for the Arts, New England Foundation for the Arts/National Dance Project, The MAP Fund, and many others. He has received three "BESSIES", New York Dance and Performance Awards. In October 2014, he was inducted into the American Academy of Arts and Sciences. An articulate and provocative educator, O'Connor has taught at festivals and universities around the globe for 25 years. He is a Center for Advanced Studies Professor of Dance at the University of Illinois at Urbana-Champaign where he lives for one semester each year. O'Connor is an active participant in the New York dance community mentoring young artists, teaching, writing, and volunteering in various capacities. BLEED, premiered at BAM's Next Wave festival in Dec 2013 and continues on a tour in the United States with upcoming stops at On the Boards in Seattle and The Walker Arts Center in Minneapolis. The company will present a week of encore performances of BLEED at Danspace Project in New York City, Dec 18-20. They will also present two works at the American Realness Festival in Jan 2015, Sister and undersweet in NYC.
DONNA UCHIZONO
Donna Uchizono's work has been presented throughout the US, Europe, South America and Asia. 2015 marks the 25th anniversary of art-making, to be celebrated with an upcoming tour to Australia and the premiere of new work at Gibney Dance Center in 2016. Uchizono has created work for notables Mikhail Baryshnikov, playwright Paula Vogel, MacArthur Fellow David Hammons and Oliver Sacks. A Guggenheim Fellow and "Bessie" award winner, Uchizono has been recognized by the Alpert, NEA, NYFA, Creative Capital, NYSCA, NDP, MapFund, and Jerome among others. Uchizono is an active member of the dance community, supporting young artists through various programs.
PAVEL ZUŠTIAK
Pavel Zuštiak is a NYC-based choreographer/director and performer, and artistic director of Palissimo Company. Born in communist Czechoslovakia and trained at the SNDO/Amsterdam, his work merges abstract aspects of dance with evocative imagery of piercing emotional resonance into totalizing theatrical experiences. Zuštiak has been commissioned by Walker Art Center, Wexner, NYLA, PS122, La MaMa, Abrons, BAC, 92nd Street Y, Archa Theatre, Slovak National Theatre and State Theatre Kosice. Zuštiak is a 2015-17 Princeton Art Fellow, the winner of 2014, 2009, 2007 Princess Grace Awards, 2013 LMCC President's Award for Excellence in Artistic Practice, 2012 NEFA/NDP Production Award and 2010 Guggenheim Fellowship. (Photo by Gabriel Kuchta)
DANCE IN PROCESS 2014-15
WALLY CARDONA
Wally Cardona is a choreographer, dancer, teacher and the artistic director of WCV, Inc. He is the recipient of a Bessie award, Guggenheim Fellowship, New York Foundation for the Arts Fellowship, Asian Cultural Council Fellowship and Doris Duke Artist Award. For several years, Wally Cardona created group works that demanded highly controlled working conditions in order to be made. His current cycle of work cultivates a practice of undoing, creating intimate yet crowded collaborative conditions. (Photo by Christy Pessagno)
JEANINE DURNING
Jeanine Durning is a dance artist working broadly through choreography, performance, teaching and writing. She is the recipient of a New York Foundation for the Arts award and the Alpert Award for Choreography. Her choreographies have been commissioned for Dance Theater Workshop and Danspace Project and have been presented throughout NYC and Europe. She has been faculty at SNDO/Amsterdam and HZT/Berlin on and off since 2009, in addition to teaching throughout NYC and across the U.S. Her work often incorporates seemingly disparate elements in order to get at the plurality and complexity of human behavior, relation and ontology. (Photo by Snorri Sturluson)
MARJANI FORTÈ
Marjani Fortè was a touring and teaching member of Urban Bush Women Dance Company for five years and is now an independent choreographer and co-founder of LOVE|FORTÈ A COLLECTIVE. Fortè has taught master classes and workshops across the U.S., Germany, England, Colombia, Brazil and Venezuela. She has presented choreographic works for Bronx Academy of Arts and Dance, New Orleans McKenna Museum, DNA Raw Material and DanceNOW. Fortè premiered EGO at Dance Theatre Workshop as a 2010 Fresh Tracks Resident Artist while concluding a choreographic residency and lecture series at Loyola Marymount University. She has also been a Research Artist-In-Residence and premiered Here… for Danspace. (Photo by Heritage Works)
KEELY GARFIELD
IN ASSOCIATION WITH DANSPACE PROJECT
Keely Garfield Dance's work has been presented at many theaters and festivals both nationally and internationally. In addition to a Bessie nomination for Twin Pines, she received a Bessie award for My Mother Was A Four-Alarm Fire and other mostly true stories. Garfield has created work for ballet dancers, antique puppets, musical theater, children, students and MTV. From 1997 to 2010, she curated Dance Theater Workshop's Family Matters series, served as the chair of DTW's artist board and was a co-author of the Dancers Forum Compact. KGD has also received commissions and presentations from Celebrate Brooklyn!, Milwaukee Danceworks, Philadelphia Dance Projects, The Southern Theater, Danse Vernissage, Spring Loaded and Tanzmesse, among others. (Photo by Julieta Cervantes)
PATRICIA HOFFBAUER
Brazilian-born/New York-based artist Patricia Hoffbauer has been shown in the US, Venezuela and Brazil. NYSCA, NYFA, NEA, Map Fund and CUNY and Princeton's Lewis Arts Center support her work. She currently teaches at Hunter College and Princeton University's dance programs. Barnard College's dance program commissioned a new work premiering at NYLA this fall. A founding member of Yvonne Rainer's "Raindears," she performs current works and early solos. Her writings have appeared in New Museum's New Vision book, Writings on Dance 25, A Journal of Performance and Art (PAJ) and she is a contributing writer to the upcoming Pew Foundation book Bodies as Archive. Hoffbauer was also a curator of Danspace Project's 2013 "Judson at 50″ Platform. (Photo by Ian Douglas)
SILAS RIENER
Silas Riener graduated from Princeton University with a degree in Comparative Literature and certificates in Creative Writing and Dance. Riener completed his MFA in Dance at NYU's Tisch School of the Arts in 2011 and is currently on faculty at NYU's Playwrights Horizons as well as Gallim Dance's Clinton Hill Arts Center. He has also taught workshops and techniques classes at Concord Academy SummerStages and throughout Turkey at several universities. He has worked with Chantal Yzermans, Takehiro Ueyama, Christopher Williams, Jonah Bokaer and Rebecca Lazier's TERRAIN, and is currently dancing for Tere O'Connor. Since 2010 he has collaborated with poet Anne Carson and choreographer Rashaun Mitchell, with whom he continues to develop new projects. He was a member of the Merce Cunningham Dance Company from November 2007 until its closure at the end of 2011. (Photo by Michael Williams THE IMAGISTA)
ROBBINSCHILDS
robbinschilds was formed by choreographers Sonya Robbins and Layla Childs in 2003. Though trained in and rooted by a background in dance, robbinschilds often works outside of that discipline, engaging in site-specific and installation-based performances containing elements of video, sound and sculpture that explore the juncture between architecture or place and human interaction. Their live work has been presented in NYC at Art in General, The Kitchen, PS 122, Dance Theater Workshop, MoMA PS1, The New Museum, Movement Research at Judson Church, Danspace Project at St. Mark's Church and the Autumn Skate Bowl. In addition to their live work, robbinschilds' video art has been exhibited in New York, Los Angeles, Bulgaria, New Zealand, China, and Spain. robbinschilds has been commissioned to create work by the Performa 07 festival and for David Byrne's 2008/2009 world tour. In 2010, they received an Art Matters grant to work in Iceland, and in 2011 they were awarded a MAP Fund production grant for recent performance project I came here on my own. (Photo by Peggy Jarrell)
ANNA SPERBER
Anna Sperber is a performer and choreographer. As a performer she has worked with many New York-based choreographers including Luciana Achugar and Juliette Mapp. She is a co-founder of classclassclass and has taught at Movement Research, Dance New Amsterdam, Gibney Dance, American Dance Festival, Hunter College, classclassclass and as a guest artist at George Washington University. She founded and ran BRAZIL, a studio and intimate performance space in Bushwick. Anna has been an Artist in Residence at Brooklyn Arts Exchange, Gibney Dance Center, Lower Manhattan Cultural Council at Governors Island, Movement Research and Sugar Salon. Her work has been supported by NYSCA Dance Program Public Commissioning Funds, DCA Re-grants through the Brooklyn Arts Council, a Live Music for Dance Grant and a grant from the Mertz-Gilmore Foundation. She was also a Co-Curator of the 2008 Movement Research Spring Festival.
DAVID THOMSON
David Thomson has worked as a collaborative artist in the fields of music, dance, theater and performance with such artists as Trisha Brown, Jane Comfort, Bebe Miller, Susan Rethorst, Remy Charlip, David Roussève, Ralph Lemon, Muna Tseng, Sekou Sundiata, Meg Stuart, Dean Moss/Layla Ali, Alain Buffard, Tere O'Connor and Marina Abramović among many others. He was also a founding member of the acclaimed a capella performance group, Hot Mouth. Thomson is a Bessie award-winning artist, a 2012 USA Ford Fellow, a 2013 NYFA Fellow in Choreography and a 2014 MacDowell Fellow. He has served on the faculties of NYU's Experimental Theater Wing, Sarah Lawrence, The New School and Movement Research. An ongoing advocate for dance and the empowerment of artists, he was one of the founding members of Dancer's Forum and has served on the boards of Bebe Miller/Gotham Dance, Dance Theater Workshop and presently New York Live Arts. (Photo by Sylvain Guenot)
KOTA YAMAZAKI
Kota Yamazaki was first introduced to butoh through the teaching of Akira Kasai in Japan. Following an invitation in 2001 from Germaine Acogny to create a work for her Senegal-based company, Jant-bi, Yamazaki disbanded his Tokyo-based company Rosy Co. During his six residencies in Senegal, Yamazaki created the work FAGAALA in collaboration with Acogny for which he received a Bessie Award and a nomination for Alpert Award. Yamazaki is also a recipient of the Foundation for Contemporary Arts Award. Since 2002, he's been based in NY and has been presenting work as Kota Yamazaki/Fluid hug-hug. His ensemble has nationally and internationally performed at PICA/TBA Festival, Warhol Museum, Miami Light Project, The Dance Center at Columbia College Chicago, Melbourne International Arts Festival, DTW, Danspace Project and others. Yamazaki also has been invited to teach at universities and for communities around the world.
DANCE IN PROCESS 2013-14
NETTA YERUSHALMY
LANCE GRIES
IN ASSOCIATION WITH DANSPACE PROJECT
APPLY FOR DIP
The application for 2022-23 Dance in Process (DiP) Residencies is now open. Review the application guidelines and timeline below. Applications are due Monday, March 14 at 10:00 AM EST.
APPLICATION GUIDELINES
Thank you for your interest in Dance in Process! We encourage you to review these guidelines thoroughly and to familiarize yourself with the application information before beginning your proposal. Gibney staff will also host two free information sessions about the program and the application process on February 3 and February 10 via Zoom.

Download Application Guidelines
Download Residency Resource Menu
Photo of Larissa Velez-Jackson, 2016-17 DiP Resident Artist