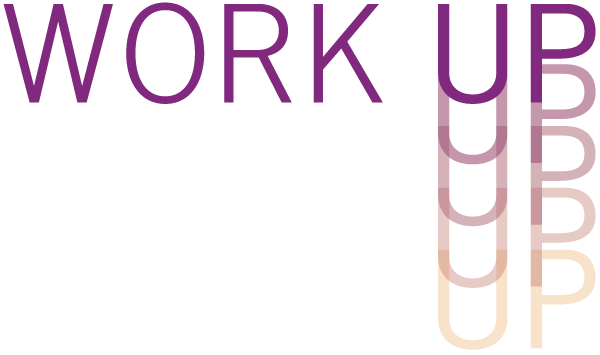 Work Up 1.1
Abigail Levine, seymour::dancecollective,
and Sophie Sotsky | TYKE DANCE
Thursday, April 9 – Saturday, April 11 at 7:30 pm
Studio C at Gibney Dance: Agnes Varis Performing Arts Center

---
Abigail Levine
Well Mother
We make these forms again and again. We learn our materials so well, it's hard to tell if we shape them or they shape us. Well Mother is a choreographic cycle for one dancer and four 50-foot extension cords. A live electronic score by composer Ted Coffey alternately supports and pushes against the progress of the dance. In its formal design and use of repetition, the work makes a nod to Robert Motherwell's monumental painting cycle "Elegy for the Spanish Republic."
Abigail Levine is a New York-based choreographer and performer. Her works have been presented at the Movement Research Festival, Mount Tremper Arts Festival, Danspace Project, Center for Performance Research, Roulette, Movement Research at the Judson Church, and internationally in Cuba, Venezuela, Mexico, Brazil, Canada and Taiwan. Abigail was a reperformer in Marina Abramovic's MoMA retrospective and has also performed recently in the work of Clarinda Mac Low, Larissa Velez-Jackson, Will Rawls and Mark Dendy. In 2014, Abigail learned Yvonne Rainer's iconic 1965 work Trio A, coached by Pat Catterson. She holds a Masters in Dance and Performance Studies from NYU.
seymour::dancecollective
Median
Median is a piece about race in a "post-racial" society. Using Al Young's poem 'A Dance for Militant Dilettantes' and Ralph Ellison's novel 'Invisible Man' as entry points, the piece takes a raw approach to format, where text, music, and movement are all on equal footings of expression and precedent. The collective lays bare the central ideas and challenges for the audience to draw their own conclusions from our expositions. The work is primarily an exploration of race and identity through the text as well as a wide array of musical selections, from Chopin to Biggie Smalls.
Chafin Seymour is a Brooklyn native whose training and experience in dance have been investigative and eclectic. He received his BFA with Distinction in Dance from The Ohio State University in 2012. Since then he has returned to his home borough and has had the pleasure of working with such artists as Dante Brown | Warehouse Dance and Ni'Ja Whitson Adebanjo. He founded seymour::dancecollective in 2011 with aims of crossing boundaries culturally and aesthetically. He has performed and presented work in such venues as Judson Church, Dixon Place and Center for Performance Research (CPR).
Sophie Sotsky | TYKE DANCE
i am an empath
For years my work has foregrounded athletic women, masculine posture, muscular tension in the upper torso, strength, sweat, and heroic acts of dance. In this movement study, I ask a difficult question: What about the softness and femininity of the dance technique I have been taught makes me so angry? (Self-consciousness? Or Feminism?) The questions is equal parts political and personal. Why am I embarrassed by the softness of contemporary dance technique? This is a mining of my own physicality, my freneticism and my ductility.
Sewing exertion, exhaustion, effort and error into the language of dance technique, I aspire to present movement that neither relies on classical notions of technique and virtuosity nor relinquishes the primacy of physical challenge in dance performance. I work closely with physical ordeal as a process for creating dance.
Work Up has been made possible with generous support from the Howard Gilman Foundation, and with additional support from the New York City Department of Cultural Affairs, the Jerome Robbins Foundation, and the Harkness Foundation for Dance.
Foundation Support
The Agnes Varis Trust, The Andrew W. Mellon Foundation, Arnhold Foundation, Booth Ferris Foundation, Bossak/Heilbron Charitable Foundation, The David Rockefeller Fund, Dextra Baldwin McGonagle Foundation, Engaging Dance Audiences administered by Dance/USA and made possible with generous funding from the Doris Duke Charitable Foundation, Doris Duke Charitable Foundation, Emma A. Sheafer Charitable Trust, The Gramercy Park Foundation, The Harkness Foundation for Dance, The Howard Gilman Foundation, The Hyde and Watson Foundation, The Jerome Robbins Foundation, Jewish Communal Fund, Joseph & Joan Cullman Foundation for the Arts, Macy's, Mertz Gilmore Foundation, Morgan Stanley, New Music USA: Creative Connections, The New York Community Trust – Lila Acheson Wallace Theater Fund, The New York Community Trust – LuEsther T. Mertz Advised Fund, NYC Dance Response Fund, a program of Dance/NYC established by the Mertz Gilmore Foundation, New York University Community Fund, O'Donnell-Green Music and Dance Foundation, and The Patrina Foundation. Gibney Dance receives additional support through the matching gift programs of Macy's, The Moody's Foundation, Morgan Stanley and The Open Society Foundations. Gibney Dance has received gracious encouragement from Eliot Feld's Ballet Tech.
Corporate Support
American Australian Association, Bloomingdale's, Credit Suisse, EILEEN FISHER, Estée Lauder Companies, Goldman Sachs, Kennedy Berg LLP, Kirkland & Ellis LLP, Macy's Merchandising Group, Morgan Stanley, Polisan Home Cosmetics, and Wyndham Worldwide Corporation, and Yentus & Booher.
Government Support
Gibney Dance has received generous support from The City of New York & The Honorable Mayor Bill De Blasio, The New York City Council & The Honorable Speaker Melissa Mark-Viverito, The Honorable City Council Member Margaret Chin, The Honorable Manhattan Borough President Gale Brewer, The New York City Department of Cultural Affairs and The Honorable Tom Finkelpearl, Materials for the Arts, the New York State Council on the Arts with the support of Governor Andrew Cuomo and the New York State Legislature, and the National Endowment for the Arts.