Artists Reach Out: Leslie Cuyjet
ARTISTS REACH OUT: REFLECTIONS IN A TIME OF ISOLATION
Senior Curatorial Director Eva Yaa Asantewaa dreamed this series of interviews, Artists Reach Out: reflections in a time of isolation, out of grief for her work both as a documenting arts writer and curator of live performance.
"In this time of social distancing, we are called to responsibly do all we can to safeguard ourselves and our neighbors. It is, literally, a matter of life and death.
But there's no distancing around what we still can share with one another—our experiences, thoughts, wisdom, humor, hearts and spirit. In some ways, there are more opportunities to do so as we pull back from everyday busyness out in the world and have time to honor the call of our inner lives.
So, let me introduce you to some artists I find interesting. I'm glad they're part of our beautiful community, and I'm eager to engage with them again (or for the first time) in years to come." – Eva Yaa Asantewaa, Senior Curatorial Director
This interview features Leslie Cuyjet, performer and 2016 Gibney DoublePlus artist.
---
Leslie Cuyjet is most known as a performer whose body of work was recognized with a 2019 New York Dance and Performance "Bessie" Award for Outstanding Performer for sustained achievement. She has collaborated, co-directed, designed, danced, and collaborated with a range of artists that include Will Rawls, Juliana F. May, Cynthia Oliver, Jane Comfort, David Gordon, NARCISSISTER, Kim Brandt, and Yanira Castro/a canary torsi among others. Her work interrogates those experiences as a performer in various experimental and post-modern works through the lens of a Black body; and has been supported by residencies at Movement Research, Center for Performance Research, Yaddo, Marble House Project, and MacDowell Colony. Cuyjet's dances have been presented at MoMA PS1, Center for Performance Research, La MaMa Moves! Festival, Gibney Double Plus, Movement Research Fall Festival and Judson Church, and Danspace Draftworks. Her recent evening-length solo, Talented, at Center for Performance Research received a Last-Stage Production Stipend from the Mertz-Gilmore Foundation. She is co-editor of the Movement Research online publication, Critical Correspondence.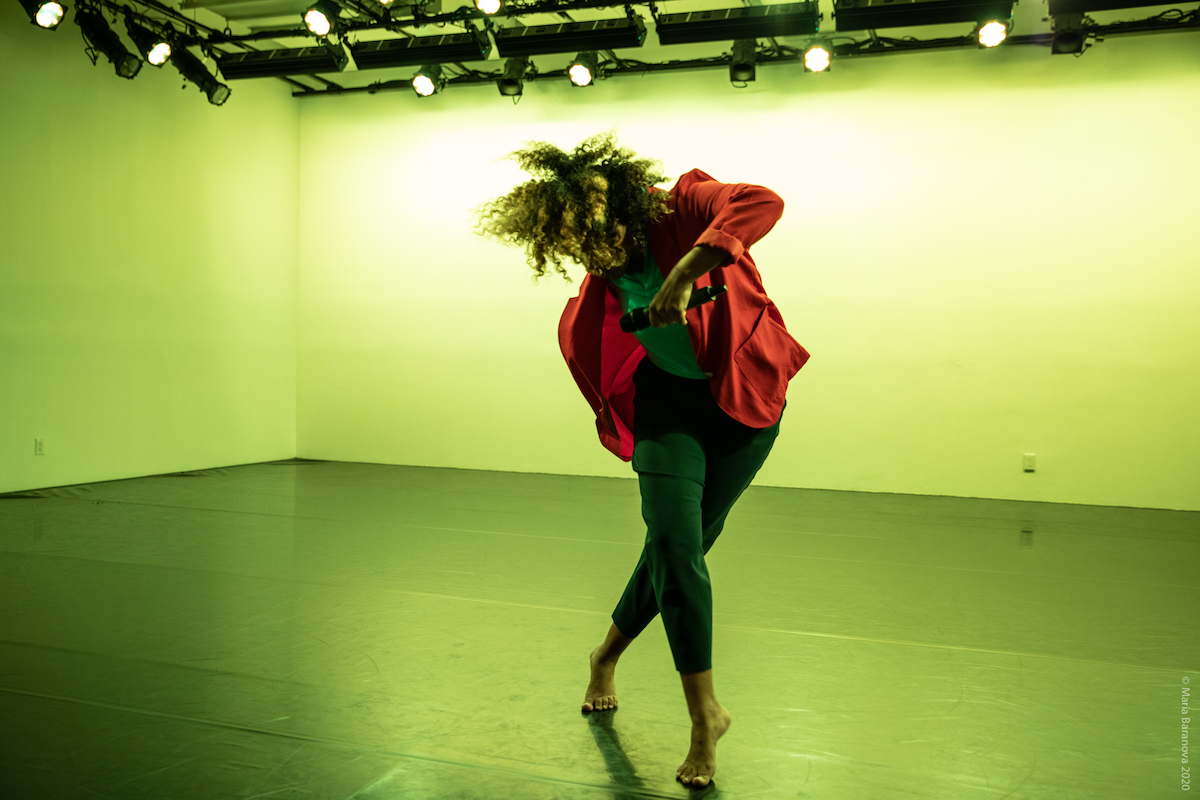 Do you have a current or planned project whose progress is affected by the pandemic?
Yes. I had a couple of shared performances of my work that have been cancelled. Performing is always a part of the process for me, to get eyes on it and be present in the dance. I was very excited to be a part of this year's Dance and Process program at The Kitchen. I had been looking forward to it all year, and we had only briefly begun when the non-essential order was put in place and The Kitchen, along with everything else, closed. I wanted to challenge myself to make a new work in the 10-week process to really pay attention to how to start a dance, how to begin. What is really inside of me? This, I suppose, is always at the heart of my work. After dancing for so many different artists over the years, I really have to listen hard to find my own desires, my own voice. My plan was to take a deeper dive in this new work at the MacDowell Colony where I was headed the day after The Kitchen performances.
Briefly, tell me about how you got involved in the arts and in your particular practice.
I've been concerned with in/visibility for some time. I started to make my own work around the same time I began interrogating how I was being seen as a Black body in experimental and post-modern dance through their (mostly-white) audiences. When I moved to New York fifteen years ago, I danced for anyone I could work with. As a performer in someone else's work, I learned how and when to have a collaborative voice in the room as well as when to be a body without a voice—although, funny enough, I worked with choreographers who were working with text, almost exclusively. I wasn't convinced the people I was dancing for considered how I, often the only Black dancer, was viewed in their work. I think the driving force in my practice is to consider how this body, one that is aging, angsty, and Black, can be seen for all that it is and everything I have become.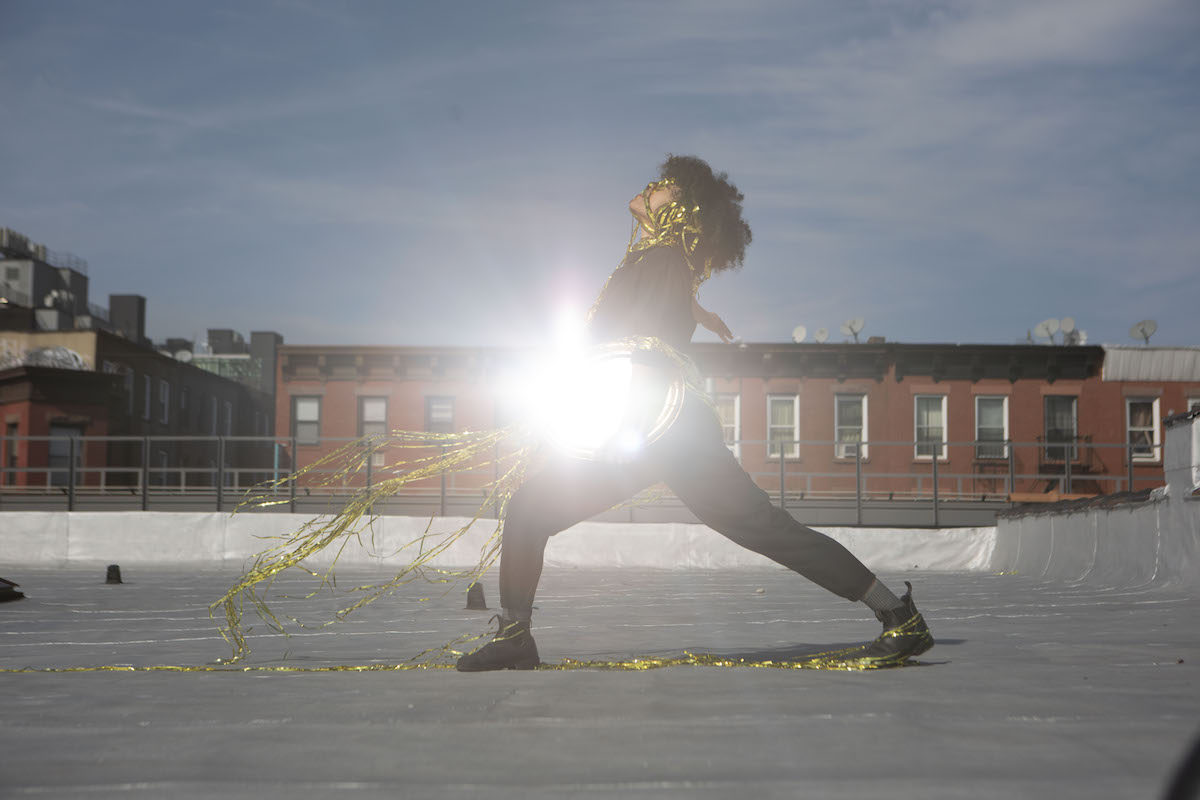 In a more specific way, what are you practicing? And what are you envisioning?
Initially, I didn't set out to make solo work, but my process tends to start in a studio by myself, interrogating issues about my role in the field, this community, and society at large. Working alone where I am at the forefront of my questioning allows concerns to rise and fall away or resolve themselves without judgement. Sensitivity is a virtue I bring into other people's processes, and I use it freely in order to eke out undermined, unspoken, and unformed ideas in their studios. I am learning how to slow down and apply that same listening by evaluating what exactly I'm compelled to do. And now that this slowing down has been forced into a sudden halt, I am resisting the urge to move just to keep going. I'm trying to hold my ground until I'm compelled to move. And I mean that physically yes, but also creatively. This act of stillness is bringing up a lot of questions that center around form. Or more simply what am I making and how do I wish for it to be experienced? Where will I go from here? Is it even dance? (It is always dance.)
How does your practice and your visioning align with what you most care about?
I'm thinking a lot about nostalgia. A lot of my work focuses on memory, transience, past lives and projected future selves. Remembering is powerful. I'm fascinated how nostalgia can isolate a moment or event in the past and conjure up very intense and very real emotions in the present. What we once knew in terms of how we make, perform, gather is gone, at least for a long time. And later, we'll refer to this time relatively as a "before" and "after" quarantine.
I'm trying really hard to stay still. To resist the notion that I need to adapt, move, change, and reapply my practice to this new format where everything is online. I think it will be a long time until we're in rooms together again. Being with people is what I built, not only my practice but my career off of. Now that it might be a long time until we can engage that way, I have to reconsider what I do and how it fits into this new model.
We have to embrace this shift, this change, what's happening right now because nostalgia can be distracting and, in turn, dangerous.
How does your practice function within the world we have now?
I wake up every day and create a life to live. Just like always. I never had a strict routine, so I'm not trying to stick to one thing. I am embracing the slowness of time and have really been enjoying slow cooking like soaking and sprouting beans, letting dough rise for bread baking, and fermenting vegetables. Some days, I need to clean my apartment again and again. Others I have to physically and mentally prepare myself to face the stressful act of grocery shopping. And then some days, like right now, I can write.
I am looking for new ways to document this time so we don't miss it. As we move forward we'll look to the past as a point to move toward or away from. I don't know how to name this time, this practice, this world. But if I keep finding ways to catalog and document the present I'll soon have a collection of material for the future.
Briefly share one self-care tip that has special meaning to you now.
Sleep. I'm sleeping long and late and letting my dreams run wild. This is where I have convinced myself, though my creative practice might be at bay, that my creativity is intensely alive.
To read all of Eva Yaa Asantewaa's Artists Reach Out interviews, visit infinitebody.blogspot.com.
Top photo by Maria Baranova.