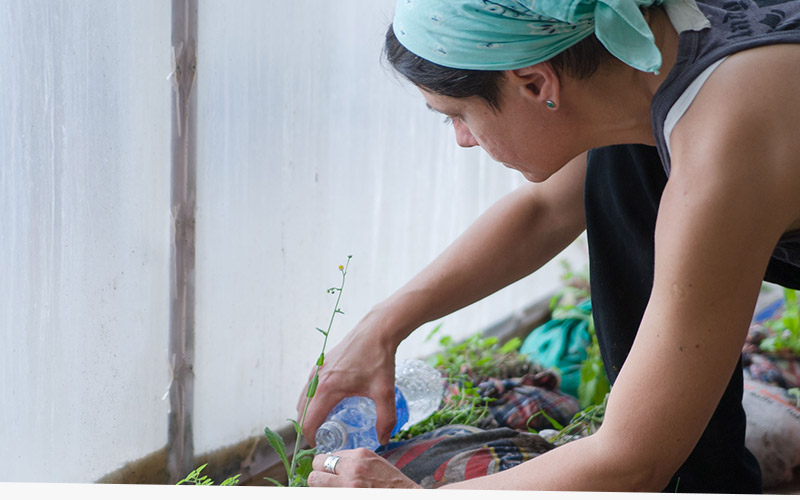 Gibney Dance welcomes our first Community Action Artist in Residence,
Jill

Sigman

.

Jill will be working in and around 280 Broadway this summer and fall, inviting the community into her creative process leading up to her performance in Studio A this September, Weed Heart. From growing weeds in our Center to serving tea made from wild edibles to the community, Weed Heart incorporates dance, installation, and social practice. The work explores what has been dismissed, de-valued, and rooted out, and envisions a world in which we can re-connect with the natural world and each other.

Jill Sigman is a Brooklyn-based choreographer whose work exists at the intersection of dance, visual art, and social practice. In 1998 she founded jill sigman/thinkdance to ask questions through the medium of the body. A classically trained dancer, she draws from modern dance, movement improvisation, art history, textile conservation, analytic philosophy, social experiments and activism  to create performances and installations that often involve audience interaction and work in communities. In recent years she has addressed environmental issues and questions about how we live in relation to the natural world.
Jill has been a Choreographic Fellow at the Maggie Allesee National Center for Choreography (MANCC), a Movement Research Artist in Residence, an Artist in Residence at the Guapamacátaro Interdisciplinary Residency in Art and Ecology (Mexico) and the Kri Foundation (India), a Fellow of the Center for Creative Research at NYU, a Creative Campus Fellow at Wesleyan University, and a recipient of a Rauschenberg Residency. Her recent work, The Hut Project, was an exploration of issues around waste, sustainability, and real estate through the creation of a series of site-specific structures made of found materials. She is currently working on a book called Ten Huts which will be published by Wesleyan University Press.
Read about Weed Heart on our Blog!