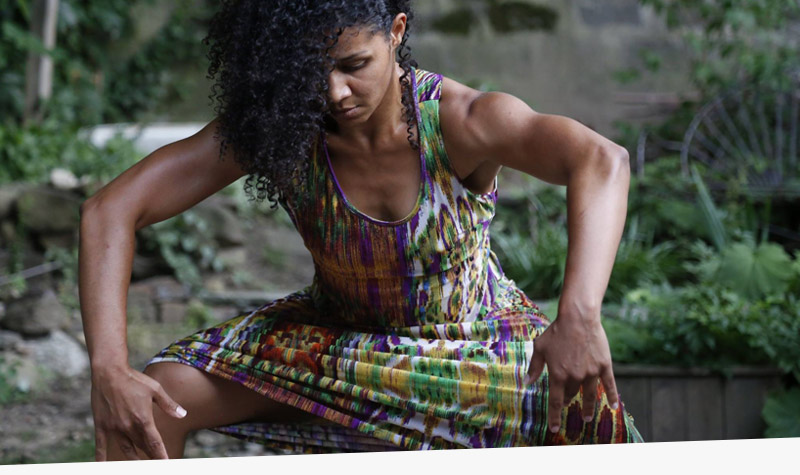 Gibney Dance welcomes 2017 Community Action Artist in Residence Maria Bauman.
Gibney Dance Community Action proudly welcomes Maria Bauman as our 2017 Artist in Residence, and recipient of the Beth Silverman-Yam Social Action Award! The residency includes space for creation, an on-going exhibition in the gallery at 280 Broadway, and multiple public workshops and panel discussions.
Maria's residency is centered around the research and development of a new piece, dying and dying and dying, exploring issues of death, decay, rest, and capitalism. This work will be presented in September 2017. Maria's work focuses on duets and small group dances from a sense of physical and emotional power, a desire for equity, and a fascination with intimate relationships. Maria will also continue with the work of ACRE (Artists Co-Creating Real Equity), the collective she co-founded, using Gibney as a meeting space and a place for public conversation. In addition, Maria will facilitate workshops, gatherings and an interactive gallery installation touching on "Dancing with our Ancestors," renewal and restoration.
---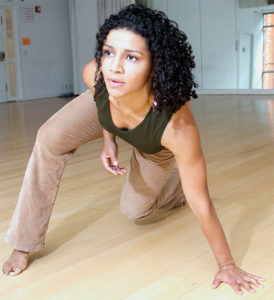 Maria Bauman is a dance artist and community organizer. Her choreography for MBDance is based on her sense of physical and emotional power, desire for equity, and fascination with intimacy. Bauman brings the same tenets to organizing to undo racism in the arts and beyond with ACRE (Artists Co-creating Real Equity), the grassroots organizing body she co-founded with Sarita Covington and Nathan Trice. In particular, Bauman's dance work centers the non-linear and linear stories and bodies of queer people of color onstage.
In New York, Bauman's work has been showcased at Dixon Place, BRICstudios, and DTW (now NY Live Arts), Harlem Stage, 92nd Street Y Harkness Dance Center, the Kumble Theater, the Bronx Academy of Arts and Dance (BAAD!), WOW Café Theater, and SummerStage NYC. In addition, Bauman and MBDance have shared work across the U.S. and in Singapore. She has been honored by GO! Magazine as a "Woman at the Helm." Her work is at the same time a poem, a manifesto, a beckon, a softening. In Infinite Body, Eva Yaa Asantewaa wrote "As a choreographer Bauman expresses humanistic insight with the blend of strength, suppleness and flow that her training in capoeira has given her." Currently, Bauman is creating a new quartet entitled dying and dying and dying, a performance-ritual supposing death as the opposite of capitalism and searching for rest's rightful place in our lives. In addition, she recently danced in Danspace's 2016 Platform, the skeleton architecture, or the future of our worlds, curated by Eva Yaa Asantewaa in partnership with Ishmael Houston-Jones and Will Rawls.
Among other honors, she has received 2015 and 2014 CUNY Dance Initiative Residency Awards, 2012-13 and 2009-10 Harlem Stage Fund for New Work via The Jerome Foundation, and a 2010-11 Dance Theater Workshop Studio Series. Several years ago, she was also recognized by the New York Foundation for the Arts as an Emerging Leader in the Arts.
Bauman has danced with Urban Bush Women, Nia Love/Blacksmith's Daughter, Adele Myers and Dancers, Angela's Pulse/Paloma McGregor, Mendi + Keith Obadike, and jill sigman/thinkdance, and apprenticed with Bill T. Jones/Arnie Zane Dance Company. She was with Urban Bush Women for eight seasons, originating several roles, and serving as Associate Artistic Director of that company.
As a cultural organizer, Bauman has partnered with various kinds of groups to lift up important social issues and calls for justice via art. She has facilitated community engagement workshops for Chorus America, Ramapo College, Rider University, and has helped create cultural campaigns with various locals of the Service Employees International Union (SEIU). She works closely with the People's Institute for Survival and Beyond on Understanding and Undoing Racism workshops for arts communities, and is a WOW Café Theatre collective member (theater space by and for women and transgender artists). Bauman is a founding member of the Naturally Occurring Cultural Districts Working Group (NOCD-NY). Currently, she is co-facilitating 651 ARTS's Home in the Time of Brooklyn, a six-month iterative convening of Black Brooklyn-based artists investigating how to create and strengthen artistic homes, with Okwui Okpokwasili.

Residency Activities

Dancing Our Ancestors


For Dancing Our Ancestors, Bauman will lead participants in a creative practice through which they will generate contributions to the dying and dying and dying Gallery

Exhibition on view from Friday, August 18 – Friday, September 22.

Gallery Exhibition


Bauman presents an installation and monument centered around ancestors, rest, and renewal. Along with a two-channel video installation edited by Ryan Tuerk, this exhibition will include a collective memorial created by participants of the Dancing Our Ancestors workshop, and two paintings by visual artist and dying and dying and dying cast member Courtney Cook. Cast members will periodically activate the installation with live performance.

August 18 – September 2

Open Studio & Performance


Creating space for death, transition and ancestors, Maria Bauman's dying and dying and dying resists America's obsession with globalization and commodification, calling attention to our dwindling opportunity and capacity for rest, stillness, and renewal. In collaboration with storied bodies, mythological bodies, bodies in creation and bodies-as-manifestos, this evening-length work asks:

What could it mean for our lives if we gave death its rightful place? How can we communicate with our ancestors in 2017? How can the conception of capitalism as the opposite of death affect how and when we work and rest?

With Courtney Cook, Valerie Ifill, Alicia Raquel, and Chanon Judson-Johnson, Bauman creates processes for carving out selfhood through muscles, beads of sweat, exertion, inversion, and surrender.

Open Studio
August 24

Performances
September 14 – 16
Summer 2017

Renew and Restore Workshops


dying and dying and dying resists America's obsession with globalization and commodification, calling attention to our dwindling opportunity and capacity for rest, stillness, and renewal. Bauman's Renew and Restore workshop is an opportunity to experience restoration, offering participants time to partner up, slow down, stretch, and breathe.

Renew and Restore
May 3

Renew and Restore for People of Color
June 15

MBDance Technique and Repertory Intensive


Each day of this intensive begins with a two-hour technique class focusing on the physical practices Bauman uses in performance. These include the mechanics of floor-work, vocalizing while dancing, and articulate spinal expression. In the afternoon, participants will be led in a repertory-based generative practice that includes structured improvisation and guided choreographic assignments exploring the prompts used to create dying and dying and dying.

June 19 – 23