Sorry I Missed Your Show:
Alice Sheppard / Kinetic Light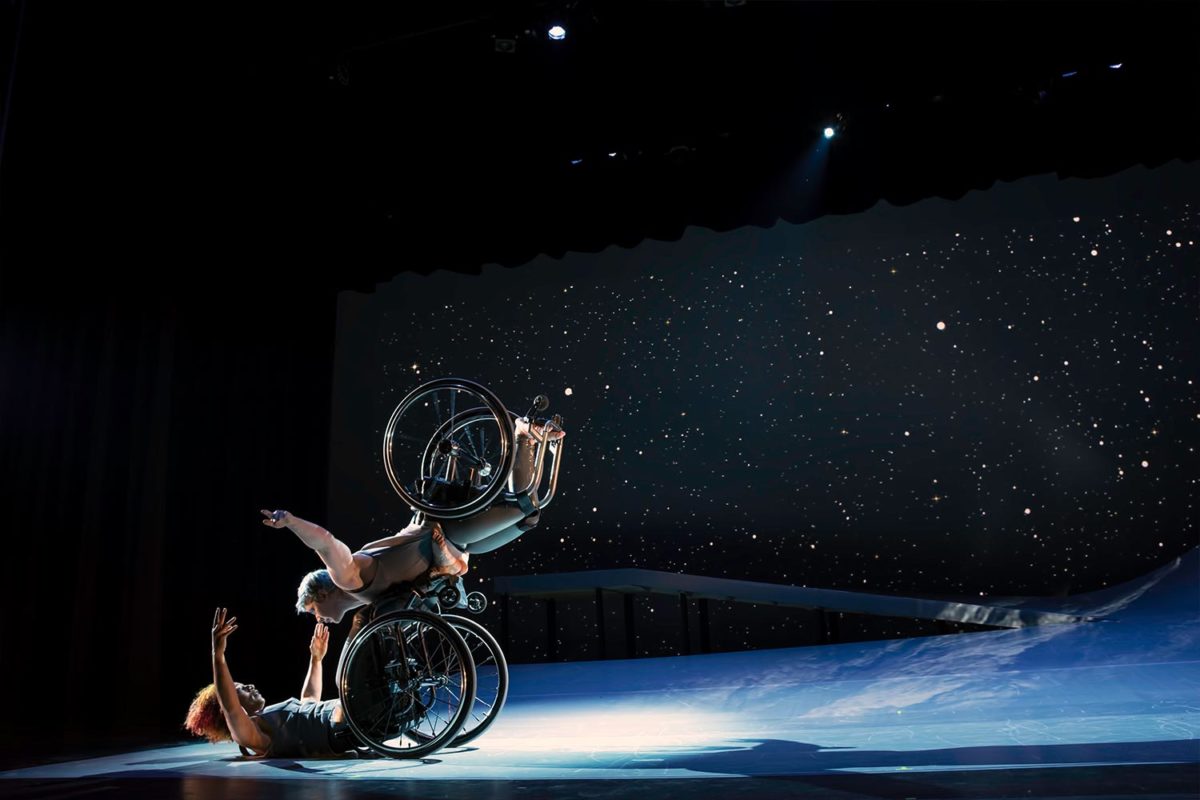 DESCENT
Kinetic Light is thrilled to get another chance to share DESCENT with the New York community because ten days before opening, all the performances were SOLD OUT. Join us for video, music and audio description of the premiere performance. Performed on an architectural ramp installation with hills, curves and peaks, DESCENT celebrates the pleasure of reckless abandon. Obliterating assumptions of what dance, beauty, and disability can be, this evening-length duet takes audiences on a transformative ride. Andromeda and Venus, reimagined as interracial lovers, claim their desire as wheels fly within inches of the ramp's edges. Their spines soften to taste the subtle pulls of gravity and arch into the sumptuous light.
Image Alt Text: Venus is flying in the air with arms spread wide, wheels spinning, and supported by Andromeda who is lifting from the ground below. Photo by BRITT / Jay Newman.
---
A video screening and discussion series, Sorry I Missed Your Show highlights dance works from the recent past to explore their relationship to the dance canon and contemporary practice.
Come meet artists in the intimate Studio A as they tell stories and offer personal, in-depth analysis of the context and making of work. Bring your questions!
All SIMYS events are free and open to the public.
---
ACCESSIBILITY
The accessible entrance for this location is located at 280 Broadway. Please note that this is a shared entrance with the New York City Department of Buildings. To access the elevator, attendees may be asked to provide a valid photo ID and go through building security, including a metal detector.
Requests for reasonable accommodation or for access to the 280 Broadway entrance after 5:00 pm or on the weekend should be made three days in advance by contacting Elyse Desmond at 646.837.6809 (Voice only), or by e-mailing elyse@gibneydance.org.