Solo for Solo
Jun 4, 2019, 7:00 pm

–

8:30 pm

EDT

$5 – $20
SYDNIE L. MOSLEY, JESSICA CHEN, & DAVALOIS FEARON
WITH DYANE HARVEY, ANA ROKAFELLA GARCIA, & KEELY GARFIELD
Advance tickets for this event are selling quickly. If tickets are sold out, we encourage you to join us on June 4 and we will do our best to accommodate you at the door.
Solo for Solo is a series created and curated by Eva Yaa Asantewaa featuring commissioned solos made by developing choreographers expressly for veteran performers over the course of a three-month residency. The performers also mentor the choreographers through a one-on-one collaborative process that serves to broaden and deepen the art. Join us for a showing of three works-in-progress by Sydnie L. Mosley with Dyane Harvey, Jessica Chen with Ana "Rokafella" Garcia, and Davalois Fearon with Keely Garfield, followed by a talkback session.
Artist Pairings:
CHOREOGRAPHER: SYDNIE L. MOSLEY
PERFORMER: DYANE HARVEY
CHOREOGRAPHER: JESSICA CHEN
PERFORMER: ANA ROKAFELLA GARCIA
CHOREOGRAPHER: DAVALOIS FEARON
PERFORMER: KEELY GARFIELD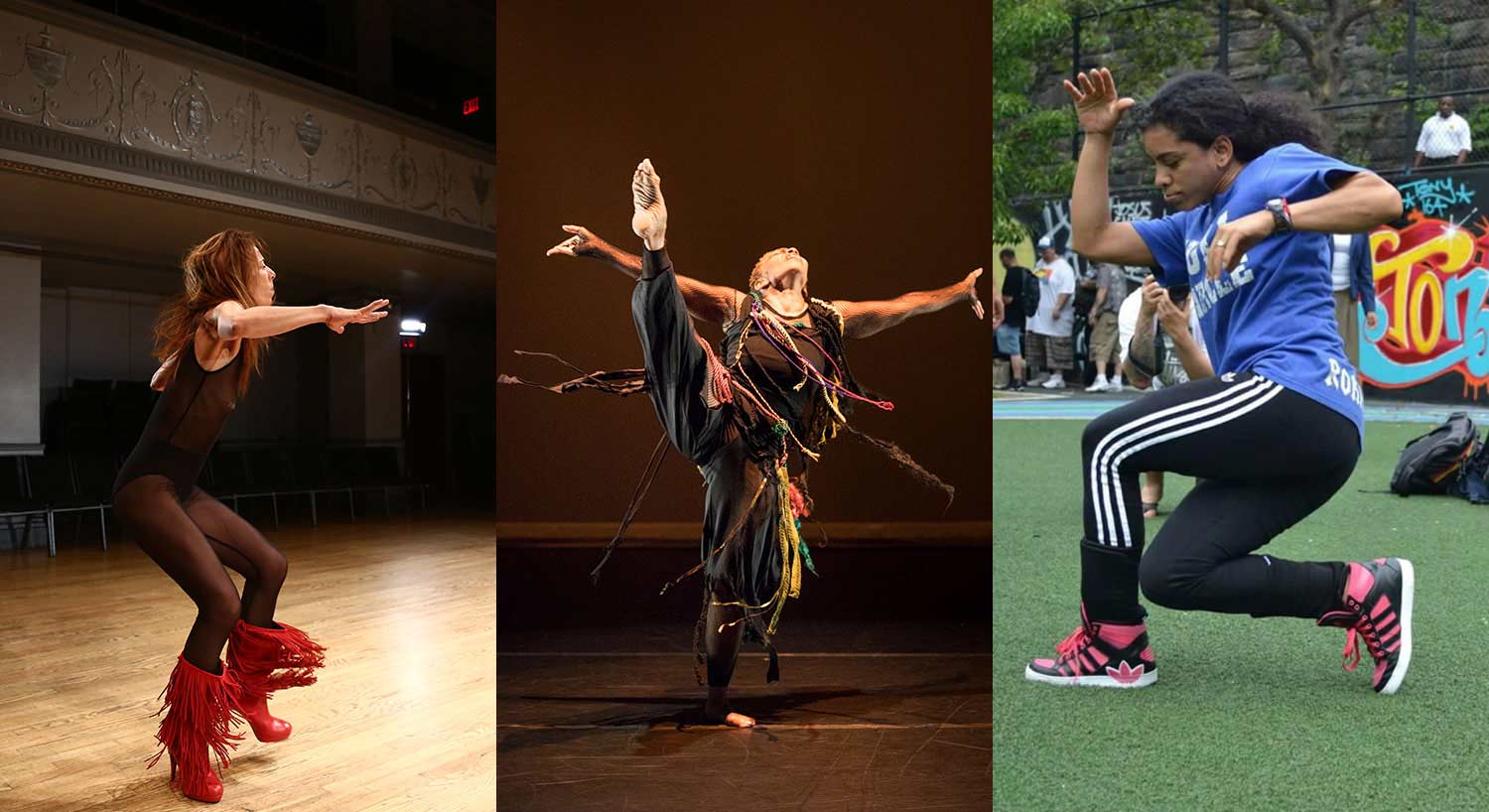 Solo for Solo is generously supported by The SHS Foundation/Richard Feldman. Additional support is provided by Bossak/Heilbron Charitable Foundation.
Photos: Sydney L. Mosley by Kearra Gopee, Davalois Fearon by Kitoko Chargois, Jessica Chen by Paul Dimalanta, Keely Garfield by Paula Court, Dyane Harvey Salaam and Ana 'Rokafella' Garcia courtesy of the artists.
---
ABOUT THE ARTISTS
Jessica Chen is a choreographer, teacher and Artistic Director of J CHEN PROJECT, a 501c3 nonprofit modern dance company based in NYC formed in 2008. She graduated from UC Santa Barbara and continued her dance training at The Ailey School. Her work has been supported by LMCC, Taiwan Ministry of Culture and Jerome Foundation. In 2013, she made a miraculous journey back to the stage after suffering a horrific car accident, which rendered her in a coma for 13 days after eight hours of brain surgery. Movement is her vehicle to tell stories, heal wounds and better understand our human existence. Her professional theater credits include choreographing INTERSTATE: a new musical at New York Musical Festival (Off-Broadway, 2018), Fiddler on the Roof at Timberlake Playhouse (Summer Stock, 2018), The Portal at Minetta Lane Theater (Off-Broadway, 2016). Other choreography projects include Macy's Thanksgiving Day Parade (2015, 2016), Ai Weiwei: The Seed for Brooklyn Museum (2014), World Expo – USA Pavilion in Shanghai, China (2010) and International Human Rights Arts Festival (2009, 2017, 2018). She presented "If I Can Dance It, Then It's Possible" at the 2014 TEDx organized by Semester at Sea. Chen includes her thoughts on "Identity and Marketing in the World of Social Media" as a featured chapter contributor of a new book called A Life In Dance: A Practical Guide. WWW.JCHENPROJECT.COM
Davalois Fearon a Bessie award-winning, critically-acclaimed dancer and choreographer and one of Dance Magazine's Up-and-Coming Black Artists to Have on Your Radar. She was born on the island of Jamaica and raised in The Bronx, New York and is the founder and Artistic Director of Davalois Fearon Dance. Her choreography has been presented throughout New York City including on Broadway at the New Victory Theater, the prestigious Metropolitan Museum of Art, the world-renowned Joyce Theater, Dance Enthusiast's "Moving Caribbean in NYC," the Bronx Academy of Arts and Dance, and the Inception to Exhibition Dance Festival, among others; as well as across the US and in Kingston, Jamaica. She has collaborated with internationally renowned poet Patricia Smith, multi-reedist Mike McGinnis, fashion photographer Nigel HoSang, and interdisciplinary artists Andre Zachery and Deborah Castillo.
Ana "Rokafella" Garcia is a NYC native who has represented Hip-hop dance professionally over the past two decades. She co founded Full Circle Prod Inc- NYC's only non profit Break Dance Theater company with her husband Bboy Kwikstep. Together they have generated theater pieces, poetry, a documentary highlighting the Bgirl lifestyle entitled "All The Ladies Say" and dance related events in NYC. She also is hired to perform her original music acoustically or with a DJ. She is hired internationally to judge Break dance competitions based on her mastery of the classic Hip-hop dance style. Recently she became an adjunct professor at The New School and received a Dance Teacher award from the American Dance Festival. She has appeared in pivotal music videos, films and commercials in addition to working with festivals at Lincoln Center Out of Doors, Kennedy Center for Performing Arts and the Oregon Shakespeare Festival. She is a multi faceted artist who references her Puerto Rican and Hip hop cultures as her foundation.
Born in London and based in New York City, Choreographer Keely Garfield, is the artistic director of her company, Keely Garfield Dance (KGD), which has been widely commissioned and presented at theaters and festivals nationally, and internationally. Alongside her work for KGD, Garfield has made work for other modern dance companies, theater, musicals, ballet, film, MTV, site-specific projects, schools and universities. Highlights include: Deep (The Joyce Theater), Twin Pines (Danspace Project), Disturbing The Peace (Zenon Dance Company), Iron Lung (Groundworks Dancetheater), WOW Reimagined (Gibney Dance), Disturbulance (NYLA), Sinister Slapstick (Queen Elizabeth Hall), My Father Was A Spanish Captain (Tanzmesse), Scent of Mental Love (Dir. Marcus Behrens, A film for Radio Bremen/Canal Arte), Damsel (Dance Theater of Harlem under the direction of Arthur Mitchell), Body Wisdom (Rubin Museum of Art), Gypsy (Dir. Damien Gray, Sundance Theater), Folk Dance In Gold (The Wooden Floor), Some Men (Dir. Terrence McNally, The Philadelphia Theater Company), Yeast Nation Triumph of Life (Dir. PJ Paparelli, Perseverance Theater), Carnival (Dir. Bonnie Monte, The New Jersey Shakespeare Theatre), and Room At The Top (Dir. Daniel Kleinman). Garfield has garnered several Bessie awards and nominations, is a Guggenheim Fellow, a NYFA Fellow, DIP recipient, and obtained her MFA from University of Wisconsin, Milwaukee. She curated Family Matters at DTW for over a decade, was a cofounder of the Dancers Forum Compact, and is now part of CAT at Gibney Dance. Garfield has taught in the Lang Dance Department at The New School since 2009. Currently, Garfield is working with the Bill T. Jones/Arnie Zane Company on Deep Blue Sea, and will premiere her latest work, The Invisible Project in 2019. Alongside her artistic career, Garfield is a yoga teacher, and integrative yoga therapist, focusing on wellness for dancers, as well as being a Reiki Master and hospice caregiver. A spirit of philosophical inquiry and compassionate concern unites her dedicated engagement in all her endeavors. www.keelygarfield.nyc
Dyane Harvey is a founding member and assistant to director Abdel R. Salaam of Forces of Nature Dance Theatre Company; a 38 year-old Harlem based company whose mission through works of relevant art is the empowerment of our audiences and magnifying our responsibility to preserve the planet. Harvey earned the 2017 BESSIE for Performance in Dance Africa's Outstanding Production of the Year, the Woman of Distinction Award (from the Harlem Arts Alliance and the Harlem Chamber of Commerce), the Walk A Mile In Her Shoes Award (given by the Hempstead African-American Museum), the Dance for Life Award (from Better Family Life, a cultural, educational, financial and social empowerment organization based in St. Louis, Missouri), two AUDELCO Awards (actress in a musical and choreography), the Monarch Merit Award, the Black Theatre Award, and the Goddesses and Gurus Award. The Eleo Pomare Dance Company has been a home since her late teen years, recently sharing his iconic solo "Hex" last fall for the American Dance Guild Festival. Other important dance/theatre experiences include performances with Tony Award Winning George Faison's Universal Dance Experience, Otis Sallid's New Art Ensemble, internationally recognized Dance Brazil and the Trinidad Repertory Dance Theatre. As choreographer for the theatre community, she has served on productions for The Acting Company, NYU's Graduate Acting Program, Ramapo College, the University of Florida at Gainesville, New Federal Theatre, the Black Theatre Festival, and Blackberry Productions. A dance educator at both Princeton and Hofstra Universities, she shares her philosophy of the interconnectedness of life through art and culture. Commercial credits include: "Free to Dance" (PBS Special), "The Wiz" (Broadway/film), and "Timbuktu!" (Broadway), "Spell #7", "Ailey Celebrates Ellington"(CBS Special), and internationally in the Paris Company of "Your Arms Too Short To Box With God" at the Mogador Theatre. Ase to All who have come before.
Sydnie L. Mosley is an artist-activist and educator who produces experiential dance works with her all-women company SLMDances. Through her choreographic work, the company works in communities to organize for gender and racial justice. Her evening length dances The Window Sex Project and BodyBusiness address sexual harassment in public spaces and the economics of NYC dance, respectively. In February 2017, Sydnie was recognized by NYC Mayor Bill de Blasio and First Lady Chirlane McCray for using her talents in dance to fuel social change. Sydnie is a part of the 2017 Bessie Award winning cast of the skeleton architecture, or the future of our worlds, curated by Eva Yaa Asantewaa. Other funding and recognitions include: Lincoln Center Education Manhattan Community Artist in Residence, LMCC Creative Engagement Grant, The Field Leadership Fund, CUNY Dance Initiative, Dancing While Black Artist Fellowship, The Performance Project @ University Settlement, Create Change Fellowship with The Laundromat Project, the Gibney Dance Institute for Community Action Training, and the inaugural Barnard Center for Research on Women Alumnae Fellow. She earned her MFA in Dance Choreography from the University of Iowa, and earned her BA in Dance and Africana Studies from Barnard College at Columbia University. Sydnie danced with Christal Brown's INSPIRIT (2010-2013) and continues to appear as a guest artist for Brooklyn Ballet. An advocate for the field, Sydnie sits on the Advisory Committee to Dance/NYC.
---
ACCESSIBILITY
The accessible entrance for this location is located at 280 Broadway. Please note that this is a shared entrance with the New York City Department of Buildings. To access the elevator, attendees may be asked to provide a valid photo ID and go through building security, including a metal detector.
Requests for reasonable accommodation or for access to the 280 Broadway entrance after 5:00 pm or on the weekend should be made three days in advance by contacting Elyse Desmond at 646.837.6809 (Voice only), or by e-mailing elyse@gibneydance.org.