Meet the Moving Toward Justice Cohort 2.0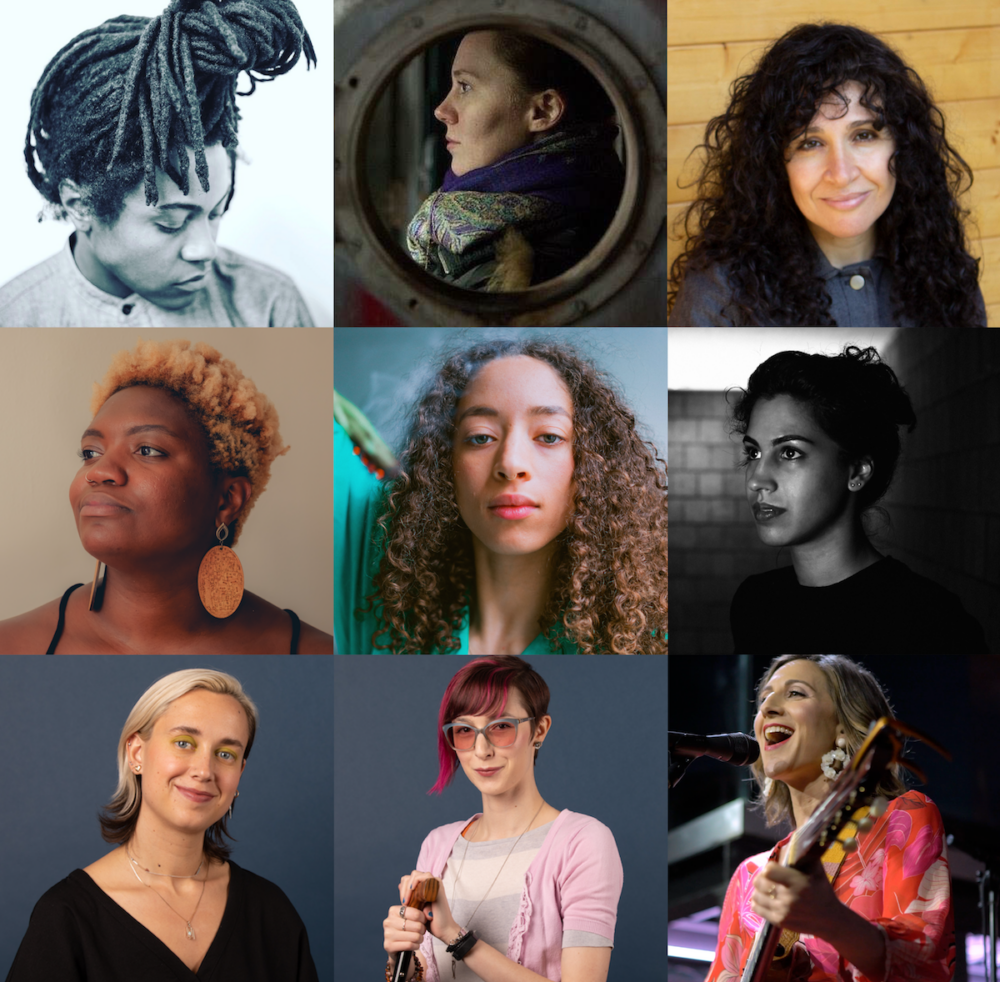 Gibney is thrilled to introduce the Moving Toward Justice COHORT 2.0:
AUDRE WIRTANEN & LAURA TUTHALL
ELEANOR DUBINSKY
JOY HAVENS & NEHEMOYIA YOUNG
OGEMDI UDE & ROCHELLE JAMILA WILBUN
RANIA LEE KHALIL
SARAH DAHNKE
Moving Toward Justice supports projects that use art as a tool for activism and social impact. With an equal focus on artistry, entrepreneurship, social engagement, and mobilization, cohort members will work in community to evolve their practices and address social justice issues through projects that catalyze action.
The Cohort is a structured, six-month program in which members receive a $6,000 stipend, support, and mentorship to develop and incubate their projects. Moving Toward Justice is made possible by generous support from The Bay & Paul Foundations.
The 2018-19 Cohort—comprised of Antonio Ramos, Kayhan Irani, Parijat Desai, Kris Grey, Maya Ciarrocchi, Kevin Gotkin, and Nana Chinara—has also received a second round of funding from The Bay and Paul Foundations. The artists will meet bi-monthly to continue their collective support of one another as they deepen and expand their projects that explore international exchange, activism, education, and change-making at the intersection of arts and social justice. The 2018-19 Cohort will also work with the newly selected group to offer additional resources and continue to grow this community of support.
"Moving Toward Justice is laying the groundwork for the future of the fields of dance and social justice," says David Bury of The Bay & Paul Foundations. "The arts have the power to create new ways of thinking and to change our world for the better. We are proud to play a role in supporting the artists who are on the ground doing this important work, and to continue our partnership with Gibney."
"In extraordinary times, we look to artists. This Cohort is truly remarkable, and I have no doubt that their work will have lasting impacts on multiple communities," says Gina Gibney, Founder, CEO & Artistic Director. "I am grateful to the Bay and Paul Foundations for their continued support and belief in this program. It is so important, especially in this moment of uncertainty and instability, to keep providing platforms and making space for artists to incubate and implement their visionary, world-changing ideas."
This year's projects include:
Hyp-ACCESS—a disability justice startup led by Audre Wirtanen & Laura Tuthall that centers hypermobility and care access. Their launch phase through MTJ 2.0 includes availability of their made-for-hypermobility somatic practice, ABNR, to the dance community, hypermobility-inclusive disability arts programming, and education about hypermobility as a disability.
Our Voices, Our Songs (OVOS)—a

n

advocacy and arts education partnership conceived and conducted by Eleanor Dubinsky aiming to amplify the voices of recently arrived unaccompanied immigrant children from Central America via autobiographical songwriting, foregrounding their lived experiences in a recorded and produced album of their original songs.
UTILIZING DANCE AND COMMUNITY TO ADDRESS RELIGIOUS TRAUMA—a project by Joy Havens & Nehemoyia Young that focuses on the power of communal dance and music for ex-evangelicals and former fundamentalists to build friendships and support individual and collective healing through online forums, research, and the development of a movement model and methodology.
AfroPeach—a series of free dance workshops by Ogemdi Ude & Rochelle Jamila Wilbun for Black postpartum people focusing on healing from the physical effects of pregnancy and birth, creatively processing birth stories, and building somatic relationships between new parents/caretakers and their babies.
Third World Ecology Project—a partnership by Rania Lee Khalil in which Arab and Muslim high school youth participate in workshops that include historical education of radical and third world narratives, fieldwork that engages youth with nature and environmental practices, reflection, and sharing of concepts through art-making and dance.
Dances for Solidarity

—a

project by Sarah Dahnke that facilitates artistic collaborations that reclaim dignity and humanity for individuals who have been marginalized by the criminal justice system by co-creating choreography with people who are incarcerated in solitary confinement, using these movement sequences to create live performances.
Moving Toward Justice is made possible by generous support from The Bay and Paul Foundations.

Photos from left to right, top to bottom: Nehemoyia Young photo courtesy of the artist; Joy Havens by Alexis Silver; Rania Lee Khalil by Anthony Hamboussi; Ogemdi Ude by Chidozie Ekwensi; Rochelle Jamila Wilbun by Love Legerme; Sarah Dahnke by Ari Joseph; Audre Wirtanen by Liam Cotter; Laura Tuthall by Liam Cotter; Eleanor Dubinsky photo courtesy of the artist.