Thanks to people like you, Gibney has entered its New Phase.
In the last eight years Gibney has rapidly expanded from:
2,500 to 52,000 square feet across Lower Manhattan

$500,000 to a $6,000,000 operating budget

2 full-time staff to 29 full-time staff, 37 part-time staff, and 10 interns at any given time
It brings us great pride to see the ripple effects of our work grow as a result. Each year we are now able to:
Steward 23 studios and 5 performance spaces

Provide 100+ weekly classes

Commission 30+ new performance works

Present 180+ performances

Attract 9.500+ audience members

Impact 10,000+ youth in local schools

Empower 3,650 survivors across local shelters
You make this possible.
Thank you for believing in us. It's an honor to have you join us as we enter this Next Phase.
With gratitude,

Gina Gibney

FY18 AT A GLANCE
ANNUAL REPORTS
Gibney Annual Report FY2018 (Coming Soon!)
Thank you for joining Gibney's Next Phase.

GIBNEY LEADERS
Become a Gibney Leader today with your gift or recurring gifts totalling $1,000 or more. Gibney Leaders and their generous support have an unparalleled impact across Gibney's Center, Company, and Community Action initiatives all year long.
GIBNEY YOUNG LEADERS
Interested in receiving information on Gibney Young Leaders? Please contact Senior Director of Development Jenny Thompson at jenny@gibneydance.org or 646.837.6809.
SPECIAL EVENTS
Mark your calendars to join us for Gibney's 2018-19 special events, including the annual Benefit on May 9, 2018!


CORPORATE PARTNERSHIPS
Gibney is proud to partner with corporations that value everything from promoting the arts and providing workspace for artists to working with survivors of gender-based violence and addressing violence prevention among youth in schools.

PLANNED GIVING
Planned gifts are a meaningful way to create a legacy with Gibney and impact the New York City community for years to come. For more information or to notify us that you have designated Gibney in your estate plans, please contact Senior Director of Development Jenny Thompson at jenny@gibneydance.org or 646.837.6809. 
NEXT PHASE SPACE CAMPAIGN
Gibney's $6.5M Next Phase Space Campaign is underway! We celebrated a major milestone of the campaign in early 2018: the unveiling of 10,000 square feet of newly renovated space at Gibney's 280 Broadway location. Help us hit our goal and ensure our recent growth will benefit the many New York City communities we serve for years to come.

OTHER WAYS TO GIVE

Donate Online:

Donate by Phone:
Call 646.837.6809
Donate by Check:
Mail your check payable to Gina Gibney Dance, Inc. to:
Gibney
Attn: Development Office
280 Broadway
New York, NY 10007
Matching Gifts:
Does your company match charitable contributions? Double the impact of your gift through a corporate match!
Facebook Fundraiser:
Facebook has made it easy for you to create a fundraiser and we would love to count you among Gibney's ambassadors:
AmazonSmile:
Amazon will donate .5% of the price of eligible products purchased to Gibney, at no extra cost to you. Just log into smile.amazon.com and opt to have Gibney Dance as your charity of choice.
Gibney extends its sincere thanks to the following individuals and institutions for their generous commitment and leadership.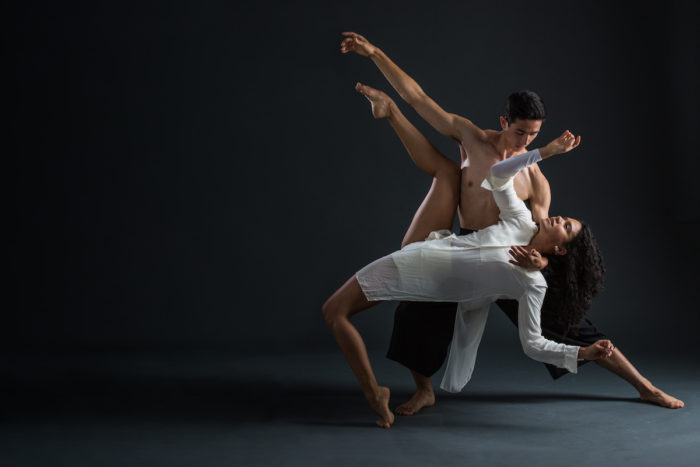 INDIVIDUALS
VANGUARDS
Jody & John Arnhold, Jay Beckner, Kim Manocherian*, Pamela van Zandt & Gina Gibney*
LUMINARIES
Sara Ciarelli Walsh*, Anna Connolly*, Lauren K. DiPaolo*, Dani Effron Kline* & David Kline, Euan C. & Bethany Menzies*, Jessica A. Marshall* & Jerry Tepper, Toni L. Ross, Alair Ane Townsend*, Marcia Worthing*
INNOVATORS
Carol J. Bryce-Buchanan*, Arri Burrows*, Ralph DeCesare*, Chanel Frazier*, Michael & Shoshannah Freilich, Frederica W. Gamble, Lynn* & Marc Gitlitz, Jane & Jean-Marie Grenier, Ellen Hives & Russell Schreiber, Nancy Lashine*, Hsing Hsing Li* & Ginwing Lum, Jonathan Manocherian, Arthur Maslow, Alaleh & Ariel Ostad, Rachel Pivnick*, Thomas Scott* & Vanessa Woog, Katherine Wickham*
CATALYSTS
Linda Greco, Kathryn Karipides & David Brown, Jacqueline LiCalzi, Barbara Manocherian, Rachel & Larry Norton, Lisa & David Post, Jeanne Ruddy
ADVOCATES
Tom Bain, Darel Benaim, Ann E. Cole, Stuart H. Coleman & Meryl Rosofsky, Kim Cullen, Sharon Cunningham, Aaron and Judy Daniels, Barbara & Tim Davis, Anika Davis Pratt & Eliot F. Pratt, Amy DiGeso & Paul Rakowski, Mary Jane DiPaolo, Carolyn Dorfman, Eleanor Dubinsky, Yvette & John Dubinsky, Hilary Easton & Joshua McHugh, Caryn & Craig Effron, Becca & Adam Epstein, Christine M. & W. Thomas Farquhar, Deborah Flynn, Lauren Gaston & Evan Solcum, Susan Gluck Pappajohn, Erik Gensler, Deborah Harmon, Eugenie C. Havemeyer, Judith and Richard Hoffman, Angela M. Jorge, Ron Kaplan, Larry Keigwin & Christian Keesee, James & Ana Kennedy, Alicia Kershaw & Peter Rose, Scott Kurnit, Amy Lane & Barbara Rothberg, Dorothy Lawson, Janice Lee & Stuart L. Shapiro, Tyra K. Liebmann & Randy A. Meadoff, William & Jane Lewis, Robin Magid & Carol Morgan, Alan & Nancy Manocherian, Amir & Rosita Manocherian, Bernice Manocherian, Jennifer Manocherian, Robert Manocherian, Diana & Matt Miller, Virginia & Timothy Millhiser, Jenny Morgenthau, Robert Morgenthau, Polly Motley & Molly Davies, Annette Orenstein & Steven Polivy, David L. Parker, Christen Rafuse, Laurie & Gary Rafuse, Barbara Rosen & Patricia A. Martone, Cindy & Mark Ross, Mia Salvaterra, Jeanette Sarkisian Wagner, James A. Schmidt, Deborah Scott & Lynn Schumacher, Beth Silverman-Yam & David Yam, Ellen Snapp, Shannon Snapp, Eileen Sweeny, Meital Waibsnaider & Rick Kiley, Philippa Weismann & Sandra G. Turner, Sheila Wellington, Peter S. Wilson & Scott K. Sanders
*Denotes Gibney Board Member
List reflects GIBNEY LEADERS between March 1, 2018 and February 6, 2019
To join Gibney's growing list of individual donors with your gift of any size, please contact Senior Director of Development Jenny Thompson at jenny@gibneydance.org or 646.837.6809.


INSTITUTIONS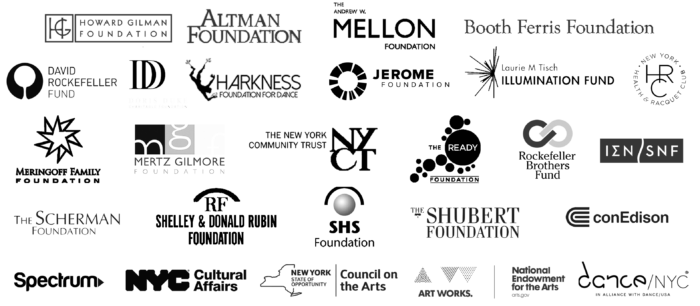 Foundation Support
Altman Foundation, Arnhold Foundation, The Artis Grant Program, Lily Auchincloss Foundation, Inc., Dextra Baldwin McGonagle Foundation,The Bay & Paul Foundations, Bloomberg Philanthropies, Booth Ferris Foundation, Bossak/Heilbron Charitable Foundation, Boy Scouts of America National Foundation, The Carey Foundation, Concord Baptist ChristFund, Joseph & Joan Cullman Foundation for the Arts, Dance/NYC's New York City Dance Rehearsal Space Subsidy Program, made possible by The Andrew W. Mellon Foundation, Dancers Responding to AIDS/Broadway Cares, Inc., The Gladys Krieble Delmas Foundation, Doris Duke Charitable Foundation, Howard Gilman Foundation, The Hearst Foundation, The Harkness Foundation for Dance, Dubose & Dorothy Heyward Memorial Fund, Prospect Hill Foundation, The Hyde and Watson Foundation, Jerome Foundation, Jerome Robbins Foundation, The Pierre and Tana Matisse Foundation, The Andrew W. Mellon Foundation, Meringoff Family Foundation, Mertz Gilmore Foundation, Mid Atlantic Arts Foundation, Morgan Stanley Foundation, The New York Community Trust, New York University Community Fund, Stavros Niarchos Foundation, Suzanne Peck and Brian Friedman, Princess Grace Foundation-USA, The Ready Foundation, Rockefeller Brothers Fund, Rockefeller Brothers Fund's Charles E. Culpeper Arts and Culture Grant, The David Rockefeller Fund, The Scherman Foundation's Katharine S. and Axel G. Rosin Fund, SeaChange Capital Partners, The SHS Foundation/Richard Feldman, The Shelley & Donald Rubin Foundation, The Shubert Foundation, Stonewall Community Foundation, Thompson Family Foundation, and the Laurie M. Tisch Illumination Fund.
Corporate Support
Abro Management Corporation, Con Edison, EILEEN FISHER, DLA Piper, Fram Realty LLC/Abro Management Corporation, Goldman Sachs, Kennedy Berg LLP, Kirkland & Ellis LLP, Macy's Merchandising Group, Morgan Stanley, New York Health & Racquet Club, Odd Dog Coffee, Spectrum, Symbio Physiotherapy, and Volunteer Lawyers for the Arts. Gibney receives additional support through the matching gift programs of The Benevity Community Impact Fund – A Fund of the American Online Giving Foundation, Disney, JK Group, Inc., The Prospect Hill Foundation Matching Gift Program, Societe Generale, SONY Corporation, and Wyndham Worldwide Corporation.
Government Support
Gibney has received generous support from The City of New York & The Honorable Mayor Bill De Blasio, The New York City Council, The New York City Department of Cultural Affairs and The Honorable Tom Finkelpearl, The Honorable Former Speaker Melissa Mark-Viverito, The Honorable Speaker Corey Johnson, The Honorable City Council Member Margaret Chin, the Honorable Manhattan Borough President Gale Brewer, the Mayor's Grant for Cultural Impact with support from the New York City Department of Cultural Affairs and the Mayor's Office to End Domestic and Gender-Based Violence, the New York City Department of Cultural Affairs' CreateNYC Disability Forward Fund, Materials for the Arts, New York State Council on the Arts with the support of Governor Andrew M. Cuomo and the New York State Legislature, the National Endowment for the Arts.
To join Gibney's growing community of individual donors, please contact Senior Director of Development Jenny Thompson at jenny@gibneydance.org or 646.837.6809.